Welcome to WorldSweeper.com!
Note that all links in this center section open into a new window.
---

Here's the latest in sweeping news from our Editor:

As is reflected in our new masthead, above, last June 21st marked WorldSweeper's 12-year anniversary!
On March 8th, International Women's Day, we posted an article about the extreme hardship women sweepers face in keeping the streets of Lagos, Nigeria, cleaned on a daily basis. They face daily danger, poor wages and harsh working conditions. This article has been co-located in the Nigerian category of our International Sweeping section as well as in our Noteworthy in Sweeping category.
Our February e-newsletter has been distributed. If you didn't get your free copy delivered to your inbox, sign up at our Guestbook.
We are glad to welcome the new Victory Sweepers as a returning home page advertiser.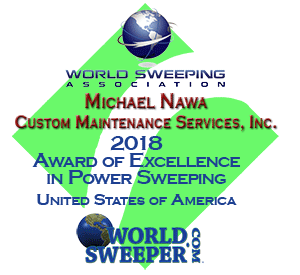 At the recent National Pavement Expo our 2018 Award of Excellence in Power Sweeping was presented to Michael Nawa, for over 40 years owner of Pennsylvania-based Custom Maintenance Services.
I had the experience of receiving the Alan Curtis Industry Service Award at the recent National Pavement Expo. This award included installation into the U.S. Pavement Hall of Fame. I am proud and humbled to receive such a singular honor.
For the last several years the National Pavement Expo has also awarded a 'Sweeper of the Year.' This year that award went to Debbie Jacketta and the company founded by her father, Jacketta Sweeping.
The management team at Schwarze Industries, Inc. has announced achievement of ISO 9001 certification. Soundcore, the company behind the purchase of the sweeping companies that now comprise Sweeping Corporation of America, announced receipt of a $60 million line of credit from Comerica.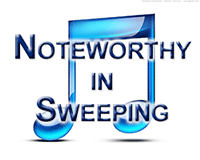 Let's say you love your job as someone who sweeps streets every day, probably in the cab of a chassis-mounted sweeper... Now check out the article about Shang Wuji, who hasn't missed a day of sweeping the streets of China with a broom and wheelbarrow in 12 years – even though he only has one leg and was born deaf and dumb! Mr. Wuji is the latest person installed in our Noteworthy in Sweeping section.
Check out our latest exclusive advance preview of the next issue of SweeperMarket/PaverMarket, posted on February 6th. Remember: Our monthly online preview provides our readers with at least a full week's headstart on those who won't see the ads until the magazine arrives by mail.
Elgin Sweeper has introduced a single-engine configuration of its popular Crosswind® regenerative air sweeper. Specifically, a variable-speed device is now installed between the chassis engine and transmission on the new configuration. This allows the engine to simultaneously power both the truck and the sweeper.
Global Environmental has produced an outstanding product line promo video that utilizes aerial, distant and closeup camera viewpoints to showcase the capability of its Global M3 and M4HSD street sweepers.
Risk transfer clauses are becoming a regular part of mall and third party contracts. Every sweeping contractor needs to read this article that discusses how to recognize and defend against risk transfer clauses.
Are you aware of the latest generation of oils, which offer lower viscosity, higher fuel economy and longer drain cycles? Check it out with this link to FleetOwner.
Craig Crissman, owner of Shenandoah Supervac has over two decades of experience as a diesel mechanic. That's what led him to doing a test with his Schwarze Gale Force to see if he could maximize the longevity of the DPF system. What you read may surprise you.
When it comes to NASCAR there's only one vehicle that is featured at every race: That's the Elgin Track Sweeper. A recent segment of 'NASCAR Jobs' featured the Track Sweeper.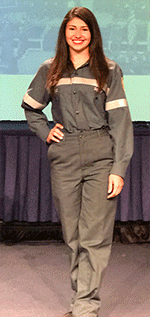 Beauty pageant veteran Nicole Doz – the first runner-up for Miss Staten Island 2017 – says that getting to her new title of street sweeper operator was even more grueling than going through talent, interview and swimsuit contests.
A UK engineering company is partnering with Johnston Sweepers to develop an autonomous electric street sweeper that will offer 90 percent utilization.
Next time one of your sweeper operators complains about their job, we suggest to show them the dangers of being a sweeper in Jamaica, where most of the sweeping is done manually amidst drivers that a U.S. contractor calls "maniacs." Is one of your operator's problems that they might have to "jump into the nearby crocodile-infested swamp"?!
Schwarze Industries, Inc. has announced the development of its new HyperVAC pure vacuum sweeper. According to the company, its HyperVAC will offer a "revolutionary material transfer system that will improve sweeping quality and a new three-fold dust-laden air separator system that reduces the release of contaminants from the exhaust typically seen in previous vacuum sweepers."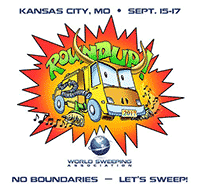 Whether you were there or not, you'll want to check out coverage of the World Sweeping Association's 2017 Sweeper Roundup,TM – America's first-ever manufacturer-independent power sweeping conference and tradeshow, which was held in Kansas City, MO, the middle weekend of September.
A cheaper, cleaner biofuel may soon be gleaned from, of all places, sweeper waste! Check out how the University of Illinois' Prairie Research Institute is examining the use of a processing catalyst made from palladium metal – perhaps gleaned from street sweeper waste – and bacteria.
Are you ready for implementation of OSHA's Silica Dust Rule, which started on September 23rd for construction work by companies with 10 or more employees?
The City of Los Angeles is developing a pilot program to notify residents when the sweeper has passed their address. The intent is to reduce the number of parking citations issued for street sweeping.
Two recent articles tout the advantages of power sweeping for reducing stormwater pollution runoff. One, by four members of Schwarze Industries' management team, called 'Runoff Pollution Prevention,' appears in Storm Water Solutions. The other, written by WorldSweeper's editor, is entitled 'Power Sweeping Contractors: Leading in the Defense of Clean Water,' appeared in PAVEMENT Magazine.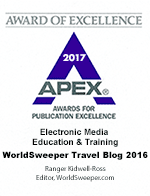 Our Australia/India blog about power sweeping in Australia and India has won a prestigious APEX Award for Publication excellence! Click on the logo to learn more.

Our sister organization, the World Sweeping Association, also received an APEX for the third year in a row for the value of the information provided in its twice-monthly WSA Member Update. If you are a contractor and are not yet a member of WSA you're definitely missing out on a cost-effective way to improve your business.

Check out our feature interview is with Steve Young, who was a fixture in the power sweeping industry for nearly 30 years. Steve started as a sweeping contractor, then worked as a salesperson for Schwarze Industries before founding Sweeper Parts Online prior to his retirement.

Contractors: If you are presented with contracts with wording regarding 'omissions' then you need to read this article.

Did you see our first of April story about Kangaroos that have been trained to pick up litter?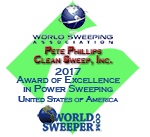 We are pleased to announce the WorldSweeper/World Sweeping Association's winner of the 2017 Award of Excellence in Power Sweeping, which is the sweeping industry's highest honor. The Award was presented to Pete Phillips and his company, Clean Sweep, Inc., at the recent National Pavement Exposition in Nashville, Tennessee.
Sweeper aficionado, McKinley "Kenny" Page, was the subject of an 18-minute video about his life-long fascination with street sweepers; most specifically, Elgin's classic Street King.
The World Sweeping Association is offering to the industry a WSA Featured Podcast that was conducted between 'The Sweepin' Preacher, American Sweeping's Gale Holsman, and an anonymous sweeping contractor who needed help in getting profitable. The approximately 1-hour podcast, which includes an article edited from the podcast, is a must for any sweeping contractor that wants to get a better handle on expense and revenue info in their company.

Have you read the India-based conclusion of our editor's APEX Award for Publication Excellence-winning 2016 Australia/India Sweeping Odyssey? If you haven't yet read any of it, we suggest you start with my trip 'down under' with the extensive coverage of sweeper and related equipment that was at Civenex 2016, Australia's premier tradeshow, as well as nine more articles that showcase the Australian sweeping industry. If you've already read that part, use this link to get started on your 'sweeping trip to India!'
Remind yourself of the basics with our 'Broom Sweeping 101' article.
Porous pavement is the gaining popularity very rapidly. WorldSweeper offers BMP information about keeping it clean and functioning well.
Have you seen the Minnesota Pollution Control Agency's BMP fact sheet for street sweeping? If not, perhaps you should take a look.
An article I wrote entitled "Sweeping Changes" was published in Public Works Magazine. In it, I provide information about the cost-effectiveness of sweeping when compared to the expense of other types of stormwater management 'end-of-the-pipe' techniques.
We now have on the site a well-researched document by Washington State's Pacific Northwest Pollution Prevention Resource Center (PPRC) on how the sweeping of paved surfaces can reduce stormwater pollution runoff.
Ever have a problem with drag shoes scraping newly sealed asphalt? If so, you'll want to read our article entitled "Ways to Eliminate Drag Shoe Scraping."
Where do you think they use sweepers with twin main brooms? One sweeps the street and the other transfers debris to the hopper. Owners believe the wear on the second broom is more cost-effective than dealing with conveyor belts. Read about it.
Have you wondered how to tell a prospect or client how they can tell a quality sweeping contractor? Check out the article I wrote for Retail Facility Business on this topic.
Are you a Facebook Fan of WorldSweeper.com yet? Our Fans often receive advance notice of our newsletter, as well as a variety of industry tidbits not meriting an actual article.
Finally, if you are a vendor to the sweeping industry and don't yet advertise here, please consider doing so with either a banner ad or a Sweeping Products listing.
As you can see from the logos above the headline, we have an RSS feed on the website, as well as links to our Twitter and Facebook accounts. These are easy ways to keep up with news at WorldSweeper.com. We also offer a web page that contains the latest articles we've added to the site.
Good Sweeping,



-- Ranger Kidwell-Ross, editor
First time here? Please read my introductory welcome message.
---
Take a look at our featured items below, or check out the complete contents of the site by choosing from the list to the left.
GUESTBOOK

If you haven't filled out our Guestbook, we can't send you late-breaking industry information. If you're involved with sweeping, please take time to provide us with your contact information.



PARKING AREA SWEEPERS

Here is our area dedicated to the needs of the parking area sweeping community. Check it out. You'll find a wide selection of news you can use in your business, right now, today.



DISCUSSION FORUM

Discuss industry topics with others in sweeping. Our discussion forums offer a variety of topics, or make up your own. Plus, we have buy/sell classifieds for sweeping and sweeping-related equipment. (opens in new window)



SWEEPER POSTCARDS



What better way to show you're part of the industry than by including a sweeper photo, drawing or cartoon in your email? Our online postcards are great to use as industry-related thank you notes, all occasion greeting cards and to show others what a sweeper looks like now or in the past. Choose from sweeper-related cartoons, drawings, photos and toys.



CONTRACTOR LOCATOR

Do you offer sweeping or related services, or would you like to hire a sweeping contractor? If so, you'll want to check out our contractor locator section. (opens in new window)



WHAT'S NEW

Here is where you'll find the latest stories we've posted online. You'll want to check often to find out the latest in industry news.



STREET SWEEPING

You'll find everything to do with street sweeping here. If that is the segment of the sweeping industry you are involved with, you'll want to check it out.



SWEEPER SLIDESHOWS

Want to see what sweepers used to be like? If so, you'll definitely want to check out our collection of old sweeper pictures. Some of the photos are even for sale, and what would look better on your office wall?!



SWEEPING PRODUCTS

Need to fix your sweeper, buy a new one or find the best deals and suppliers for sweeping-related products? As a way to show them you appreciate their support for this site, please do your shopping from manufacturers who support WorldSweeper.com. If you sell to the sweeping industry, be sure to sign up for your free or enhanced product listing! (opens in new window)



SWEEPING AROUND THE WORLD

Sweeping is a worldwide industry, but the techniques vary enormously depending upon where it's being done. We have a number of stories about how sweeping is done in various locations of the world, many from the award-winning online travelogues penned by our editor while traveling in Asia, Australia and Europe. You'll want to take a look.


---
FEATURED SWEEPING COMPANY
We're proud to offer this feature story on our home page.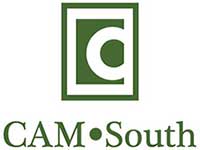 Prior to purchasing Alabama-based CAM South in 2014, Andy Coolidge had spent 20 years in the operations management of properties, including parking lots. Coolidge has remade CAM South into a fast-growing, full service provider of exterior property services, going from the 'one-and-a-half sweepers' included in the purchase agreement to an organization that deploys 30 people every day. That makes this is a rare opportunity for our contractor readers to hear what steps Coolidge took in order to have CAM South become so successful.
We typically change our featured story about once per month. If you'd like you or your organization to be considered for this honor, please let us know.