Elgin Announces All-Electric Broom Bear
Elgin, IL – September 2023
Elgin Sweeper debuted a new, all-electric, Broom Bear model at the 2023 PWX Show in San Diego. To get all of the information about Elgin's journey to a 100% electric sweeper, WorldSweeper's Editor, Ranger Kidwell-Ross, hosted a Zoom webinar with Tim Letts, Elgin's Product Manager.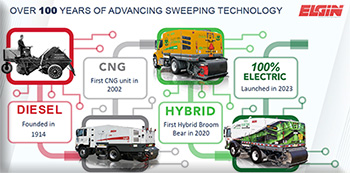 We invite you to watch the approximately 30-minute video recording about the new all-electric Broom Bear sweeper model. Tim also covers some aspects of the journey Elgin engineers and others had in transitioning to all-electric, as well as provides some interesting background on the company since its start in 1914.
To view the video, click on the graphic below. If you'd rather just listen to the audio of the interview, use this link.
You may reach Tim Letts via email sent to tletts@federalsignal.com.


---
About Elgin Sweeper Company
Sold and serviced through a network of more than 100 dealer locations worldwide, Elgin Sweeper products are the sweepers of choice for a variety of general street maintenance, special industrial and airport applications. With more than 100 years of experience, Elgin Sweeper offers municipalities, contractors and industries the most sweeper options in the country, using the latest sweeping technologies – mechanical, pure vacuum, regenerative air, alternative fuel and waterless dust control. Elgin Sweeper is a subsidiary of Federal Signal Corporation's Environmental Solutions Group. For more information, visit www.elginsweeper.com.
About Parent Company Federal Signal
Elgin Sweeper is a subsidiary of Federal Signal Corporation's Environmental Solutions Group. Headquartered in Oak Brook, Illinois, with manufacturing facilities worldwide, the Company operates two groups: Environmental Solutions and Safety and Security Systems. For more information on Federal Signal, visit www.federalsignal.com.
Federal Signal builds and delivers quality equipment that moves material, cleans infrastructure and protects the communities where we work and live. Founded in 1901, Federal Signal is a leading global designer, manufacturer and supplier of products and total solutions that serve municipal, governmental, industrial and commercial customers.