Table of Contents
Know of other sweeper toys or games on the market? Or, are any of the following links no longer working: Please let us know!
---
App: Small City Road Sweeper by TricoGames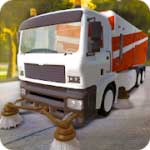 Website promo from TricoGames website: "Feel like a real truck driver who drives a street sweeper. Being a true truck driver who drives a street sweeper has a great responsibility that is to keep the big city clean in 3D and for the big city to be healthy. Live the experience of these incredible road sweeper truck simulator games today!" Note that when this was posted in April of 2018 the app was just available for Android.
driving experience and parking in real life playing
big awesome 3d city to drive, park and clean the streets
20 3d game levels of big real city playing
Limited time to sweep the streets of the city playing
on the steering wheel of the screen acceleration
Here's a link to the app.

---
WOW Toys Stanley Street Sweeper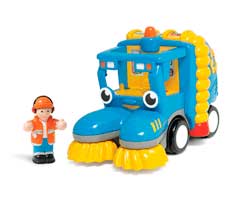 Website promo from MasterMind Toys website: "When it comes to keeping the streets clean, Stanley is the best there is; his big rubbery brushes don't miss a thing! Stanley's friendly driver Jason (included) keeps him company as he cheerfully cleans the streets. Push him along to see his brushes automatically rotate, and spin the 3 trash panels to match and sort the litter!" Age 1.5 years and up.

Here's a link to the Mastermind Toys website.

---
Mika 'Sweeper' Spin – Street Sweeper Fun Game for Kids 3 – 6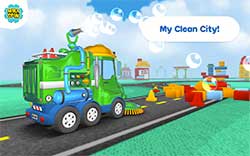 Mika "Sweeper" Spin is a Mac OS game. The app is a street sweeper driving simulator for children aged 3-6 years old. The promo for the app says: "Want to know what it's like to be a real sweeper driver? Meet a small, perky street sweeper who turns any job into a fun adventure." At the time we published this info the app was $2.99.

Here's a link to the appshopper.com sales website for the Mac OS app.

---
Street Sweepers (Mighty Machines) Book for Children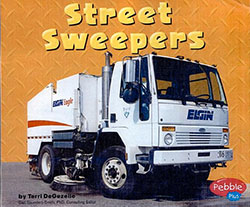 This book is part of the Capstone Press 'Mighty Machines Series,' which includes overviews on a number of different types of heavy equipment. The intent of the series is to provide children with factual information, with many large illustrations, of how the various machines operate. The images support early readers in understanding the text.
The book introduces industry-specific words and phrases and discuss how mechanical broom and air-based sweepers operate and why. The job of a street sweeping machine, including its basic parts, is discussed, along with what sweepers do. At the time of this inclusion, Amazon had 8 reviews and all were 5-star. Readers say the book is ideal for first-graders. Here's a link to Amazon's sales website for the book.
---
I Drive A Street Sweeper Book for Children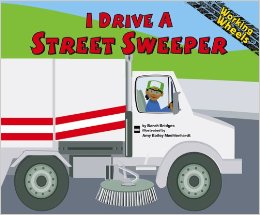 This book is written for young children as a bedtime story. It is available in both library binding (hard cover) and as a paperback. The author is Sarah Bridges, PhD, who is a psychologist and writer living in Minneapolis with her four children. She has written 13 children's books including Hank's story. She grew up in a commune in California where she first became interested in personal growth and psychology. Her primary work is as a licensed psychologist, executive coach and consultant, speaker, writer and thought leader on managing people.
The two reviews on the book at the time we listed it on the WorldSweeper website were both 5 star, top ratings. One commented that her son was 3 years old when she read him to sleep with it. Here's a link to Amazon's sales website for the book.
---
The Mighty Street Sweeper Book for Children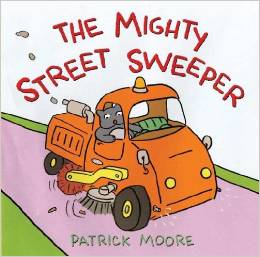 Here's what Kirkus Reviews has to say about The Mighty Street Sweeper: "Labeling everything from the dirt hopper to the safety light, the endpapers set the stage with basic blueprints of the street sweeper. 'The biggest, fastest, most powerful truck... is not the street sweeper.' So it begins, and in spare words, spends the next several pages detailing what this machine isnŐt by contrasting it with other work vehicles.
"The illustrations deliver creamy colors corralled by clean lines. The vehicles are drawn within uncluttered landscapes and all driven by wee animals that care for them with pride. In this little delight, Moore honors the common, but far from average, making even the most ordinary seem extraordinary. The book receives high ratings by purchasers and is designed for ages 3-5. Here's a link to Amazon's sales website for the book.
---
NiteHawk Sweepers' Activity Book for Kids 5-12 and Sweeper Drivers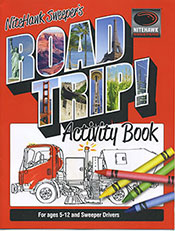 NiteHawk Sweepers offers a sweeper-based activity book for kids called 'Road Trip!' The 12-page book offers a variety of activities to keep kids occupied on long drives or anytime. As it says on the cover, the activity book is designed for "ages 5-12 and sweeper drivers."
To request copies of the NiteHawk Sweeper Activity Book, call NiteHawk Sweepers at 1-800-448-9364.
---
Smart Device Street Sweeper App for Kids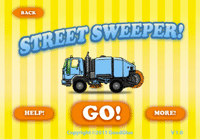 Thanks to Jack Moran of Keystone Sweeper Brushes for sending along this info.
The Street Sweeper app gets good reviews as a fun and cute interactive game for kids. From the reviews, it sounds like the average user age might be around four. Here's what the company says about its $.99 application, which is compatible with iPod Touch 3 & 4 generation, iPhone 3GS, iPhone4 & iPad/iPad2:
"Ride along on a street sweeper as it drives through a neighborhood. Help the street sweeper clean the streets. A real treat for those little street sweeper enthusiasts and a great way to encourage curiosity and interaction for all."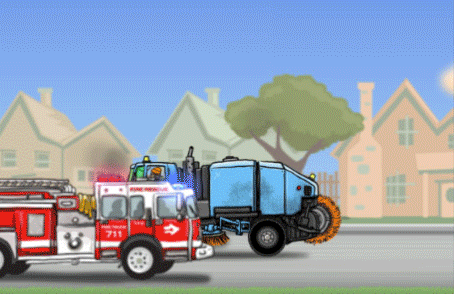 "Touch the driver and he honks the horn. Touch a cloud as it passes by and it smiles and hums. The neighborhood is interactive. When your child touches people, animals, or objects they make sounds and perform actions. It's like a moving story book!

"When the truck gets dirty it drives to a washing station. You get to wash the truck and make it clean again! A great way to explore the sights and sounds of a typical neighborhood while cleaning the streets."
Click here or on the 'S' graphic to the right to go to the app download site.
---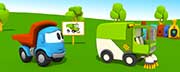 This is a four-minute YouTube video in the Leo the Inquisitive Truck series. Leo finds some debris on the highway so builds a street sweeper to pick it up.
---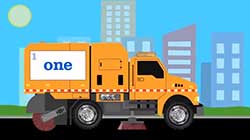 This isn't a traditional book or toy; rather, it's a two-minute YouTube video that uses street sweepers to help kids learn to count from one to ten. Brief; cute; effective. Proves that sweepers are something you can count on? ;-)
---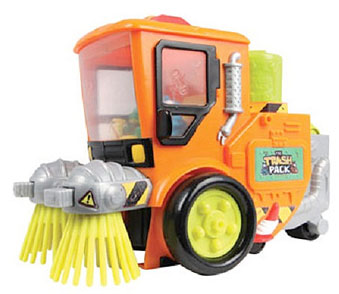 At the time of this posting, the sweeper was available at ToysRUs for $19.95 + shipping. Click here or on the graphic to the right to go to the ToysRUs web URL that was current at time of posting. Otherwise, do a search for the following: "The Trash Pack" and "Trashies sweeper"
Here's what the manufacturer says about the toy:
Clean up the streets of Trash Town with The Trash Pack Street Sweeper, which features a bin to catch the trash and includes two exclusive Trashies. Watch the Street Sweeper scoop up then spit them out when it crashes!

Includes a container to catch trash
Scoop up your Trashies
Release the trash when you crash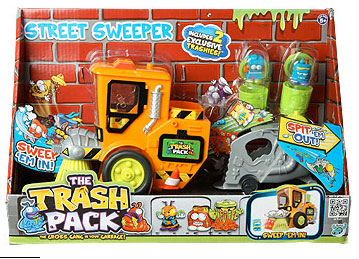 Street Sweeper Includes:

Two exclusive Trashies
Two trash cans
---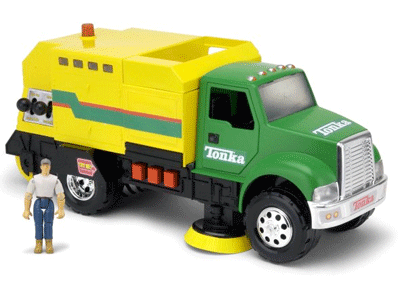 Thanks to Mark Boyer, editor of SweeperMarket, who passed this info along for everyone. He first noticed the sweeper that you see in the photo. At the time of this posting, the sweeper was available at Target for about $30.

Here's what the manufacturer says about the toy: This street sweeper is a hands-on free wheeling vehicle with motorized, sweeping brushes, motorized waste conveyor belt and scissor-lifting waste disposal. A great new addition to the urban service line. Requires 3 "C" Batteries. Sold separately. Item dimensions: 19"x7.75"x10"



---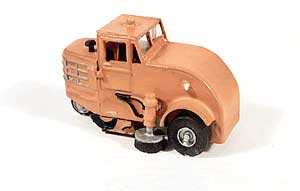 Cast metal kit (17 pieces) easily assembles into a highly detailed street sweeper. Used 1940s-present.
At the time of posting, the kit was about $20. In the event the direct link has changed, the supplying company is JL Innovative Design.
---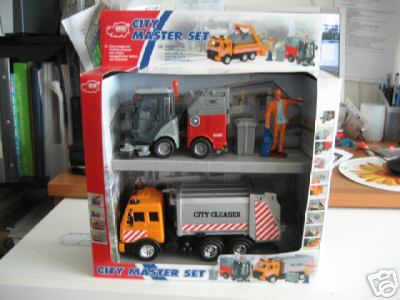 Thanks to an alert WorldSweeper.com reader in Australia named Meraine, who passed this info along for everyone. She noticed the sweeper set that you see in the photo listed on e-Bay.

We contacted the Hong Kong-based vendor, who said they have the sets ongoing and that the cost, including shipping to the U.S., is $25. For more information or to order, send an email to: duewag@yahoo.com.hk



---
Robots the Movie Toy Vehicle Sweeper with Exclusive Rodney Figure
You can get the sweeper from the movie Robots at ToyWiz.com. Here's what the website blurb says: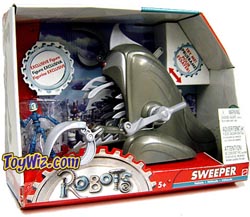 In Robot City an evil scheme is afoot to get rid of outmodes like Rodney Copperbottom and his friends. Kids will love to act out scenes from the ROBOTS movie with the Sweeper vehicle that chomps and swallows their favorite characters. By pulling a lever up-and-down on the sweeper vehicle's spine to open and close the mouth, revealing scary teeth and blades.
The swinging claw arms on the side of the vehicle sweep up to two of the 3.5-inch figures into its mouth at a time. Comes with one Rodney Copperbottom figure.

---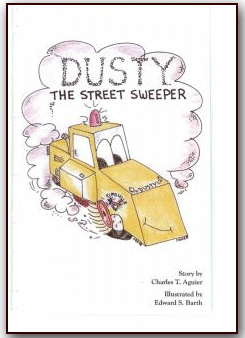 "Dusty the Street Sweeper" is a self-published 8" x 5", 12-page children's story written by Charles T. Aguier and illustrated by Edward S. Barth.

Their story takes place in a fictional town called Elmsville... but Elmsville can be "Anyplace U.S.A." Dusty has a driver named Pete. Pete takes very good care of Dusty. He checks his gas, oil, and his cleaning tank to make sure it is always filled with water. Pete does this out of love. Everyone in Elmsville love Dusty and Pete for keeping their streets so clean.

The cost to deliver this cute book to your future sweeper owner is $5.95 + $.60 for shipping. Your satisfaction is guaranteed. If you want to order, just click on the title, above, or the graphic of the book's cover to send an email to Charles Aguier.
If this information is no longer correct, or if the link doesn't work anymore, please let us know.

---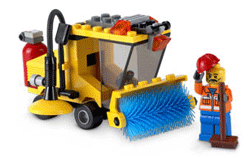 This is a Lego toy suggested for kids 5 and up. As of August, 2005, the price listed on the Lego site for this 63-piece toy was $4.99.

If this information is no longer correct, or if the link doesn't work anymore, please let us know.

---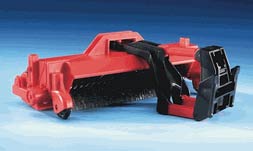 This is a Street Cleaner attachment made by Bruder. Attaches to the front of Bruder Unimog-Styled trucks. Also attaches to all Top Pro Series tractors. (Which means you have to buy something else to attach this to...) When attached and truck is rolling, the brush sweeps. Price in August of 2005 was $11.50.

If this information is no longer correct, or if the link doesn't work anymore, please let us know.

---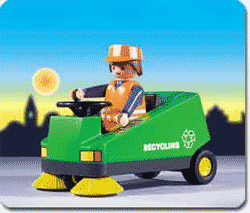 This is a sweeper/driver combination that's recommended for ages 4 through 9. Price in August of 2005 was $6 plus shipping.

If this information is no longer correct, or if the link doesn't work anymore, please let us know.