by Ranger Kidwell-Ross

---
The foundation for the following is based upon the May 2021 webinar held for stormwater professionals by the Minnesota Minnesota Pollution Control Agency (MPCA).
Although the State of Minnesota was aware that street sweeping was an effective BMP for phosphorus (P), the question remained to determine A) the true cost of removing P from streets via street sweeping, and B) then compiling a credit for MS4 permittees to encourage them to deploy the correct types of street sweepers, in the correct manner and frequency: i.e., developing data that would allow development of a phosphorus credit for street sweeping.
If you haven't yet done so, we encourage you to see the details of this webinar in our article from May of 2021, as well as the subsequent interview with one of the people involved, Randy Neprash, PE. Check out the link to that previous article. (For your convenience the story will open into a new browser window.)
---

---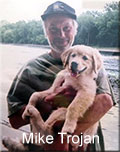 Mike Trojan's 30-year career has largely been as an investigator of the best ways to remove stormwater runoff pollution. In this Zoomcast, Trojan discusses how a comprehensive study by the Minnesota Pollution Control Agency, among other participants, has determined that removing phosphorus via street sweeping is orders of magnitude less expensive than any other method.

The study showed that phosphorus removal via street sweeping was done for as little as $100/lb whereas, for example, costs of phosphorus removal per pound at the 'end of the pipe' has been tracked in the Chesapeake Bay area at over $15,000/lb.

The @45-minute Zoomcast discussion linked below between Trojan and a 30-year sweeping industry veteran, WorldSweeper's Editor, Ranger Kidwell-Ross, discusses this latest study information. The two also discuss the emerging technology that can leverage the value of sweeping, such as recognition of potholes, overhanging branches, etc. via a sweeper camera; determining the amount of material left on the street when vehicles are not removed during sweeping; new ways to ticket parking scofflaws and more.

To access the Zoomcast click on the image. In the event you cannot do that on your computer, the YouTube link is https://youtu.be/eKGSXJZwLbg.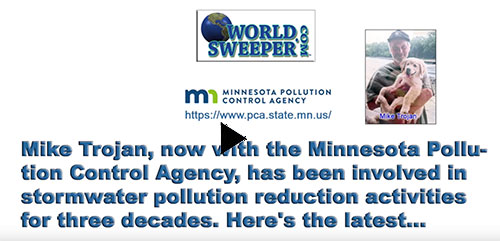 ---
In the event you have questions or comments for Mike Trojan, he may be reached via email sent to Mike.Trojan@state.mn.us. To reach Kidwell-Ross send to editor@ WorldSweeper.com.

Every month, WorldSweeper offers an award-winning free e-newsletter packed with a variety of information about the power sweeping industry. This includes links to studies and reports, among many other topics. If you do not currently receive the newsletter, use this signup link.
---