Meet CityRover, the Sweeper-Mounted AI System Helping Oregon City Battle Potholes
by Ranger Kidwell-Ross (from an initial article by Raymond Rendleman)
Oregon City has enlisted the help of a device named CityRover as a high-tech ally to help in the ongoing battle with potholes. And it's the only community in the state currently taking advantage of artificial intelligence technology.
The Public Works Department in Oregon City has been testing an artificial intelligence device to assist in locating and marking potholes. The device functions by scanning the road ahead constantly while situated in a city vehicle, such as a street sweeper. It identifies potential potholes and communicates this data to a database. City officials report that it has proven to be an exceptionally helpful tool.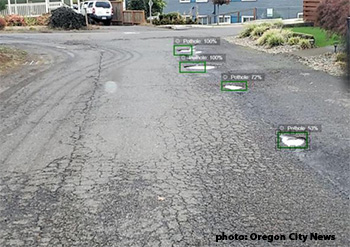 Jayson Thornberg, the street operations manager for Oregon City, stated that the street sweeper routinely travels every street in Oregon City several times per year. With the AI device working every day, all day, it promptly detects problem areas.
The data transmitted to staff includes detailed mapping and images illustrating the identified issues. Staff examines this information to verify if the device marked a true pothole. If so, city workers prioritize the pothole and include it in their workflow.
The device may identify potholes on roads not within the city's jurisdiction, such as the Oregon Department of Transportation's Highway 99E or Highway 213. However, road crews only address problems discovered on streets maintained by Oregon City.
Crews maintain Oregon City roads year-round, including fixing potholes. Nevertheless, during the winter months, it is challenging to keep up with the road damage caused by harsh weather conditions.
Potholes are formed when water infiltrates cracks in the road and then freezes, expanding and widening the gaps. High traffic volumes and frequent weather fluctuations can cause potholes to appear almost overnight. According to Thornberg, weather like that experienced during the previous winter is tough on roads, with the constant freeze-thaw cycle keeping crews busy.
Fixing potholes during cold and wet weather is more challenging, as the conditions reduce the effectiveness of repair methods. Thornberg stated that the crew seizes every opportunity to deal with problem spots. However, when the weather warms up and dries out, they can get ahead of the problem.
While staff are always searching for new potholes, they also rely on reports from residents to identify any new ones in Oregon City.

Thanks to the Oregon City News for alerting us to the above information.
---
As a component of this story we conducted an @15-minute interview with John Lewis, Oregon City's Public Works Director, about their experience to date with the CityRover. We apologize that for some reason there are some slight mis-matches with the visual and voice on the feed from our editor's end.
---
If you have questions or comments about this interview, please, let us know and, if appropriate, we can add it in as an addendum to this article.