---
Navigating Industry Insights and Challenges
by Ranger Kidwell-Ross, editor
WorldSweeper.com
As we delve into the latest edition of our e-newsletter, I'm pleased to share a collection of articles that encapsulate the dynamic landscape of the sweeping industry. Each piece offers a unique perspective, shedding light on both the triumphs and hurdles that define our field.
Our opening video panel brings an essential discussion to the forefront. In collaboration with Phil Duncan of BindDesk, we dissected the advantages and pitfalls of employing independent contractors. This topic is crucial, touching on aspects that impact both operational efficiency and legal responsibilities. Our detailed Zoomcast, available to all via the WSA website, offers valuable insights for industry professionals. WSA's provides this type of vital information to its members on the 1st and 15th of each month.
I'm proud to announce that this e-newsletter has secured an international APEX Award for Publication Excellence for the 11th consecutive year. This recognition in the category of 'Electronic Media – Education & Training' is a testament to our dedication to delivering informative and engaging content. Since 1994, when the journey began with the first American Sweeper magazine publication, we have consistently strived to set new standards of excellence. This remarkable feat is a reflection of our commitment to serving our readers and promoting the growth of our industry.
Highlighting emerging talents within our community, I'm delighted to share the story of James Kannewurf, the recipient of WSA's 2023 Carl J. Austin Memorial Scholarship. His academic achievements and compassionate character stand as an inspiration to us all. James exemplifies the potential of the next generation of sweeping professionals, and his journey offers a glimpse into the bright future that lies ahead.
However, amidst our successes, we must also address challenges head-on. The cautionary tale of payment issues with CASE Facilities Management Solutions underscores the importance of transparency and ethical conduct. This is a reminder of the shared responsibility we bear in maintaining a trustworthy and collaborative industry ecosystem.
Our commitment to environmental stewardship is underscored by the EPA's recognition of Parking Lot and Street Sweeping as a 'Stormwater Best Management Practice.' The included information equips municipalities with the knowledge needed to design effective sweeping programs that contribute to pollution prevention and good housekeeping. Our industry's role in the reduction of pavement-based stormwater runoff pollutants cannot be understated.
Lastly, we delve into the complex issue of post-accident positive marijuana results in the workforce. The rising trend underscores the vital connection between safety and drug usage, particularly within critical segments such as commercial drivers. The evolving landscape necessitates adaptability in employer policies and heightened awareness of safety concerns.
In conclusion, this e-newsletter captures the myriad facets of our industry, offering a holistic perspective on our progress, challenges, and aspirations. From informative discussions to industry accolades and the recognition of emerging talents, we continue to foster growth and excellence within the sweeping community. As we navigate the path ahead, I invite you to engage with these insights, contribute to the dialogue, and join us in shaping the future of sweeping.
If you are one of WorldSweeper.com's advertising sponsors, thank you for the critical part you play in supporting 'Earth's Largest Power Sweeping Resource.'SM I am honored by your collective votes of confidence in what this organization provides to the power sweeping industry.
Likewise, if you are one of the industry suppliers providing WSA Members with savings on your goods and services, thank you for providing those WSA Member Benefits. Finally, if you sell to the sweeping industry but don't yet advertise with us, please consider doing so.
Good Sweeping,



Editor, WorldSweeper.com
Executive Director, World Sweeping Association
Member, PAVEMENT Hall of Fame
PS If you're a contractor I urge you to check out the many benefits of membership in the World Sweeping Association. Also, if you haven't 'liked' our WorldSweeper Facebook page, what are you waiting for? That's where we offer a variety of industry previews and updates on an ongoing basis.

---
August Newsletter Contents
(Scroll down to read stories or click on links below.)
---
The Advantages and Pitfalls of Using Independent Contractors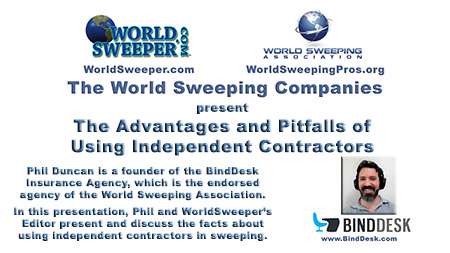 In June of 2023, WorldSweeper's Editor and also the Director of the World Sweeping Association, Ranger Kidwell-Ross, teamed up with Phil Duncan, a principal with WSA's endorsed insurance carrier, BindDesk, to discuss in detail the pluses and minuses of using independent contractors. The article is at the WSA website and the discussion in the form of a 45-minute Zoomcast discussion, which is hosted as a YouTube video, is linked at the article's site.
The Zoomcast is an example of the type of information provided to WSA members on the 1st and 15th of each month. Due to the importance of the info on independent contractors – including the many pitfalls that can occur by using them – WSA is providing this particular story to the complete power sweeping industry.
Check out an overview on the topic along with a 45-minute detailed Zoomcast analysis.
---
This e-Newsletter Wins International APEX Award for Publication Excellence for the 11th Consecutive Year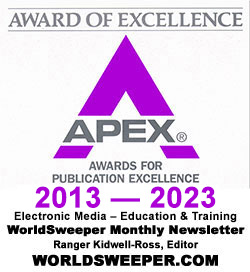 This year marked the 11th year in a row for our monthly WorldSweeper Newsletter to win an APEX in the category of 'Electronic Media – Education & Training. One or more aspects of the various articles, blogs and publications of our WorldSweeper.com editor, Ranger Kidwell-Ross, has received an APEX Award of Excellence for a record-setting 29 years in a row, having won at least one APEX every year starting in 1994 with the first American Sweeper magazine publication.
In the history of this international competition, no other individual or organization has ever won an APEX that many years in a row during the 35 years of the competition's existence.
---
James Kannewurf Wins WSA's 2023 Carl J. Austin Memorial Scholarship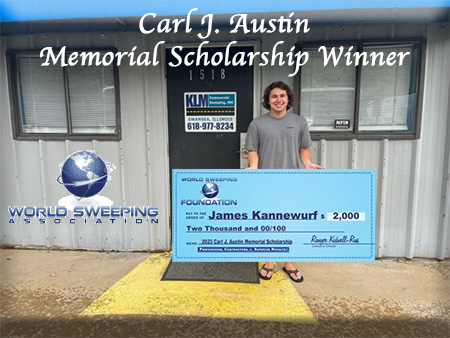 The winner of the 2023 Carl J. Austin Memorial Scholarship is James Kannewurf, affiliated with WSA Member, Illinois-based KLM Commercial Sweeping, Inc. James participated in programs and extracurricular activities inside and outside of high school and academically ended his high school career with a 4.33 GPA.

One of those who sent a reference for James called him "...one of the most compassionate, dedicated, and hardworking young men I know. He is kind, generous and always ready to help others."
Read about this year's winner of the WSA's annual Memorial Scholarship.
---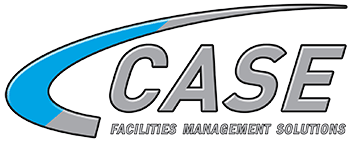 A Warning About CASE Facilities Management Solutions
Over the past several months, WorldSweeper and World Sweeping Association have been contacted by several contractors concerning payment issues with CASE Facilities Management Solutions. In support of the contractors – and in fairness to CASE – a number of attempts made by WSA to get answers from the regional managers for WSA's affected member contractors went unanswered. In fact, the phones went to voicemail and the emails sent were also not answered. Updates have been relayed to WSA members for several months.
Prior to this inclusion info was left on CASE managers' voicemails that unless an answer for the non-payments was given, information about their payment history would be distributed to the wider sweeping industry in WorldSweeper's August e-Newsletter, which you are reading. The typical payment history reported by the contractors is to receive about 10% of what was owed in a timely fashion, then little-to-no payment after that.
If you sweep for CASE, you may want to do so only as long as the contract's payment schedule is being met. You may also want to insist on a contract modification, if needed, that allows you to lien the property you're sweeping directly, and/or other actions as suggested by your attorney. If you have questions or comments, feel free to contact us.
---

EPA's BMP Fact Sheet Includes "Parking Lot and Street Sweeping"
You may not know that the EPA recognizes Parking Lot and Street Sweeping as a 'Stormwater Best Management Practice.' In the linked online document, the EPA discusses pollution prevention and good housekeeping via street and parking lot sweeping.
Information includes the factors municipalities should account for when designing and implementing an effective municipal street sweeping program. A chart shows spending per capita on street sweeping for 9 major U.S. cities. Another shows curb miles swept and cost per curb mile for the same cities. There are also a number of citations for where to get more information.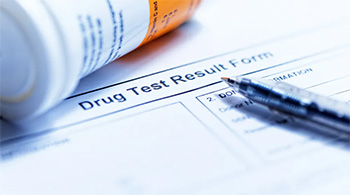 Post-accident Positive Marijuana Results Reach 25-year High in U.S. Workforce
A leading nationwide drug-testing lab has found that positive test results for marijuana following on-the-job accidents reached a 25-year high in 2022 among the entire U.S. workforce, while the U.S. government's Drug & Alcohol Clearinghouse also reflects a 31% jump last year in positive THC tests among the segment of employees most critical to trucking: commercial drivers.
"Intoxicating cannabis products, including marijuana, can have a major impact on safety at work and have been proven to slow reaction time, impact memory, and impair skills essential to driving. State legalization of the drug creates new challenges for employers," said Katie Mueller, a senior program manager at the National Safety Council focusing on cannabis safety.
---
---