Awards of Excellence in Sweeping

We appreciate any suggestions you might have for this section.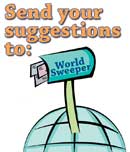 Click on the graphic above for an email window.
HISTORY OF THE AWARDS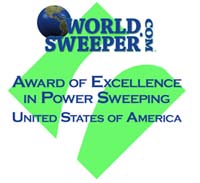 As the founder and editor of American Sweeper magazine, in 1995 our editor, Ranger Kidwell-Ross, began the tradition of recognizing outstanding individuals in the sweeping industry. Through the intervening years the honor, called the Award of Excellence in Power Sweeping, has become the top distinction in the world of power sweeping.
Says Kidwell-Ross, "The World Sweeper / World Sweeping Association Award of Excellence in Power Sweeping continues a tradition I began in 1995. This was spurred because I had won, the previous year, a national APEX Award for Publication Excellence for my American Sweeper magazine. This motivated me to start a similar award for the power sweeping industry.
Through the intervening years the Award has been received by a notable 'Who's Who' list of dedicated, involved companies and individuals in the power sweeping industry. The Award qualifications, which include more than just success in the sweeping industry, encompass time devoted to building professionalism in the industry and in assisting others involved in sweeping."
In 2005, American Sweeper magazine transitioned into this WorldSweeper.com website, which resumed this tradition." This is the place on the expansive WorldSweeper website where you may read about the current recipient of this special Award, as well as information about other winners in past years. Starting with the 2014 presentation, the Award has also been co-sponsored by the World Sweeping Association.
---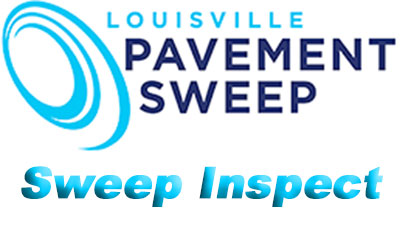 Jim Blackerby's Louisville Pavement Sweep Receives the WorldSweeper.com/World Sweeping Association's 2021 Award of Excellence in Power Sweeping, the United States power sweeping industry's highest honor.
---
Jim Blackerby, second generation Tennessee contractor, won this year's Award primarily due to his development of the Sweep Inspect app platform.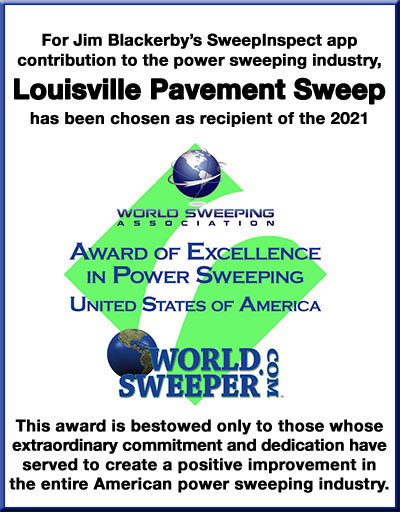 Normally, the WorldSweeper.com/World Sweeping Association's Award of Excellence in Power Sweeping is awarded at the National Pavement Exposition, typically held in late January or early February. However, this year the NPE was only a virtual event.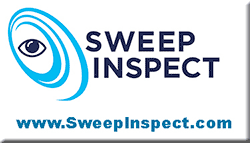 As a result, our 2021 Award was presented via a Zoomcast with our chosen recipient, Jim Blackerby, owner of Kentucky-based Louisville Pavement Sweep. Blackerby is a second-generation contractor who has built a fast-growing, very professional operation, serving the Greater Louisville area. However, the primary driver for his being chosen for the Award is his development of the Sweep Inspect app, which is a very full-featured – and getting more so all the time – app designed to handle all sorts of tasks for sweeping contractors.
Although initially designed primarily as a quality control management tool, over time Blackerby has added a number of features to Sweep Inspect that include customer support, routing and much more. We invite you to check out the Sweep Inspect website for more current information on the app. WorldSweeper also did a story on Sweep Inspect in November of 2019.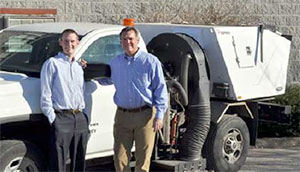 In addition, WorldSweeper also made Louisville Pavement Sweep, along with his father's (who is also named Jim) company, Lexington Pavement Sweep, its first ever 'co-Featured Contractors' as a father-and-son team. We also credit the younger Blackerby with providing an early warning about the health and safety issues surrounding the many masks and gloves being left on the ground in the early days of the pandemic.
As of March 2021, the Sweep Inspect app was $200/month, an amount that covers all trucks in a contractor's operation. For World Sweeping Association members, the app is not only discounted to $150/month, but Blackerby is donating $25/month to the World Sweeping Association's Memorial Scholarship fund. (For info about WSA, including a link to join, check out this link.)
Since we couldn't present the Award in person, WorldSweeper.com's Editor (who is also Director of the World Sweeping Association) called Jim about doing another feature story on his company. The @15-minute Zoomcast interview, which ended in the Award presentation, is a thoroughly enjoyable and informative video and is linked below. Click on the image and the video will open into a new browser window.
---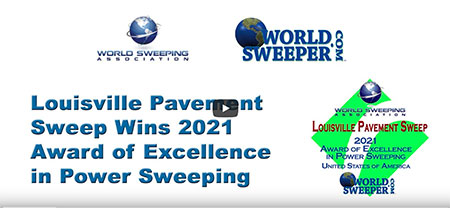 ---
For more information about Louisville Pavement Sweep's Sweep Inspect program, we invite you to visit the company's website, which is located at www.Sweep Inspect.com. Jim Blackerby's phone number is 859-533-1415 and you may contact him via email sent to support@Sweep Inspect.com.
If you have questions or comments about this article, please, let us know and, if appropriate, we will add it in as an addendum to this article.
Some Previous Award of Excellence in Power Sweeping Winners
Winner for 2020, Elgin Sweeper Company, commemorating its user involvement in designing its RegenX sweeper model.

Winner for 2019, Warren & Bridget Burge, founder of Baton Rouge-based Clean Sweep, Inc.

Winner for 2016, Larry Dyck, founder of MASCO Sweepers.

Winner for 2015, Les Huliscko, founder of SweepRite Sweepers.

Winner for 2010, Allan Heydorn, editor of PAVEMENT Maintenance & Reconstruction Magazine.

Winner for 2009, South Carolina-based Dale McCaskill and his company, Southco Sweeping.

Winner for 2008, Seattle-based Davidson-Macri Sweeping and SweeperMarket Magazine.

First Award Winner, Gabriel Vitale, owner of C and L Sweeping in New Jersey.

Winner for 2006, Gale Holsman, owner of American Sweeping, Inc. in Kansas City, Missouri.

Eugene Hansen, the founder of Minnesota-based Clean Sweep, Inc.

Mark Carter, co-owner of Los Angeles-based Bill's Sweeping.

Bob Schwarze, founder of Schwarze Industries, Inc., and his son, Mark, were the winners for 2002.

Winner for 2018, Michael Nawa, founder of Pennsylvania-based Custom Maintenance.

Winner for 2017, Pete Phillips, founder of Chattanooga-based Clean Sweep.

Winner for 2014, NiteHawk Sweepers

Winner for 2013, Karl Stauty and his company, Commercial Power Sweeping, Inc.

Winner for 2012, John "Johnny D" Dubbioso. John's companies include NE-based Tri-State Industrial Maintenance, Three-D Equipment Rebuilding and several others. He was also one of the inventors of the Broom Bear sweeper, which was sold to Elgin.

Winner for 2011, Ray Confer of Michigan-based C & J Sweeping, Inc.

In 2007, the WorldSweeper.com Award of Excellence in Power Sweeping was awarded to the B.W. Young family and the company he founded, The Young Manufacturing Company -- better known in the sweeping industry as the TYMCO sweeper company.

Tom Ostuni is a man who in 1966 looked at an industry in its infancy and saw its potential. He took a single sweeper and a single account and turned it into a full-scale success, helping many others along the way.