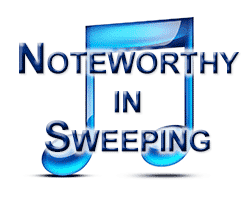 Nationwide Environmental Services: One of America's Most Outstanding Sweeping Company Success Stories
by Ranger Kidwell-Ross

Joe Samuelian and his daughter, Ani Samuelian, are both extraordinary individuals who have made a significant impact on their community.

Both were honored in March of 2023 by Bob J. Archuleta, California's 30th District Senator. Joe was commended for the quality of his 55 years of service; Ani was chosen as the District's 2023 Business Woman of the Year.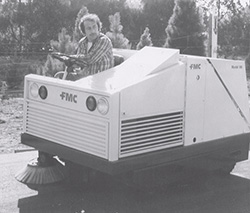 Joe Samuelian, an Armenian immigrant from Syria, arrived in the United States in 1963 with very little understanding of the English language. Despite the challenges he faced, he had an unstoppable work ethic and worked tirelessly to provide for his family.
He worked three different jobs within the first few years of his American life. A few years later he purchased his first parking lot sweeper, which marked the beginning of a business that would allow him to fulfill the "American Dream." This business grew into Nationwide Environmental Services (NES), one of the most successful and influential power sweeping organizations in the nation.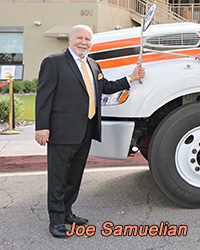 Joe has remained true to his roots, pledging to always provide the highest level of service and customer care while ensuring that all the municipalities NES serves are being cleaned using only the most environmentally-friendly and efficient technologies. He has also been dedicated to assisting his culture – and people everywhere – by donating to hundreds of cultural organizations, schools, churches, and foundations for the underprivileged, for disease research, and more.
The ensuing success of Joe's daughter, Ani, is a testament to her upbringing as well as the lessons she learned from her father. Starting as a filing clerk, she worked her way up to the leadership position she holds today, transforming this family-owned small enterprise into an operation for the modern era.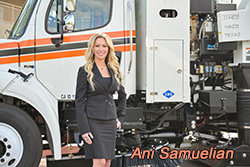 Today, Ani is the President of NES. She has also emerged as a true trailblazer in a male-dominated industry. Ani is widely known for her commitment to exceptional customer service, prioritizing sustainability, and guaranteeing that all the technology and equipment utilized by Nationwide is environmentally-friendly.
Under her leadership, NES has grown exponentially, at times serving over 50 major Southern California municipalities and other public agencies across Los Angeles, Orange, San Bernardino, and Riverside counties.
Ani is also a dedicated philanthropist and has consistently given back to her community. She serves on the executive board of Joe's Organization for Youth (JOY), a nonprofit founded by her son. JOY provides aid and happiness to thousands of children in a number of communities every year via toy distributions, creative programming, scholarships, and more.
Ani champions the communities NES services by participating in local events as well as supporting local charities, school districts, special needs programs, sports leagues, and more to ensure she is contributing to a better quality of life for all within the cities Nationwide proudly serves.
In March of 2023 each of them received an award from their Senator recognizing their individual trailblazing work resumes.
---
---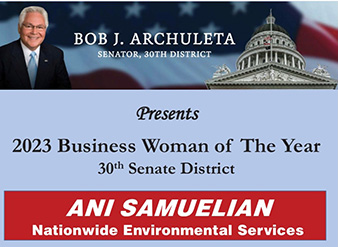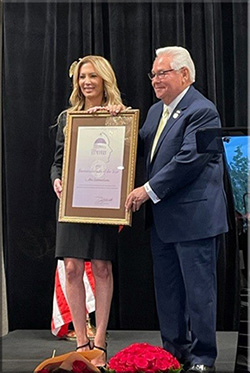 When Bob J. Archuleta, the Senator for their California district, chose Ani as the 2023 Business Woman of the Year he recognized, in part, that Ani was:

"The only female President of one of the largest street sweeping companies in the country, Nationwide Environmental Services (NES).

Ani has overcome significant challenges in a male-dominated industry and has emerged as a true trailblazer."
---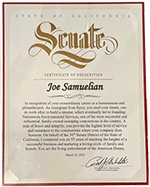 Joe received a Senate Commendation from Senator Archuleta for his 55 years of service to his industry and his community. The Senate Commendation reads:

"In recognition of your extraordinary career as a businessman and philanthropist. An immigrant from Syria, you used your innate can-do work ethic to build a resume, which eventually led to founding Nationwide Environmental Services, one of the most successful and influential, family-owned sweeping corporations in the country.

A man of honor and integrity, you provide the highest level of service and assistance to the communities where your company does business.

"On behalf of the 30th Senate District of the state of California, I commend you on 55 years of reaching the heights of a successful business and nurturing a loving circle of family and friends. You are the living embodiment of the American dream."
---
---
The entire Samuelian family consists of outstanding individuals who have made an undeniably positive impact on their community in many ways – other than growing into one of the largest power sweeping companies in the United States of America.
Joe's wife and Vice-President of NES, Never Samuelian, has been with the company since day one and is another important reason for NES' success and philanthropy through the years. NES is a majority woman-owned business that also includes Ani's sisters, Lucy, Sylvia and Suzy.
Together, this family has shown how business success can be expanded exponentially via not just being a hugely successful business. Rather, their more impactful contribution to society has come via assisting hundreds of charities and related organizations throughout their lifetimes. The family's dedication to service, sustainability and philanthropy is an inspiration to us all.
If you would like to contact the company, we suggest you do so by sending an email to: Ani@nes-sweeping.com.