NE Sweepers & Rentals is Exclusive RAVO Dealership in the US

NE Sweepers & Rentals, based in New York, is the US' exclusive dealer when it comes to the RAVO and Mathieu (both owned by Fayat) sweeper lines. We asked them to send us some information about how the effort with the RAVO line was going. Here's what they sent: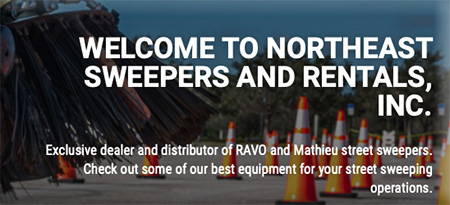 by Brendan Campos
September, 2023 –

For the most part we have existing customers do the talking for us to other municipalities about our machines and how satisfied they are with the performance and simple maintenance that comes with them. Whenever anybody new calls it's almost always because an existing customer had something positive to say about our sweepers.

We also see this happen at many of our tradeshows and conferences we attend throughout the year. Our sales and marketing department also does an incredible job following up with potential business whether it be for selling machines or rentals.

We've established a strong presence on the web, which helps us generate traffic, leads and key performance indicators. From there we are able to better understand the interests of customers, their behaviors and how they are engaging when learning about our products.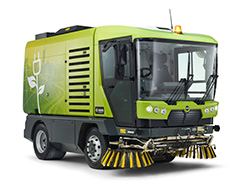 A few years ago we introduced the fully electric RAVO 5 eSeries street sweeper to our product line and saw a huge demand as interest peaks and funding becomes available for cities to move toward sustainable, clean and socially responsible alternatives for their communities. RAVO dealers in the US are finding that there is a huge demand for these fully electric alternatives in order to gain the amazing benefits that come with sustainability.
Market demands by our customers generate interest for the RAVO 5 eSeries to fill the gap when it comes to environmental responsibilities. Whether we are at tradeshows, conferences or demos we always mention our fully electric alternative. Showcasing the RAVO 5 eSeries sweeper attracts the market because it displays that our company is looking to do whatever it takes to provide solutions during significant changes to environmental initiatives that are current. The eagerness to save on fuel and reduce fuel consumption seems to be one of the leading indicators for this push, along with reducing the need for maintenance.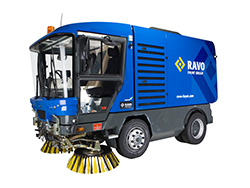 This year we introduced another addition to the RAVO 5 iSeries street sweeper, the porous pavement cleaner attachment. Considering that our RAVO 5 iSeries has the flexibility to be versatile in street sweeping operations, we decided to perfect an additional functionality for the urban communities that have applied porous pavement to their streets.
Cities that are looking for their "swiss army knife" of street sweeping will have to look no further when they are able to operate a machine that can do it all. The use of our porous pavement cleaner in urban cities helps maximize the functionality of porous pavement systems, promoting stormwater management, improved water quality, reduced flood risks, and environmental sustainability while maintaining the longevity and aesthetics of the pavement surface.
Our company looks to advanced methods to improve urban environments and prolong the viability for the sustainability of the environment. Alongside porous pavement cleaning we also decided to put an emphasis on the RAVO 5 iSeries model that features water recycling to urban communities and contractors. This is yet another way to save on time and expenses for the operation.
We have found that this year particularly, our rental business has been more active than previous years. Municipalities and contractors from inside and outside of our region seem to be flocking toward the RAVO 5 iSeries pure vacuum model to complete jobs efficiently and comply with the new stormwater regulations enacted by the government.
When it comes to rentals, we believe we do a great job providing helpful resources to operators on how to operate and self-maintain the machine as well as being accommodating for whenever the customer has questions or concerns about our product.
For more information on NE Sweepers & Rentals or the RAVO or Mathieu sweeper line, call 973.751.6200 or send email to brendan@northeastsweepers.com.