We appreciate any suggestions you might have for this section.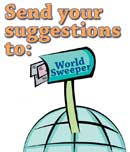 Click on the graphic above to contact us.
Table of Contents
Learning More About Private Equity Purchases of Sweeping Companies
An Interview With Keystone Plastics' Brian Naftal and Michael Santos
An Interview With Mark Watje, President of Curbtender Sweepers, LLC
An Interview With Greg Heyer, New President of Old Dominion Brush
Victory Sweepers, a Roots Multi Clean Company
Well Made Manufacturing: Making a New Kind of Parking Area Sweeper
Johnston Sweepers, Ltd. Establishes a Foothold in the USA
Inventor of the miniBRUTE SWEEPER Targets Contractor Cost of Operation
Profile on Mohawk's 'Labor Saver Dirt Shoe'
Stewart-Amos Sweeper Co.
Elgin Sweepers are a World Wide Force