An Interview With Greg Heyer, New President of Old Dominion Brush
by Ranger Kidwell-Ross
April 2018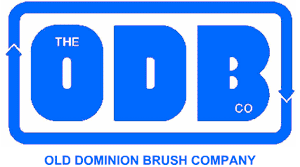 For the past six years Greg Heyer was the Vice President of Sales, Marketing, Customer Service and Product Management at Schwarze Industries, Inc., an Alamo Group company. During that time, Schwarze approximately doubled in size. That track record convinced Alamo Group management to promote Heyer to the presidency of another recent Alamo Group acquisition, Old Dominion Brush.
At the first of 2018, Greg Heyer was rewarded for his accomplishments as a Schwarze Industries VP by being selected as the President of one of the sweeping industry's most iconic organizations, Old Dominion Brush Company (ODB). ODB has been selling municipal products since 1910 and, until the Alamo Group's acquisition in 2017, was privately owned during that time. In addition to its mature gutter and main broom lines for power sweepers, ODB also manufactures a line of dedicated leaf collection machinery.
As you will hear in the audio interview we taped in April of 2018, Heyer credits much of his success to his emphasis on listening to customer feedback so as to be able to innovate. He feels that is key for producing equipment that targets client needs. That skill, in addition to recognizing market opportunities and investigating the possibilities available in expansion to markets outside the U.S., are ones he has brought to the ODB organization.
Currently, says Heyer, ODB makes a complete selection of brooms and brushes for sweepers, for both current machines and older models. Fabrication and production is done in-house and can be modified to suit whatever are the needs of customers. That portion of the company is both well positioned and long established. The leaf collection side of the company is relatively newer and Heyer sees a significant opportunity to grow the brand in the area of leaf collection – even though ODB is already the current market leader of that industry.
"On the broom and brush side," said Heyer, "we're somewhat at the mercy of the sweeper manufacturers. If they come up with a new innovation, then we hope to be positioned to be able to be chosen to provide them with the new broom and brush products they need. However, the specs on the existing products are well established. When it comes to the amount of bristles, the amount of poly and so forth that are requested, everybody pretty much adheres to the same specs.
When it comes to recognizing ODB's quality, I believe it comes down to the feedback we receive from customers: How many complaints or returns we have. The good news is that we virtually have none. We plan to continue to move forward as the company has done for many years. On the leaf collection side, though, we see enormous possibilities for expansion of the ODB-produced machines in the marketplace."
When asked about the value of ODB now being an Alamo Group company, Heyer discussed the positive value of having a supportive, well capitalized public company behind the effort of its satellite companies. Current Alamo companies in the sweeping industry include, in addition to ODB, Schwarze Industries and NiteHawk Sweepers. Alamo also owns Vacall, Gradall, the Alamo and Tiger industrial mowers' line and more.
When asked about future expansion plans, Heyer said "We want to make sure we are solid in our foundation here in North America first. Then, just like we did with Schwarze, we'll look for expansion possibilities that make sense. However, we still have a few things to do in terms of organization and solidifying here in the U.S. Eventually, we'll be investigating how debris and leaf removal is done in other countries, but at this point we haven't gotten into that process at all.
"One thing I want to emphasize is that at ODB we have great people. They are both dedicated and loyal. They really take the concepts of safety and performance and quality to heart. They are very excited about the opportunities we have to grow the business. We also have a great facility as well as strong support from Alamo. We're looking forward to working hard but also to having some fun while we're at it."
If you want to listen to the approximately 10-minute audio conducted with Greg Heyer, we invite you to play the audio linked at this location.
---
For more information on Old Dominion Brush, the company's website is www.OldDominionBrush.com. You may reach Greg Heyer via email sent to: gheyer@OldDominionBrush.com. ODB's direct phone number is 1-800-446-9823.