Elgin Sweepers Clean Up Streets World Wide

Elgin sweepers have been cleaning roadways since 1914 and celebrated its 100-year anniversary in June of 2014. Elgin Sweeper Company, today part of the Federal Signal's Environmental Group, began at the turn of the century with a product designed by inventor John Murphy of Elgin, Illinois.
Mr. Murphy recognized the serious health hazards caused by polluted streets and invented the world's first machine that automatically picked up street debris.
Driven by a desire to address the health hazards caused by streets and roads filled with filth and debris, pioneering automobile enthusiast John Murphy, who was a resident and alderman of the town of Elgin, IL, prior to World War I brought his design for the first mechanized sweeper to American Tower and Tank Company of Elgin.
After two years of trials with the original design, the company was ready to go to market. After a couple years of testing, the first motor sweeper, a three-wheeled machine, was sold in April 1914 to the City of Boise, ID.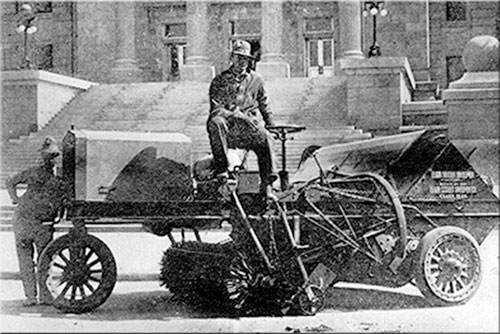 This remarkable piece of equipment eliminated the need for a man with a shovel and helped solve the sanitation problems of the day.
The company sold 15 sweepers in 1915 and 42 sweepers in 1917, the same year the growing organization became Elgin Street Sweeper Co. The company began operating out of a facility on the Fox River, near the current location of the Grand Victoria Casino along South Grove Avenue in Elgin, IL. In the mid-1960s, the manufacturer and well-known brand of street sweepers moved to its current location, 1300 W. Bartlett Road, on Elgin's southeast side.
By 1922, the market for the Elgin sweeper was so promising that the owners of the Elgin Corporation terminated their relationship with American Tower and Tank Company and the company became the Elgin Street Sweeper Company. Years later, the company incorporated as Elgin Sweeper Company. In 1982, Elgin Sweeper was acquired by Federal Signal Corp., a leading global designer and manufacturer of products and total solutions that serve municipal, governmental, industrial and commercial customers. Today, Elgin Sweeper is a key brand of Federal Signal's Environmental Solutions Group.
As times changed so did Elgin Sweeper Company, and for over 100 years Elgin products have delivered superior performance. Today, Elgin sweepers are used around the world and backed by the industry's most respected dealers, who provide quality sales, service, warranty and parts support.
In June of 2014 Elgin held a well-attended 100th anniversary celebration, which offered a chance for former employees to revisit while current workers could show off the organization to family and friends. "We all rode our motorcycles in from Machesney Park," said 27-year-employee Ron Verhagen of Rockford as he showed around members of the Rock River Harley Owners Group. "It's a nice day for a ride."
The group gathered around an antique Elgin Sweeper, manufactured in 1931, owned by a history museum in St. Louis that has loaned the unit to the Elgin company in the past. "I've offered to buy it from them," said Higgins, "but they won't sell." The antique sweeper was a highlight of factory tours that had groups criss-crossing through the plant – past the robotic welders, paint bays and sweepers in various stages of completion. Outside, kids climbed on trucks while families and friends waited in line to take a spin around the parking lot on a sweeper.
Elgin continues its sweeper leadership by evolving its products and creating new ones. "Elgin Sweeper has certainly improved upon Mr. Murphy's original sweeper design over the years,"" said Mike Higgins, "Elgin Sweeper's vice president and general manager. "But his original concept of a street cleaning machine lives on.
"Some of the improvements made to the sweeper include the introduction of a gutter broom, expansion of the hopper capacity, use of a diesel engine and development of an integrally welded body to deliver unmatched strength and durability."
We pride ourselves on the quality, innovation, and reliability that is built into each and every product. Elgin equipment utilizes all variations of today's sweeping technology: mechanical, pure vacuum, regenerative air; and now waterless dust control, to offer customers the sweeper that matches their needs.
Models such as the Broom Bear, Crosswind, Road Wizard and, more recently, the Regen X provide exceptional performance in their sweeping applications and have been favorites among sweeping contractors throughout North America and the world.
For more information on Elgin's product line, contact your local Elgin dealer, or call (847) 741-5370. You may also take a look at the company's website at www.elginsweeper.com.
Crosswind, Broom Bear, Regen X and Road Wizard are registered trademarks of Elgin Sweeper Company. Sterling & Freightliner are registered trademarks of DaimlerChrysler Company.