Inventor of the miniBRUTE SWEEPER Targets Contractor Cost of Operation
by Ranger Kidwell-Ross
January 2012


Mike Primeaux (pronounced 'primo') has been a sweeping and landscaping contractor for over a decade. Unlike most contractors, though, for much of that time Primeaux has been using a sweeper of his own design.

Because of the cost of purchase and operation of sweepers in the marketplace, Primeaux began designing his own machines a number of years ago. Now, after a successful year-and-a-half of testing his current model, he decided he was ready to make his sweeper for others to use.
Mike Primeaux got into sweeping in a similar fashion to many other contractors in the business. He was doing landscaping when he was asked by several customers if he could add sweeping to his product offering. Although he says he has purchased and used several power sweepers available in the market, because of the combination of high purchase price and high cost of operation, Primeaux early on and experimented with building his own machine.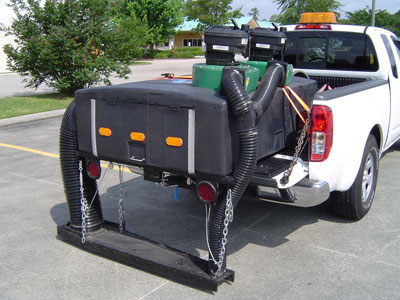 "My first sweeper was built out of large metal shelving panels," Primeaux recalled. "Although it worked fine, it was ugly and I wanted more power. Next, I tried plastic with twin motors and that both worked great and solved any rust problems. However, it was a prototype that was still ugly. So, I worked on its appearance and am very pleased at the transition to what the machine looks like – and how it performs – today."
Perseverance has been the key for Primeaux, who is based in the New Orleans area. He has been operating his current design – which he has dubbed the 'miniBRUTE SWEEPER' – for well over a year with no problems whatsoever. His sweeper's low-cost of operation, combined with a relatively low cost to build given the price of other sweepers available, convinced him to bring the miniBRUTE to market.
The miniBRUTE appears as though it will catch the eye of those looking for a low-cost way to sweep parking lots. Primeaux has constructed his machine from polyurethane and uses a unique, twin engine system to run it. The twin auxiliary engines are each a 6.5hp Briggs and Stratton. In the event that one engine were to fail while out on a sweeping route, the sweeper is able to continue operation.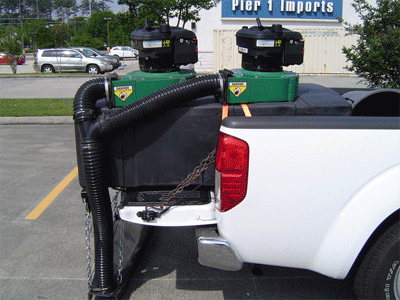 The miniBRUTE is a no-frills, rake-out sweeper that has neither a dust suppression system nor any type of curb broom. However, the trailing head is offset to the left side from 4"-to-10" depending upon the Type of truck and size of its tires. On some of his own routes, Primeaux has learned that it saves time and increases efficiency to simply point an air blower out the operator's door, where needed, to blow cigarette butts and other litter into the path of the sweeper.
Although the miniBRUTE is designed as a slide-in sweeper unit, the machine has wheel-well cutouts to allow for permanent installation in a dedicated truck bed. The shovel-out system is designed for efficient debris removal with a flat rake, says Primeaux, and the total capacity of a full hopper is enough to fill five garbage cans.
"You can fill the miniBRUTE to the top of the hopper," said Primeaux. "The suction of the machine is great; it will pick up just about anything you might encounter on a parking lot. I try not to drive over full diapers, though, since they can be trouble going up the 10-inch intake tube. However – and especially if you position the intake over an especially large or heavy item – the miniBRUTE will handle pretty much anything you need to sweep up on a parking lot."
Primeaux started offering his miniBRUTE SWEEPER for sale in January of 2012. At first, he will custom-build each one to order, with hope of going into large-scale production at some time in the future. Until then, he says, he will continue to handle his contracting duties, too.
We have embedded MiniBrute's brief, 17-second video of the MiniBRUTE in action at the bottom of this article. WorldSweeper's coverage of the miniBRUTE also includes a 12-minute audio interview with Mike Primeaux. If you hear the interview at 'chipmunk speed,' you will need to download the latest version of Adobe's free Flash player.
To play the interview, click this link or on the small triangle inside the circle you see to the left. If you have any trouble accessing this audio, please let us know.
To see the miniBRUTE in action, take a look at the YouTube-hosted video shown below.
---
---
For more information on the miniBRUTE Sweeper, you can take a look at the company's website at www.minibrutesweepers.com. You may reach Mike Primeaux via email sent to: mike@minibrutesweepers.com. The company's contact phone number is 504-577-9666.