Victory Sweepers' VP, Robbin Hodges, Discusses Purchase by Roots Multi Clean at 2018 National Pavement Expo
by Ranger Kidwell-Ross
April 2018

Robbin Hodges is Vice President of the new Victory Sweepers, now owned by Roots Multi Clean. Hodges was for many the CFO of Schwarze Industries, Inc. when it was owned by the Schwarze family, having started with the company in 1987. He was also the Interim President for the company after it was purchased by the Alamo Group between 2003 and 2004. As a result, he has many years of experience with sweeping products and is now VP with the Roots-owned organization.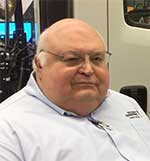 Victory Sweepers, Inc. went into Chapter 11 bankruptcy and the company's assets were purchased in late 2017 by Roots Multi Clean (Roots), a family-owned conglomerate with a home base in Coimbatore, India. In addition to manufacturing a small line of sweepers, Roots produces a street-class regenerative air sweeper that is marketed in Australia and in a number of countries in Asia. Plus, the company makes vehicle horns that are sold in over 50 countries, including the U.S., as well as pressure washers, patio furniture and more. This is Roots' first entrance into the U.S. sweeper marketplace.
We caught up with Robbin Hodges at the 2018 National Pavement Exposition in Cleveland. He assented to conducting a video interview at the Victory Sweepers booth there at the show. You are invited to view the approximately 10-minute video interview, which is embedded below.
You will learn in the video that Roots managers first contacted Victory Sweepers management in October of 2016. Due diligence went on from there, resulting in a purchase of specific assets of the Victory organization, including all of the intellectual property such as drawings, as well as some inventory and fixed assets.
According to Hodges, Roots has made a "significant working capital investment" in Victory. For the moment, both Victory's office and manufacturing facility have been moved to what he calls a "temporary location" in Huntsville, Alabama. However, the company is in a site selection search process for a new state-of-the-art facility. "Roots is a very strong financial company in India," says Hodges, "with annual turnover greater than $100 million U.S. The company has the financial strength, ability and experience with systems of manufacturing efficiency and cost to make the Victory products the best products on the market.
"Roots commitment is to grow Victory's market in both parking lot and street sweepers as rapidly as possible, but to maintain quality and the longevity of the Victory product, as well as the normal performance features that have been built in through the years.
"I love the customer relationships I always had with customers. I am very excited to be back to work with those hard-working folks who take our product and clean the environment [as well as] serve the shopping public."
If you want to learn more, you'll want to view the approximately 10-minute video embedded below. In the event your network connection does not allow embedded YouTube video to be played, or if you would like to view the video full screen, the direct link is: https://youtu.be/S51zf3ONG7U
Also note there may be slight mis-wording by Hodges about the sale of Victory Sweepers, Inc. to the Roots organization. Roots purchased the assets of the old Victory Sweepers, Inc. and then started a new organization called just 'Victory Sweepers.'
---
---
For more information on Victory Sweepers' product line, you can take a look at the company's website at www.victorysweepers.com. You may reach Robbin Hodges via email sent to: info@victorysweepers.com. Victory's direct phone number is 1-844-479-3373.