To read this WorldSweeper Newsletter in your web browser, click here.
---
Whew: We Made it Out of 2021! Now, What's Next?
by Ranger Kidwell-Ross, editor
WorldSweeper.com

Ready, set: Here comes 2022 and whatever that will bring for all segments of the power sweeping industry. As in all the other parts of our lives, no doubt the only constant for 2022 will be certain change.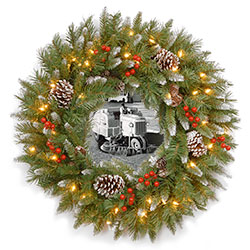 The industry is poised for dramatic modifications in a variety of differing directions. Looming above all, of course, is the variable presented by the Covid pandemic, slated to soon have its Delta variant replaced by Omicron, the new variant that at this point we know very little about. No matter what that brings to each of us individually, as an essential health-oriented service it seems certain the industry will move forward and survive nicely, thank you.
To reenforce that statement I invite you to look at the early 1900s-era Austin Western sweeper featured in this year's Christmas wreath (click on it to see a larger version). Although Austin Western is long gone, the company's storied legacy lives on even though now, 100 some years later, no one would question that the enclosed and heated/air conditioned sweepers of today are a quantum leap improvement. Looking ahead, I predict that during the next 100 years much more substantial changes will be in place. In fact, a number of those have now begun.

In a few years diesel-powered sweepers will be only a receding memory, replaced by electric units and, after that, who knows? In addition to several electric models Global, for example, offers a sweeper powered by a hydrogen fuel cell system.
As Trombia is in the process of proving, operators will also soon be gone – along with the need for using the increasingly precious water that sweepers now pollute by the millions of gallons each year for dust suppression. People also won't have to worry about moving their cars on sweeping day because, well, they won't own any. Few question that autonomous vehicles will soon be both de rigueur and readily available for use by all.
The question I pose to you is this: Will you be able to 'keep up' or, rather, will you be continually tasked with 'catching up?' I challenge you all to choose the former rather than the latter. Seek out and use publications such as this one and the many other resources available for keeping abreast of not only what's available now, but also what technological changes are on the horizon and how to decide when – or if – to adopt them. Amidst the cacophony and the chaos, it's an exciting time to be alive!
As we find ourselves at the end of another year... If you are one of WorldSweeper.com's advertising sponsors, thank you for the critical part you play in supporting 'Earth's Largest Power Sweeping Resource.'SM I am honored by your collective votes of confidence in what this organization provides to the power sweeping industry.
Likewise, if you are one of the industry suppliers providing WSA Members with savings on your goods and services, thank you for providing those WSA Member Benefits. Finally, if you sell to the sweeping industry but don't yet advertise with us, please consider doing so.
Good Sweeping,



Editor, WorldSweeper.com
Executive Director, World Sweeping Association
Member, PAVEMENT Hall of Fame
PS If you're a contractor I urge you to check out the many benefits of membership in the World Sweeping Association. Also, if you haven't 'liked' our WorldSweeper Facebook page, what are you waiting for? That's where we offer a variety of industry previews and updates on an ongoing basis.

---
December Newsletter Contents
(Scroll down to read stories or click on links below.)
---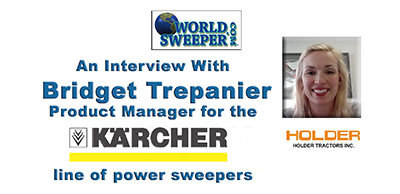 Canada's Holder Tractors Brings Karcher Sweepers to North America
Bridget Trepanier, Product Manager for the Karcher line of power sweepers, provides all the info about the sweepers made by Karcher that are entering the North American marketplace. We provide both an article and a Zoomcast between Trepanier and WorldSweeper's Editor at the link.
Holder Tractors has been in the North American market for over 45 years, primarily in the area of snow removal equipment. They have an established dealer network in the U.S., which is one of the reasons that Holder Tractors' distribution company was purchased by German-based Karcher.
Check out the entering Karcher product line. Our coverage includes a link to a synopsis of the sweepers that will be available as well as an informative @18-minute Zoomcast.
---
Trombia's Autonomous Sweeping Trial a Success at Finland Airport and City of Helsinki: Atlanta is Next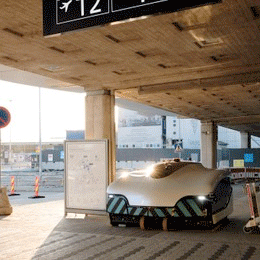 Trombia Technologies, together with facility services company ISS, tested its Trombia Free sweeper in an effort to see how autonomous sweeping technology suits the needs of busy and high maintenance aviation premises. Focus of the pilot was to develop ways autonomous street sweepers can support facilities maintenance work in busy closed areas like parking lots, where cleanliness is key both for the security and for the atmosphere.
In the linked article we report, and provide results of, two Trombia tests: One was with Finland's main international airport in Helsinki; the other was with the City of Helsinki. Spoiler Alert: It was found that the all-electric Trombia Free sweeper "handled all the cleaning tasks much more efficiently than standard suction sweeping technology.
"The company's patented air knife technology also made it possible, according to the results, to clean even the dustiest corners without throwing water on the surface." The latter point is a key to continuous year-round maintenance when temperatures go below freezing, says Antti Nikkanen, CEO of Trombia Technologies.
Check out the overview and results.
---
Tier 5 Designation Coming for Sweeper Auxiliary Engines?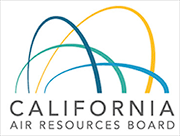 On November 3, the California Air Resources Board (CARB) held a Public Rulemaking Workshop to discuss objectives and tactics for a Tier 5 emissions regulation for diesel off-road engines. A total of eight goals for the potential new emissions standard were outlined during the workshop.
Currently, CARB says it is evaluating the potential for up to a 90% more stringent NOx standard and up to 75% more stringent PM standard compared to Tier 4 Final. A standard for carbon dioxide (CO2) emissions is also being considered; this would be the first time they would be implemented for off-road engines. In addition, an on-board diagnostics (OBD) requirement is under consideration which would be a first for the off-road equipment industry.
The ForConstructionPros organization developed a comprehensive article on this topic so we are linking to that. A link within the article also explains the action of California's Governor, Gavin Newsome, who has signed a law banning the sale of gas-powered small off-road engines (under 25hp) beginning in 2024.
---
Rainier Truck Chassis Update

In May of 2014 we wrote an article about what appeared to be an up-and-coming new chassis maker right here in the U.S. In fact, it is located in the Eastern Washington town of Yakima, WA, across the state from WorldSweeper's location. Recently, we received a call from one of Rainier's dealers, who was disgruntled about not having received the first chassis from Gary Jones, owner of Rainier Truck & Chassis.
In case any sweeper manufacturers or sweeping contractors had ordered the chassis, which seemed like an exciting addition to the chassis marketplace – especially the 'Built in USA' part – we contacted several of Rainier's other dealers as well as Jones. We have provided the basic information we learned as an addendum to the top of our previous article, which is linked below.
Check out the article and the update.
---

Not Exactly Sweeping: Futuristic Street Sweeper Makes Litter Cleanup Look Fun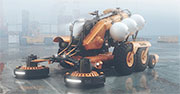 Renderings are awesome. It's at the drawing board, whether it be physical or virtual, that those wanting to build a better – or even a more insane – vehicle can think outside the box and dream up some out-of-this-world designs that would look good on wheels or tracks.
Resembling a robotic anteater with two opposable snouts scoping the ground, the vision of a future street sweeper is a far cry from the comparatively clunky units that clean up our streets today. In addition to his sweeper, Enchev has come up with a number of other startling designs, such as orbiting stations for possible consideration by SpaceX, a copper-colored Formula 1 concept car, an offroad behemoth inspired by the Batmobile, and even an Imperial fighter just in case the Star Wars saga could use more artillery.
---