Helsinki, Finland; December 2021
Test Results From Helsinki Airport and City of Helsinki on Trombia Technologies "Trombia Free" Autonomous Electric Sweeper

In the spring of 2021 Trombia Free's autonomous sweeper was in a test conducted in the City of Helsinki. Then, in late 2021, another 10-day test was done at the international airport in Helsinki, Finland, where the sweeper was tasked with managing the hustle and bustle of Helsinki Airport's parking lot as well as its outdoor premises.

In a nutshell, both conclusions could be summed up as "Excellent results in efficiency in high level maintenance operations both indoors and outdoors."
The Helsinki Airport Study Details and Results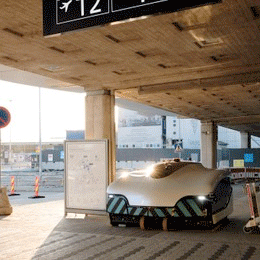 Trombia Technologies, together with facility services company ISS, tested its Trombia Free sweeper in an effort to see how autonomous sweeping technology suits the needs of busy and high maintenance aviation premises. Focus of the pilot was to develop ways autonomous street sweepers can support facilities maintenance work in busy closed areas like parking lots, where cleanliness is key both for the security and for the atmosphere.

The results of the Trombia Free autonomous sweeper pilot at Helsinki Airport: Autonomous technology operates efficiently in semi-closed areas such as parking lots where both narrow indoor spaces and busy outdoor areas need continuous maintenance. Industrial sites and semi-closed environments such as airports or seaports will be the first places where autonomous vehicles will hit the duties full scale.

It was found that Trombia Free handled all the cleaning tasks much more efficiently than standard suction sweeping technology. The company's patented air knife technology made it possible to clean even the dustiest corners without throwing water on the surface. That is a key to continuous year-round maintenance when temperatures go below freezing, says Antti Nikkanen, CEO of Trombia Technologies.

The target of the pilot was to focus on developing future ways autonomous street sweepers can support facilities maintenance work in busy traffic and industrial areas. Especially parking lots need special expertise from maintenance, as there are both parked and moving cars, pedestrians, building pillars and narrow parking spaces. As Trombia Free operates without using any water, the pilot also focused on finding how well it removes dust from the parking lots waterless.
Key findings of the Helsinki Airport test included:
zero safety risks occurred
low noise levels even around the autonomous sweeper
effective cleaning results across the whole working width both indoors and outdoors
year-round use with waterless air knife technology
good cost efficiency that the company predicts will improve even more with remote operator centers rolling out in 2022
30-tons fewer CO2 emissions with every sweeper
You may read the full Helsinki Airport case study at this link. The brief video linked below shows the Trombia Free in action during the Helsinki Airport test.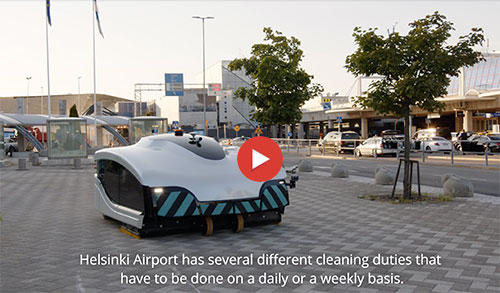 ---
The City of Helsinki Study and Results
Test results showed: "The Trombia Free autonomous sweeper can revolutionize the way urban streets are cleaned."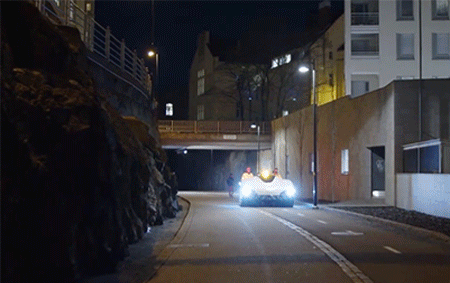 The autonomous and electrical Trombia Free street sweeper was piloted at full power during two weeks in a specific area of the City of Helsinki in April 2021. The pilot was executed together with Forum Virium Helsinki and STARA. Thanks to the results of the initial pilot the City of Helsinki and Forum Virium will continue its development plan with Trombia Free with full system piloting in spring 2022.
When put to a real urban street test the Trombia Free autonomous sweeper showed that due to its low noise levels streets can be cleaned during the night with as little hinders as possible to citizens. Trombia Free suited well for urban street cleaning also with all other measured indicators.
Says Antti Nikkanen, CEO of Trombia Technologies: "We got excellent results for the Jätkäsaari [City of Helsinki] pilot as the cleaning efficiency tests showed that if cities are willing to revolutionize street cleaning, the diesel-fueled sweeper fleets can be replaced with low-noise, zero emission sweepers that operate with only 15% of the energy needed for the traditional heavy machinery. It would save energy and costs, help our planet and ease traffic in urban areas, as streets can be cleaned during the night. The pilot also gathered important data of the dust we breathe in as the samples gathered consisted of 30% of quartz dust, a substance that is a known health risk."
Key findings from the City of Helsinki pilot included:
Zero safety risks occurred
Low noise levels caused no harm to citizens
Exceptional cleaning results with zero emissions
Over 30% of the dust collected was quartz dust
26 tons less CO2 emissions annually with every Trombia Free sweeper.
Over 90% of respondents of the conducted resident survey thought cleaning during the night time would be a very good idea.
"At ISS our purpose is to connect people and places to make the world work better," says Jukka Backlund, Head of Facility Management product, ISS Finland. "In a better working world innovations and technology help people to work, live and travel in a safe and comfortable way. That is why ISS Finland is proudly participating in this project with Trombia Technologies.
"We are constantly looking for new innovations and finding solutions that make life easier, more productive, and meaningful for our customers and for our employees. We are frontrunner in sustainable facility management and this pilot also supports our corporate responsibility and environmental targets."
During the 10-day pilot the estimated carbon emissions saved were around 26kg/h CO2.
"As we know we need to cut our carbon emissions heavily during the following years. Electric sweepers and other service robots can play a big role in revolutionizing the environmental impact of maintenance," says Nikkanen.
The City of Helsinki case study results are located here. The brief video linked below shows the Trombia Free in action during the Helsinki Airport test.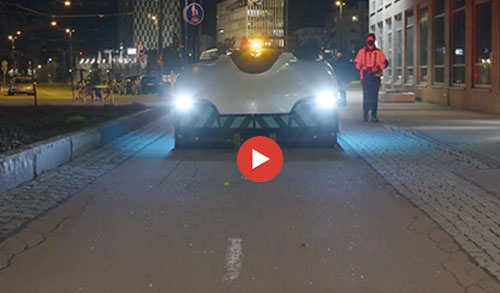 Trombia is in the process of commissioning another pilot in Atlanta, Georgia. World Sweeper will cover that pilot study when results are available.
For more information:
Antti Nikkanen, CEO and Managing Director
Trombia Sweepers
+1 718 690 9287
antti.nikkanen@trombia.com
www.trombia.com
---
About Trombia Technologies
Trombia Technologies is a Finnish road maintenance equipment manufacturer known for its innovation for dust and snow clearing technologies. The parent company Snowek Oy was founded in Kuopio, Finland in 2011 the company and has since grown into a global player in high end wheel loader and tractor snow plow and sweeper attachments.
The company's flagship innovation, global-wide patented, Trombia sweeping technology, is designed to offer sweeping operators global-wide a more sustainable, cost-efficient, easier-to maintain and faster alternative for combating both mechanical debris and fine dust challenges in paved areas. Trombia Free autonomous sweepers, launched on the September 29th, 2020, outline the company's vision to grow from a fast-growing SME and innovator, into the world's leading city sweeping technology provider in the modern greener and more sustainable city cleaning era.
---