Mathieu, which is a part of the FAYAT Group, produces a full line of multifunctional compact sweepers in the 1-to-2.5 cubic yard segment.
With over 90 years of experience, Mathieu stands for quality and innovation and is a well-recognized player in the sweeping industry.
Combining excellent build quality with a state-of-the-art product finish and excellent sweeping capabilities, Mathieu sweepers are the benchmark for downtown sweeping. Today more than ever, Mathieu is completely focused on building the best sweepers in their class which is contributing to a feeling of well-being in urban spaces.
Take a look at the Mathieu line below. Note that each of the Model names/numbers is a link to that model's website page, where you will find complete information about the machine.

The MC 110 sweeper has a capacity of 1 cubic yard. It has been designed to sweep those areas which bigger sweepers can't reach; pavements, pedestrian areas, board walks, car parks, shopping malls, high schools, etc.
But don't let its size fool you since this little sweeper offers the same operator's comfort as any of the bigger sweepers while offering the same sweeping quality as well. The machine is PM10 certified and extremely silent due to the way its sweeping line has been designed.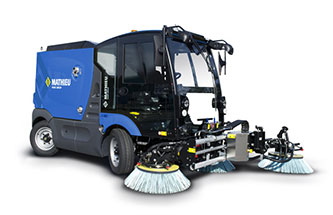 The MC 210 is an innovative street sweeper holding 2.5 cubic yards that can do more than just sweep. A third broom is optional just like a washing/scrubber kit to clean those nasty greasy spots. Furthermore, there are also snow options: a salt spreader, a snow broom and a snow blade.
Its patented broom system, combined with the third broom, is ideal for tough mechanical weeding operations and treatment of cluttered or otherwise inaccessible spaces. The wastewater collection system makes the Azura Flex ideal for renovation of porous or smooth floors, including paving stones, marble, natural stone, etc.
MC 210 AQUAZURA : Brush up a cleaner future with the world's first 'Eco-washer'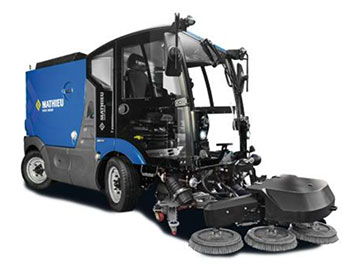 The 2 cubic meter capacity Aquazura MC 210 cleaning system simultaneously achieves wetting, soaping, scrubbing, recovery and recycling of the wastewater. All these actions combined into one machine ensure that the Aquazura MC 210 is unrivaled in its abilities.
This Eco-Washing technology is capable of treating all types of surfaces using its non-aggressive process and its low noise and exhaust emissions ensure it is a truly 'clean machine'.
With a wide range of applications, such as pavements, pedestrian zones, historical centers, parking areas, airports, etc, the Aquazura MC 210 has proven itself to be an extremely versatile machine.
---
MC 210 AQUADYNE: The dedicated washing version of the Azura line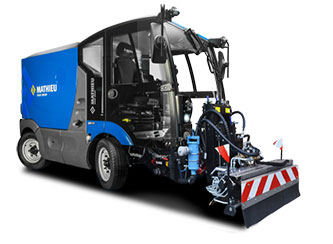 The 2 cubic meter capacity Aquadyne version of the MC 210 is a washing solution concerned with attaining a truly cleaner environment. The machine offers 1900 liters (502 gallons) of water capacity and a 3300mm (10.83') spray bar. The Aquadyne has a 60 bar pump and its wide spray bar makes it capable of adapting to the most extreme conditions.
For more information about the Mathieu line, use this link to the company's contact page.
Note that each individual model link also offers downloads of the model's latest brochure and, in some instances, video links of the machines in action.
You can also contact the dealer nearest your location, as well as the company's social media sites, by using this link.
---
Since 2010 Mathieu has been part of FAYAT Environmental Solutions, a Business Unit established by the FAYAT Group to underline its commitment to a cleaner environment. Currently, the BU consists of the RAVO, Scarab, Mathieu and Dulevo brands and is the largest sweeper manufacturer in the world. But it doesn't stop here, the ambitions are to grow further however in a way which is beneficial for its customers as well. By combining engineering power and production processes, great results have been and will be achieved to which everyone benefits. For more information regarding FAYAT Environmental Solutions, please click here: FES.
For direct contact with Cees van der Put, sales manager at Mathieu send an email to cp@ravo.fayat.com or call him at 262 725 4210 for North America or 0031 6 538 47 616 for the rest of the world.