---
Professional Profile of Sweeping Improving... But More Emphasis Needed
by Ranger Kidwell-Ross, editor
WorldSweeper.com
Congratulations to Laurie and Jay Presutti, the recipients of our 2023 Award of Excellence in Power Sweeping. They have been involved with both NAPSA and WSA for a number of years and have provided sweeping and other services in a variety of high-profile, critical situations. Perhaps more importantly, the recipients have long emphasized the importance of honesty with customers and vendors alike.
Whether or not you attended this year's National Pavement Expo last month, you will no doubt enjoy the walkaround videos and photos provided by Michael Nawa, our representative at the event. In them you'll see some of the sweepers and other equipment showcased at NPE. The brief videos and photo slideshow also provide the 'flavor' of what the show was like this year.
Nawa also videoed the three seminars sponsored this year by the World Sweeping Association. I encourage all sweeping contractors to join WSA in order to see these. In addition, WSA members get a host of major vendor parts discounts as well as access to over 250 articles I've written about being a more professional and profitable sweeping contractor... and much more. WSA members also receive an email update with the latest industry news on the 1st and 15th of each month written by me, and it's all for just $385/year. Most contractors pay for their annual membership just in their savings from the sweeper manufacturers!
What we didn't need is the recognition of yet another pollutant that's fouling our waterways: The chemical 6PPD, which is used in tires to prevent wear, forms a toxic substance that has now been found to be harmful to fish and other aquatic life. It is highly likely street sweeping will soon be recognized as the most cost-effective way to remove the material so as to prevent the pollutant from entering waterways.
From questions we asked recently, we learned there is not widespread understanding of the emergency equipment required on sweepers according to the US Code of Federal Regulations. In collaboration with the Work Truck organization we are providing information on the topic.
We are sending this issue out ahead of our normal monthly schedule for one reason: to encourage our readers who are MS4 managers – or who can pass along the information to whoever holds that role in their organization – to fill out the National Municipal Separate Storm Sewer System Needs Assessment Survey, which must be done by February 17th, next Friday.
As you may know, street sweeping's rightful position as the 'first line of defense' against stormwater runoff pollution has been historically under-recognized. In your survey responses please be sure to provide the survey managers with the information needed for them to realize the top position your street sweeping program needs to have in abating stormwater pollution runoff.
Finally, in our 'feel good' story this month, we know you'll enjoy the approach Michel Simonet, a street sweeper from Fribourg, Switzerland, has toward his job. Simonet has gone internet viral for sweeping with a rose attached to his cleaning wagon. Perhaps even more important is his philosophical work ethic.
As always, if you have any news of potential interest to the power sweeping community, please let us know. Between this publication, the WorldSweeper.com website, and the World Sweeping Association, we'll be sure to get the information passed along to interested readers.
Good Sweeping,



Editor, WorldSweeper.com
Executive Director, World Sweeping Association
Member, PAVEMENT Hall of Fame
PS If you're a contractor I urge you to check out the many benefits of membership in the World Sweeping Association. Also, if you haven't 'liked' our WorldSweeper Facebook page, what are you waiting for? That's where we offer a variety of industry previews and updates on an ongoing basis.

---
February Newsletter Contents
(Scroll down to read stories or click on links below.)
---
Announcing the Recipient of the 2023 Award of Excellence in Power Sweeping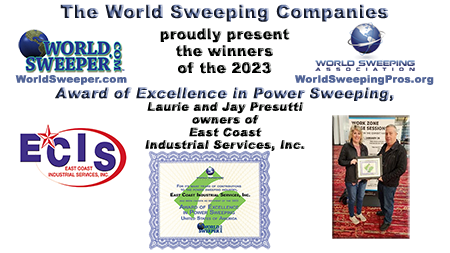 This year's Award of Excellence winner is well-qualified: The company has been involved with both NAPSA and WSA for a number of years. In addition to running an ever-expanding sweeping and pavement maintenance operation the owners, a husband-and-wife team, have also made time – and contributed money – to worthy causes where they found assistance was needed. This has included helping individuals in need as well as donations to diverse causes like underprivileged families and Toys for Tots.
The company has also provided sweeping and pavement maintenance services in a variety of critical, high pressure situations, including assisting in the cleanup of Hurricane Sandy. The principals have also taken time to provide information designed to educate customers about how to choose reputable contractors and in our feature article linked below they emphasized not their own importance; rather, what they stressed was the importance of being honest with customers and vendors alike.
Read all about the company and the award; includes a link to a 45-minute Zoomcast video with the Presutti's that you will want to watch.
---
Some 2023 NPE Photos and Tradeshow Floor Walkarounds

For 27 years Michael Nawa was on Advisory Board for both PAVEMENT Magazine and the National Pavement Exposition. Nawa is currently on the Advisory Board of the WorldSweeper-affiliated World Sweeping Association.
At the recent National Pavement Expo held in Charlotte, NC, during the last week of January, Nawa was on the NPE show floor taking photos and videos of what he saw. The links to those are shown below. Note that for your convenience all open into another browser window.
Check out video #1
Check out video #2
Check out video #3
Check out Michael's photo slideshow

---
Tire Dust is the DDT of Our Generation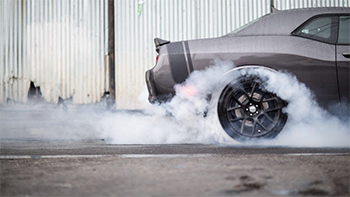 A growing body of research indicates that in addition to being a major source of microplastic pollution, the chemical 6PPD, an additive that's used to keep tires from wearing out, reacts with ozone in the atmosphere to form a toxic new substance scientists call 6PPD-Quinone. It's killing coho salmon and likely harms other types of fish, which exhibit symptoms resembling suffocation.
Tire dust accounts for 6 million tons of micro-pollutants each year, current estimates suggest. California's Department of Toxic Substance Control is also investigating six other harmful chemicals found in tires. 6PPD-Quinone is considered the "low hanging fruit" of researchers investigating tire dust's impact on the environment, Forbes reports.
Since studies show street sweeping is by far the most cost-effective way to remove pollutants like Nitrogen, Phosphorus and Particulate Matter, this means street sweeping should become even more frequent in order to keep this material from entering waterways. Note we initially introduced this topic in another article at the end of 2022.
Check out the latest toxic tire dust info.
---
Top 7 FAQs: Emergency Equipment Required on Sweepers

Regulations compiled in the US Code of Federal Regulations (CFR) require every bus, truck, and truck tractor to have specific emergency equipment. Not having this equipment in the vehicle puts the vehicle, driver and public at risk. The carrier can also be cited and fined during a roadside inspection or in the case of an accident where injuries were caused by the failure to have the required equipment available.
When we asked several sweeper operators if they knew what emergency equipment was required to be in their sweepers given commercial motor vehicle rules and regulations, we found there to be a general lack of knowledge on that topic. So, we reached out to the WorkTruck organization and received permission to link their article on the topic. It is brief, to the point, and explains all you need to know.
---
Water Environment Federation (WEF) Conducting MS4 Needs Assessment Survey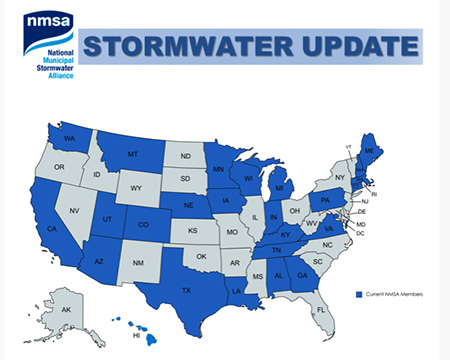 The Water Environment Federation (WEF) Stormwater Institute has launched its third iteration of the National Municipal Separate Storm Sewer System Needs Assessment Survey and is collecting responses. The survey will close on February 17, 2023.
The WEF Stormwater Institute survey is designed to be filled out by MS4 program managers. WorldSweeper has included this information because street sweeping needs have been historically under-recognized as the 'first line of defense' against stormwater runoff pollution reaching our nation's waterways.
As a reader of this newsletter you are likely to be better informed about the new findings in Minnesota and Florida showing that street sweeping is as much as 500% more cost-effective way to remove pollutants than the next best BMP of catch basin cleaning.
If you are an MS4 program manager, please take the time to fill out the survey and, when doing so, emphasize the need for street sweeping as part of your response. The survey must be filled out by next Friday, February 17th!
---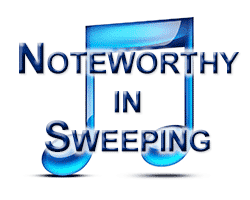 French Street Sweeper Goes Viral For Sweeping With a Rose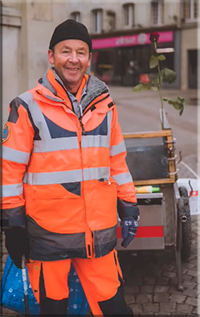 Meet Michel Simonet, the street sweeper of Fribourg, Switzerland. The street cleaner is famous for attaching a fresh red rose to his cleaning wagon for many years. What is perhaps most amazing about his story is that Michel always wanted to write a book about what sweeping the streets – with a rose attached to his debris cart – but it took him 30 years to do so.
Since the release of the viral video, Simonet has received hundreds more orders for his book, "A Rose and a Broom," from places as far-flung as America and Australia. Now, Dave Nesto has started a campaign to get the thoughts of this street sweeper translated into English. Once that occurs we'll let you know.
Check out info about Simonet, including the @2-minute viral video.
---