---
Industry News Not Always Positive...
by Ranger Kidwell-Ross, editor
WorldSweeper.com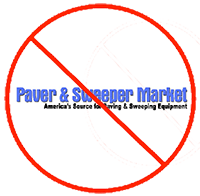 Bill Riddle began his fledgling sweeper ads-only publication, The Used Sweeper Newsletter, in about 1987 when I put out the first issue of the Supervac Quarterly, sponsored by the Schwarze family. When Bill passed away in the 1990s it was a relief to sweeping contractors everywhere that Joe Macri and John Davidson purchased the rights from Riddle's family.
Although Joe and John retired years ago, Davidson-Macri's current owner, Bob Anderson, had been able to keep the publication up and running largely due to his capable Editor, Mark Boyer. However, like so many print publications these days, I knew from my relationship with Mark that they were struggling to stay solvent in the face of Covid combined with all of the price increases for paper and postage.
Time will tell if someone out there either re-starts the Sweeper Market publication or, more likely, takes a similar publication online via some kind of 'used sweeper app.' In the meantime it will be difficult for contractors to find the used sweepers they need.
Although it doesn't have the widespread industry impact of Sweeper Market's demise, our lead article about the Schwarze organization's reported reluctance to retrofit a needed safety feature onto its M6 sweepers after an operator was killed is much more tragic. Allegedly, the Alamo Group company waited until a second operator lost his life to finally do so.
May this be a lesson to all readers – whether manufacturers, public works officials or contractors – to assess their operational safety programs and move swiftly to address any issues even though it might be expensive to do so. Also, always be vocal in notifying the manufacturer of any equipment you use with potential safety defects and insist that needed changes be made. If they don't, do it yourself.
As always, if you have any news of potential interest to the power sweeping community, please let us know. Between this publication, the WorldSweeper.com website, and the World Sweeping Association, we'll be sure to get the information passed along to interested readers.
Good Sweeping,



Editor, WorldSweeper.com
Executive Director, World Sweeping Association
Member, PAVEMENT Hall of Fame
PS If you're a contractor I urge you to check out the many benefits of membership in the World Sweeping Association. Also, if you haven't 'liked' our WorldSweeper Facebook page, what are you waiting for? That's where we offer a variety of industry previews and updates on an ongoing basis.

---
May Newsletter Contents
(Scroll down to read stories or click on links below.)
---
Jury Awards $4.25 Million Against Schwarze Industries for M6 Avalanche Safety Violation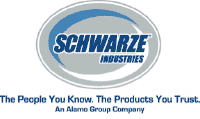 In March of this year, a Gwinnett County, Georgia, State Court jury awarded $4.25 million to Gabrielle Smith, who is the daughter of the street sweeper, Orlando Hall. Hall was operating a Schwarze M6 Avalanche street sweeper as a subcontractor for E.R. Snell Inc. when the incident occurred on Pleasant Hill Road near Duluth in September 2017.
According to reports, the accident showed "The location of the controls, the toggle switches, and failure to properly guard the switches for the conveyor/elevator/hopper made the system vulnerable to inadvertent activation. Approximately three years following Hall's death, a mechanic working for the City of Mesa, Ariz., was also crushed in the exact same manner as Mr. Hall." Reportedly, only then did Schwarze make a change to the control setup.
---
Sweeper & Paver Market Magazine Ends Publishing Run

As of May 12th, the industry's longest-running used equipment publication, Sweeper & Paver Market, closed its doors. Bob Anderson, owner of Davidson-Macri Sweeping and the publisher of Sweeper & Paver Market, cites the rising costs of paper and postage, as well as increased pressure from internet-based information, as factors that drive his decision to stop the publication.
The magazine got its start as The Used Sweeper Newsletter in the late '80s, with information on used sweeping equipment compiled by a man named Bill Riddle for what was initially a monthly used sweeper pamphlet. When Riddle died in the '90s, Joe Macri and John Davidson, owners of WA-based sweeping contractor, Davidson-Macri Sweeping, Inc., purchased the rights to continue publication. However, in recent times the magazine – since 2016 a combined ad publication called Paver & Sweeper Magazine – has been unable to stay profitable due to rising costs, internet pressure and the pandemic.
---
Global Environmental Products Introduces its Global R3 Air EV Model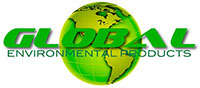 Global Environmental Products (Global) has introduced its R3Air EV, a sweeper it calls "The first three-wheel, heavy-duty, plug-in 100% electric drive rechargeable regenerative air street sweeper."
Global is using its three-wheel, purpose-built chassis for its latest EV sweeper. Hopper is stainless steel and holds 5.8 cubic yards of material. Cabover design offers excellent visibility and the machine boasts a turning radius of 12.5'.
---
Elgin Sweeper Debuts Single-Engine RegenX1®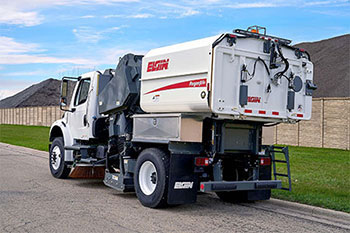 Elgin Sweeper's new RegenX1® is a single-engine, truck-mounted regenerative air sweeper that eliminates the work of maintaining two engines and cost exposure resulting from "missed" auxiliary engine regenerations. The new sweeper also utilizes a highly efficient dust separator and large screen surface area to reduce carryover and sand blasting. A simplified design that involves fewer moving parts helps increase uptime and further enhance reliability.
"After the success of the RegenX, we knew we had to once again seek our customers' thoughts as we developed the RegenX1®," said Tim Letts, Product Manager, Elgin Sweeper. "With its many features that simplify upkeep, the RegenX1® helps reduce time and maintenance costs. We've taken steps at every possible point to make it reliable, easy to service and time saving."
Check out the press release that has all the info on the new Elgin RegenX1®.
---
Victory Sweepers Expands to New Administration Location

On May 20th Victory Sweepers, a division of ROOTS Multiclean, Inc., announced a move from its former location at 105 Green Cove Road in Huntsville, to a building more than twice as large, at 2905 Westcorp Blvd., Suite 112, Huntsville, AL 35805.
"This move of Victory's administration facility more than doubles our previous square footage," said Mark Schwarze, Sales & Marketing Manager. "We plan to utilize the extra space to expand our various Teams: Direct and Dealer Sales; Sales Support; and, Administration. The move was needed because Victory's product development, manufacturing and distribution space needs have increased dramatically over the last 24 months.
"Our new offices will facilitate the addition of our planned future products, training spaces and expansion internationally. For the convenience of our customers, all of our email and phone contact information remains the same. Fortunately, our current manufacturing facility is, for the moment, sufficient. However, due to our current rate of growth we are making plans to expand to new manufacturing facilities within the next 2-3 years."
For more information, visit the company's website at www.victorysweepers.com; contact Victory Sweepers toll free at 844-4-SWEEPER (844-479-3373); either of Victory's local numbers, 256-724-6500 or 256-850-0429; fax to 256-724-6510; or, contact them via email sent to sales@victorysweepers.com.
---
Reminder About World Sweeping Association Scholarships


We want to remind everyone to get info about WSA's Memorial Scholarship program up onto your bulletin boards and distributed to your employees. This marks the ninth year that WSA will be providing two scholarships of up to $2,000 each toward tuition and other education costs to two students connected with the sweeping industry. These may be employees, or children of employees, who are or will be attending an accredited university or technical school.
Here is a link to the WSA Memorial Scholarship page as well as all the application instructions. Click here for a ready-to-print PDF form you can use as a way to get the info to your employees. Chances are that some of your workers have kid(s) that would really benefit from getting a scholarship. The amount of each scholarship is $1,000, which is doubled if a winning student is connected to a company that is a WSA Member.
We encourage you to distribute info about the availability of these scholarships widely throughout your organization. Applications will be accepted until July 1st.
Learn more about the WSA's Memorial Scholarships as well as WSA Membership.
---