Jury Awards $4.25 Million Against Schwarze Industries for M6 Avalanche Safety Violation
information compiled by Ranger Kidwell-Ross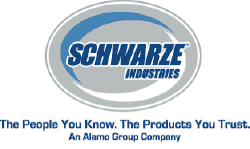 The daughter of a street sweeper who was crushed and killed by the machine he was operating recently won a lawsuit against the company he was subcontracted by as well as the manufacturer of the street sweeping machine and an equipment rental company.
A Gwinnett County State Court jury awarded $4.25 million to Gabrielle Smith, who is the daughter of the street sweeper, Orlando Hall. Hall was operating a M6 Avalanche street sweeper as a subcontractor for E.R. Snell Inc. when the incident occurred on Pleasant Hill Road near Duluth in September 2017.
Hall was trying to fix a problem with the street sweeper when he was killed. The M6 Avalanche was designed and manufactured by Schwarze Industries Inc., according to attorneys for Smith.
"Our evidence showed the defendants negligently placed faulty equipment in the stream of commerce, which ultimately led to Mr. Hall's tragic and gruesome death," attorney Kendall Dunson said. "And the jury's verdict rings loud and clear – manufacturers' carelessness and disregard for human life will not be tolerated."
The attorneys for Smith said her father pulled the M6 Avalanche over by a convenience store on Pleasant Hill when he noticed smoke coming from the vehicle. While Hall was inspecting the vehicle in an attempt to troubleshoot the problem, his leg inadvertently activated controls on the machine and he was crushed between the hopper and the conveyor on the vehicle.
"(The M6 Avalanche was) defective, unreasonably dangerous and unsafe for foreseeable users and occupants" because of the controls ability to be inadvertently activated," Smith's attorneys said in their lawsuit against E.R. Snell, Schwarze Industries Inc. and Tractor & Equipment Company.
As it turned out, that was not the last time a similar situation had occurred involving an M6 Avalanche. According to Smith's attorneys, "The location of the controls, the toggle switches, and failure to properly guard the switches for the conveyor/elevator/hopper made the system vulnerable to inadvertent activation. Approximately three years following Hall's death, a mechanic working for the City of Mesa, Ariz., was also crushed in the exact same manner as Mr. Hall.
"Following the death of Mr. Jason Oswald, Schwarze and its parent company, The Alamo Group, redesigned the outside control box to include guards with the intent of preventing inadvertent activation of the equipment. Plaintiff's mechanical engineer, Eric Van Iderstine, had suggested guarding the controls when he was deposed in the Smith litigation five months before the Oswald incident."
Schwarze Industries added a guard for the controls during a redesign of the outside control box that occurred after the incident in Arizona, Smith's attorneys said.
Click on the image below to view a brief video posted onto YouTube by Atlanta's 11Alive news team.