---
Celebrating 17 Years of Providing the World's Leading Publication for the Power Sweeping Industry
by Ranger Kidwell-Ross, editor
WorldSweeper.com


Today, June 21st, marks the 17th anniversary of the WorldSweeper website. A reminder for us all: Time flies; it doesn't take the bus...
When I began the project my intent was to showcase how sweeping was accomplished not just in the United States, where I'm located, but also in the far-flung reaches of the earth. I'm proud of the intervening effort that has allowed us to unquestionably earn our tagline of "Earth's Largest Power Sweeping Resource."SM In addition to stories centered in the U.S., the site currently offers sweeping-related stories from an additional 30 countries around the world.
I'm also proud that at least one of our World Sweeping Company projects has been honored with an APEX Award for Publication Excellence in each of those years. Also, as a direct result of the website, in 2018 I became the first person in the industry to win the Alan Curtis Industry Service Award and to also be installed into the PAVEMENT Hall of Fame.
To celebrate this 17-year milestone, I decided to have all the stories in this month's newsletter comprised of news from and about sweeping in countries other than the U.S. Even though in America many believe we're at the very pinnacle of worldwide technology, several stories in this issue – the ones about sweepers that combine both EV power and autonomous operation – portray technology that appears to be ahead of American efforts to date.
Another technology leader we showcase in this issue is Canada's NeuShield program, which offers a leading solution for thwarting ransomware attackers on your computer network, the internet connection that allows you to read this publication. Then, far outside the technological sector, you will find the video of Lakshmi Mukti sweeping the hot streets of India with her baby on her back to be a good reminder that the sweeping world doesn't live by technology alone.
In our 17 years we've provided our followers with this free e-newsletter each and every month, with the exception of our first few years of quarterly publication. As a celebratory gift to myself, in July our newsletter will reprise some of the more important articles we published in the last several years. That will allow me to take at least some of the month off to pursue other projects... some of which may involve a hammock and/or a fishing pole. You can count on our August newsletter to catch you back up on the latest news in the worldwide power sweeping industry.
As always, if you have any news of potential interest to the power sweeping community, please let us know. Between this publication, the WorldSweeper.com website, and the World Sweeping Association, we'll be sure to get the information passed along to interested readers.
Good Sweeping,



Editor, WorldSweeper.com
Executive Director, World Sweeping Association
Member, PAVEMENT Hall of Fame
PS If you're a contractor I urge you to check out the many benefits of membership in the World Sweeping Association. Also, if you haven't 'liked' our WorldSweeper Facebook page, what are you waiting for? That's where we offer a variety of industry previews and updates on an ongoing basis.

---
June Newsletter Contents
(Scroll down to read stories or click on links below.)
---
Sweeprite Now Shipping Husky S2 Sweepers Mounted on Isuzu Gasoline Chassis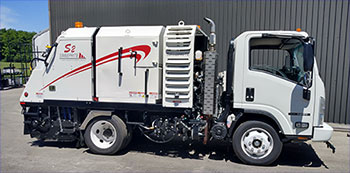 Sweeprite, a Merit Manufacturing Company, has announced its non-CDL Husky S2 mechanical broom sweeper is now available on Isuzu's NRR Class Five gasoline chassis. The Sweeprite S2 may be the first mechanical broom sweeper to be offered in modern times on a gasoline-powered chassis.

It is widespread knowledge that, given the restrictive changes in allowed diesel engine specs, California sweeper owners have had to scramble to sell their older sweepers out of state. The widespread problems reported with DPF systems on diesel-powered chassis – combined with the more extreme price increases for diesel – have driven some sweeper owners to mount their sweepers onto new or used gasoline chassis. However, this works better for air machines than for mechanical broom units for a variety of reasons.

Check out Sweeprite's S2 gasoline chassis info.
---
Encouraging Results for Australian Street Sweeper Recycling Trial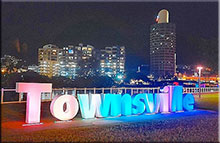 Townsville, located on the north-eastern coast of Queensland, Australia, is the 18th largest local government area in Australia. A trial to recycle material collected by street sweepers appears that it will be able to divert the equivalent of 80,000 fully-loaded wheelie bins of waste from going to landfills and save ratepayers more than $200,000 a year, all while helping to keep Townsville streets clean.
---
Driverless Robosweeper Brings AV Tech to Street Cleaning – in China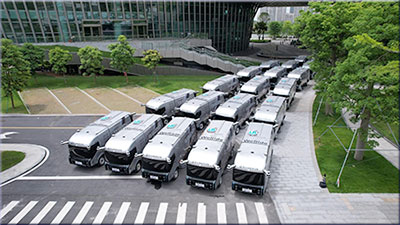 The WeRide organization claims its Robosweepers are the first mass-produced, purpose-built, self-driving street cleaning vehicles in China. WeRide is currently in the process of conducting a large-scale road test of a fleet of over 50 Robosweepers in Nansha District, Guangzhou, China.
The Robosweeper EV has a fully redundant chassis and is driven by WeRide's Level 4 autonomous solution. But there's no compromise in functionality, WeRide management says, since its Robosweeper is capable of performing typical environmental services such as sweeping, sprinkling and disinfectant spraying. It's thought the latter could prove particularly useful given China's ongoing battle with Covid-19.
Check out the Robosweeper information.
---
WSA Benefit Targeting Cyberattacks Available to Entire Industry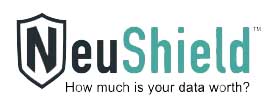 Did you know... statistics show that a whopping 60% of businesses have or will suffer a cyberattack? Although this can be for many reasons, primarily it's because they are easy targets that haven't budgeted anti-cyber attack software on their server systems. Since the 'hackers' come predominantly from around the world, and since NeuShield is based in Canada, we've chosen to include this article in our June 'around the world' edition.
Because this is something that can affect any sweeping organization, WSA found a company with a unique – yet cost-effective – solution. They have invented a patented 'Mirror-Shielding technology.' Essentially, when an attacker gains access to your server they do not receive the real data. Rather, they end up with a mirror image that makes them believe they have access to the computer's original data files. Even in the case of ransomware lockout attacks, the owner is able to recover the original files with a single click and without any worry about changes having been made or having to pay out any money.

Once we learned this info we thought it important enough that we are including the Zoomcast done with the software principals in this WorldSweeper newsletter. However, exclusive to WSA members, a 20% discount was negotiated for any in WSA who purchase the software.
Check out on the WSA website the unique software to thwart cyberattacks.
---
Trombia Announces Its Autonomous Sweeper Ready for Closed Industrial Environments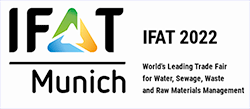 Finnish Trombia Technologies unveils what it calls "the world's first full power, electric and autonomous sweeping system with suitability for industrial sites and semi-closed environments such as industrial areas, airports, and seaports" at IFAT 2022.
In the 18 months since the original launch of the Trombia Free sweepers the company has completed a global pilot program in the USA and Europe, at several challenging locations requiring precise, heavy-duty cleaning, autonomously and emission-free. The company said that legislation and standardization procedures – especially for autonomy in closed industrial areas – have also moved forward rapidly. At the IFAT 2022 Expo, Trombia presented a "full system offering for automating sweeping in the ports, waste plants and industrial districts today and tomorrow."
Take a look at the details.
---
Lady Sweeper Cleans Road With Baby Tied To Her Back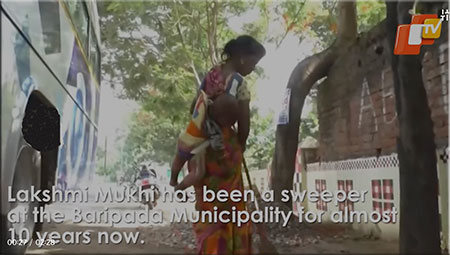 Baripada (bāripadā) is a city and a municipality in the Juneurbhanj district in the state of Odisha, India. It's where a woman named Lakshmi Mukhi was caught on video at work sweeping the city streets – using a broom – with her baby tied to her back. When the video went viral and Lakshmi was asked about her 'problem' she replied without hesitation that there was no problem; rather, she was just doing her duty, sweeping the streets as she has done for about the last decade.

Because the baby is still much too small to be alone at her house and there is no one there to take care of it, she simply brings the child to work with her when she starts work at 4 am. When the Chairperson of Baripada Municipality, Badal Mohanty, learned about the situation, he instructed his officials "to look after her needs and assured support for her."

When you watch the 2:28 video you will find it a good reminder about how sweeping is done in many different ways in other parts of the world. Click here or on the video image at the beginning of this story to view the video.
---
'Amazing Modern Street Sweeping Machines Video' From Around the World

Thanks to our European correspondent, Villiam Abbondanza, for sending us the link to this 10-minute video of 'modern street sweeper machines in action.' Although much of the video shows Ravo sweepers, it also includes sweepers by Elgin and TYMCO.
In the video, you will see the sweepers picking up an assortment of heavy material, as well as cleaning curblines that are absolutely packed with vegetation. It's interesting to see some sweeper models not typical of usage in the U.S. appearing in the video.