Encouraging Results for Australian Street Sweeper Recycling Trial
Townsville, Australia – June 2022
Townsville, located on the north-eastern coast of Queensland, Australia, is the 18th largest local government area in Australia. A trial to recycle material collected by street sweepers appears that it will be able to divert the equivalent of 80,000 fully-loaded wheelie bins of waste from going to landfills and save ratepayers more than $200,000 a year, all while helping to keep Townsville streets clean.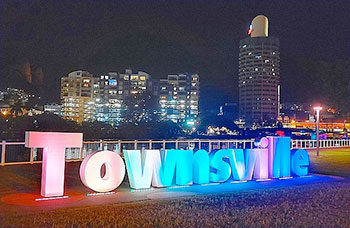 Townsville City Council Water and Waste Committee chairperson Russ Cook said it could mean an additional 4,000 tons of material could be recycled and repurposed each year. "Through Council and its contractors, there is at least one street sweeper out day and night, seven days a week, helping to tidy up the streets around Townsville," Chairperson Cook said.
"Currently, all of the collected material is taken to landfill, which is a cost to Council. Through this trial, we wanted to identify alternative environmentally beneficial disposal options and any potential cost efficiencies. So far, we have been able to recycle 85 per cent of the material collected by the street sweepers, which has then been used as mulch or aggregate. This is still in the trial phase, and we will continue to evaluate its viability.
"If the program does stack up and it is in Council's and the community's best interests to follow through with it, it could start almost immediately because we already have all the necessary infrastructure in place."
Mayor Jenny Hill said this is one of several measures Council is investigating to reduce the amount of material going to landfills. "Council has set a goal to divert 60 per cent of material currently going to landfill to more sustainable uses within the next four years and achieve zero waste to landfill by 2030," Ms. Hill said. "This trial, along with initiatives like the Food Organic Garden Organic trial and our Recycle Right education campaign, are some of the ways we aim to achieve our zero waste goals.
The Council plans to roll out the program before the end of the year if all continues to go well with the trial.