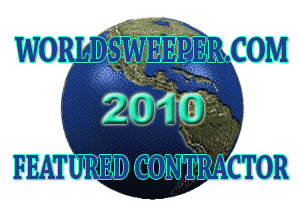 WorldSweeper.com's Featured
Sweeping Contractors for 2010.
Click on the company's logo to go to its feature page.
---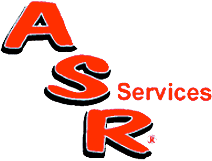 December, Alaska Snow Removal Services, Inc.
With a name like Alaska Snow Removal Services — known throughout its service area as simply 'ASR' — someone might think they know all the company does. However, in this instance that's not the case.
Because of the large amount of snow abatement material the ASR team puts down during snow season, picking it back up again for clients takes a sizable sweeper fleet.
In addition to more snow removal, stacking, hauling and other snow-related services than most people in the lower 48 states can think of that has to do with snow and ice, ASR provides most any other pavement-related service around — even to designing the parking lots themselves.
---

November, Brothers Cleaning Services, Inc.
In its 38th year, Oregon-based Brothers Cleaning Services, Inc. has garnered a positive reputation in a variety of service areas in addition to parking area sweeping. In part because the company's president handles much of outside sales, the company has successfully kept in touch with its customer base through the years.
Today, the organization boasts an inside service team of over 100 in a relatively small market, so the company is clearly doing many things right.
---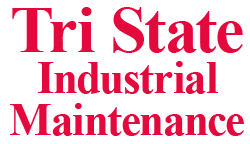 October, Tri State Industrial Maintenance, Inc.
John Dubbioso, known as "Johnny D" throughout the power sweeping industry, has been involved with sweeping for many decades. Among other credits, he was one of the people behind the original Broom Bear sweeper now owned by Elgin.
Dubbioso's Connecticut-based Tri State Industrial Maintenance offers a variety of municipal-oriented maintenance services, including sweeping, throughout that state.
---

September, City Wide Maintenance, Inc.
Ten years ago Albert and Janee Rodriguez started City Wide Pressure Washers. The goal: Operate with such impeccable ethics and customer service that their clients would have no clue the couple operated the company out of their garage. They were so successful at it that today the company offers an exhaustive list of services, and has operational offices in Sacramento, San Jose, Fresno, Modesto and Los Angeles.
"I didn't get much sleep the first couple of years," reminisces Albert. "I slept with my phone at my bedside and when someone called it was me who would respond." The result was the couple's customers learned they would get taken care of, no matter what they needed or when they needed it. Our customers really liked our ethics and the way we operated the business, so much so that they wanted us to provide other services for them. They thought we were a much larger corporation than we actually were. We had many opportunities to expand that were made available to us by our customers."
---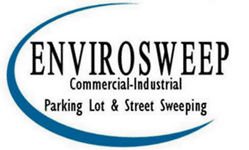 August, EnviroSweep, Inc.
In 1981 Robert Pitman started a commercial lawn care company known as Pitman Mowing Service. As time went on some customers requested parking lot sweeping services. Twenty years later, in 2001. Robert purchased his first parking lot sweeper, a slide-in AATACH. With that sweeper he started a parking lot sweeping company he named "Envirosweep."
When he first started, Robert had just one sweeping account, which he personally handled every morning before going to work running his lawn care company. Now, in 2010, Envirosweep has over 300 customers, 22 sweepers and support vehicles, and 23 full time employees.
---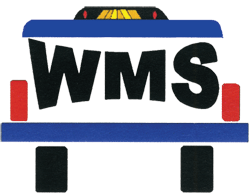 July, West Michigan Sweeper, Inc.
Like so many sweeping contractors just starting out, Dennis Gillean had a full-time job when he bought his first sweeper and started his sweeping company. And, as has also been the case with many other contractors, the small Minuteman unit that he ended up with – which had only a 3.5' sweeping path – wasn't particularly suited for cleaning parking lots.
Throughout this problem, working two jobs and being enmeshed in a Michigan economy that is among the worst in the nation, Gillean persevered to develop West Michgan Sweeper, Inc. into a company with the kind of ethical standards that would make any business owner proud.
---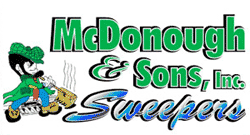 June, McDonough and Sons Sweeping
Thirty some years ago, when Pat McDonough started his own sweeping company, he was already a somewhat experienced hand at the job. That's because as a newly-married nineteen-year-old he'd joined the father he'd never really known in a sweeping company in Minnesota.
Even though that didn't last long, when McDonough started a business of his own over 10 years later, it was to found a parking lot sweeping company. That was almost 30 years ago.
"Staying up-to-date with current regulations and using our knowledge to meet or exceed our customers' needs and expectations is a challenge we take on every day. When I sit at conference roundtables and in discussion groups located elsewhere I realize how far ahead in this regard the Pacific NW is from many other parts of the country. I'm proud of the environmental impact we can make as a company."
---

May, Geelong Power Sweep
Fourteen years ago, fed up with his work as a long distance truck driver, Australian contractor Glenn Laybourne bought a couple of PowerBoss sweeper scrubbers and used them to clean factories and warehouses.
Today, using a combination of innovation, GPS and personalized service, Laybourne's Geelong Power Sweep provides roadway and construction sweeping throughout his Greater Melbourne market area. Read the story.
---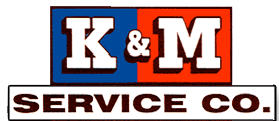 April, K & M Service, Inc.
Like many contractors, especially in the early days, Mike Conley got into sweeping as a part-time job to make extra money. That's the course he pursued for three years before establishing his company, K & M Service, Inc., as a full-time sweeping, lawn care and snowplowing firm.
Since his start in 1985, Conley has solidified his company's control within his West Virginia market area. Today, K & M Service is known as a full-service, quality-oriented sweeping company that offers a number of other maintenance services, as well. Read the story.
---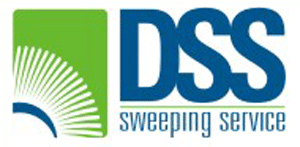 March, DSS Sweeper Service
Viki and Kevin Kroeger are in their 11th year of ownership of DSS Sweeping Service. As you will learn in the audio interview with Kevin, they looked for an extended period of time before they found a business to buy that fit their exact requirements.
Our feature article follows the company from that point on, from which DSS Sweeping Service has seen significant growth due to the couple's educated, involved and savvy operating techniques.
---

Febuary, Tim's Water Service
Tim Kukovica started out as a farmer in Canada's Ontario province, just north of Niagara Falls, New York. How could he know when he bought a municipal water truck at auction for its transmission that the purchase would change the course of his business life.
Our feature article on the company discusses the company's many facets of success, as well as the home-engineered refinements and accessories Kukovica has added to his fleet to make his equipment especially adapted to the functions he needs them to perform.
---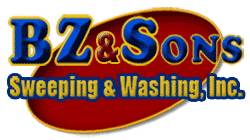 January, BZ and Sons Sweeping
In 1986 Bob and Zuella Stumpf decided parking area sweeping was a good type of business to start. For the next 17 years they operated their company with diligence and hard work, becoming a force to reckon with in and around their Paris, Texas, location.
Our feature article on the company discusses how their son, Bob Jr., has expanded the firms slate of services, geographical scope and environmental mandate to become a power in three states.
---
Be sure to also take a look at our previous Contractors of the Month.
If you have questions or comments about this section of the website, or would like for your company to be considered for this honor, please, let us know.