West Michigan Sweeper Owner Stresses Hard Work, Accountability
Like so many sweeping contractors just starting out, Dennis Gillean had a job when he bought his first sweeper. And, as has also been the case with many other contractors, the small Minuteman unit that he ended up with – which had only a 3.5' sweeping path – wasn't the best machine for cleaning parking lots.
Throughout this problem, working two jobs and being enmeshed in a Michigan economy that is among the worst in the nation, Gillean persevered to develop West Michgan Sweeper, Inc. into a company with the kind of ethical standards that would make any business owner proud.
by Ranger Kidwell-Ross
Like many sweeping contractors, Gillean didn't know much about sweeping when he got into the business. In fact, he'd never even thought about the existence of sweeping until he saw a neighbor's Minuteman sweeper. Ultimately, this is the machine that he and his wife, Sheila, eventually got into business with.
"When we started five seasons ago – and I call them seasons because up here in Michigan we have downtime in the winter – we took over a Minuteman sweeper one of my neighbors had bought online in order to have a side job with his son. Then, the son got a promotion and didn't have time to do it. The dad knew he couldn't handle it himself and knew I was intrigued so offered me the sweeper and a pickup truck.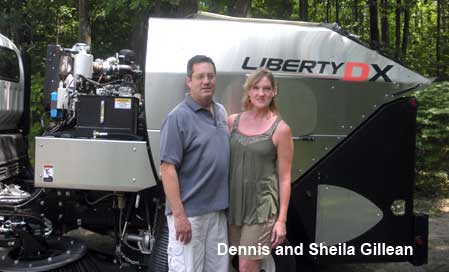 "We were struggling and needed something so, being Christians, we prayed about it and came to the conclusion that getting into sweeping was something we should do. We did a few jobs with the machine and then winter set in.
Over the winter we did a lot of research, which included contacting Ray Confer, of C and J Sweeping in Warren, Michigan. I learned we didn't know what we were doing with the Minuteman; with its narrow sweeping path, it probably took 10 times as long as it should to do a parking lot sweeping job.
"Ray was really helpful to us, providing us with many things about the sweeping business we needed to know. Another friend in our church, Dennis, had a successful power washing company with about five crews out. I also asked him for advice and he advised getting a nice yellow pages ad even though we didn't really have income to support the cost."
Through the yellow pages ad, though, West Michigan Sweeper, Inc. soon was contacted by a Lowe's manager who needed sweeping. Gillean's personal response to the manager's request for quote included hand delivering his quote. In large part because he was the only one of the three responding sweeping contractors to do so endeared him to the manager and WM Sweeper got the job. This has since expanded to the other three Lowe's locations in the area.
Gillean continues to try to meet and greet all of his customers, as part of his business model. He has found that it's a good process for both his company and for the customers. It's a way to get a better handle on what customers' needs truly are.
Gillean is also a part-time maintenance person for a school in his local area. This is something he has continued, along with doing some amount of sweeping himself, as well. They do employ another sweeper operator, as well, in almost a full-time capacity.
"One of the things I've learned," says Gillean, "is to always make sure to clean up what I call 'the flags' of each location. No matter what, always make sure there's nothing left on the parking lot that would draw attention as being out of place. Sometimes you might not have the amount of time allocated that you need to do everything on an account, but you can't leave anything that would draw the attention of the manager when he pulls in to work first thing in the morning. And, you need to do the job no matter what."
This last admonishment became a reality for Gillean fairly recently, when his primary sweeper lost a transmission, followed by the rear-end of his backup sweeper the very next day. Even though it took several days to get one of his sweepers back to operational, that didn't stop service for his customers' properties.
"I hired a couple laborers and we went out to all the properties and swept them by hand," says Gillean. "It took probably three times as long as normal, but we did such a good job that not one of our customers took notice of the fact. Your customers don't want to know you're having problems, your sweeper broke or anything else.
"Your customers just want their property to look great all the time. I see our role as kind of like the umpire in a baseball game; the better job they do, the more invisible they are to those watching the game. I want the work we do to maintain such a standard that our customers don't have to give their parking lot any thought. They'll just know it will be clean and neat every day after we've swept it.
You can hear more down-home wisdom from Dennis Gillean in our 17-minute audio interview with him. The audio includes more of his thoughts on running a sweeping company that maintains a good reputation within its market area. He talks about what he sees as the value of being smaller, but profitable, rather than growing so fast that you're unable to provide the quality of service to every one of your customers. He also discusses his experience with different sweeper makes and models in the heavy-duty environment after the Michigan winter.
---
Note: The following audio interview with Dennis Gillean will play without downloading any files onto your computer. If you hear the interview at 'chipmunk speed,' you will need to download the latest version of Adobe's free Flash player.
Note: To play the interview, click this link or on the small triangle inside the circle you see to the left. If you have any trouble accessing this audio, please let us know.
---
Dennis Gillean may be reached via email sent to his company's primary e-mailbox, info@wmsweeper.com. The website is located at wmsweeper.com.
If you have questions or comments about this interview, please, let us know and we can add it in as an addendum to this article.