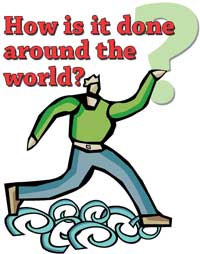 Ranger Kidwell-Ross, our webmaster and Editor of WorldSweeper.com, has made trips to Asia, Australia and Europe to provide news of how pavement sweeping is done in some of the countries around the world. The Asia portion of this travelogue won an APEX Award of Excellence in Online Journalism for 2002, while the European travelogue won an Apex Grand Award for 2004.
This WorldSweeper.com section on India has been developed via contacts located in that country, as well as during Ranger's personal visit in 2016.

Table of Contents
In June of 2016, WorldSweeper.com's editor, Ranger Kidwell-Ross, took a trip to Southern India to see for himself, and report back to the power sweeping industry worldwide, how the first-ever regenerative air sweeper is being made by India-based manufacturing powerhouse, Roots Multiclean.

As part of this sweeping industry travelogue, he brought readers a host of other stories to help capture the sights, sounds and 'flavor' of that country so few from the West have visited.

We invite you to sit back and relax as you travel to India to see the world of power sweeping and more! (If you missed the beginning of this adventure, you might want to start where Ranger started, Sydney, Australia at that country's celebrated Civenex Tradeshow, the biggest sweeping industry tradeshow in that country!) The Australia portion also includes a demonstration of the Rosmech R6 regenerative air sweeper made by Roots Multiclean in India.

After Australia, Ranger heads to Coimbatore, India to help you learn about sweeping (and much more!) in that country.
---
Other Stories About Sweeping in India
India Students Build 'Mechanized' Sweeper for School's Elderly Lady Sweeper
Students at Panchayat Union Middle School, Konerikuppa, noticed many problems in their school. The building was damaged, with paint peeling off, there were unnecessary bushes in the campus, and animals kept entering the premises. But after discussing amongst each other and taking a vote, they decided that the issue they most wanted to address was figuring out how to ease the burden of the elderly lady who swept the school's large playground.
In order to help her, students at the government school located in the Villupuram district of Tamil Nadu built a Sweeping Vehicle of coconut-leaves-on-wheels. They used the simple 4-step formula of Feel-Imagine-Do-Share that has been developed by Design for Change – a not-for-profit organization that challenges children to solve problems in their community – in order to achieve their goal.The project was subsequently selected amongst the 3,600 submissions as one of the Top 26 stories at the 'I CAN Awards' organized by Design for Change. In addition to this story being linked here in WorldSweeper's India section of our International Sweeping section, it is actually catalogued in our 'Noteworthy in Sweeping' category.
---
Indian Study Confirms Musculoskeletal Issues for Street Sweeping Personnel
Study conducted in 2016
This study, done in India by the International Institute for Population Sciences, located in Mumbai, India, provides risk factor data that any such employers – wherever they are located – need to understand.

For the study design, a cross-sectional survey was conducted among street sweepers together with a comparison group. The impact of the occupation of sweeping on the development of MSDs and related disabilities was assessed, including identification of the individual risk factors.

Read the info.
---
A Night in the Life of a Street Sweeper Driver in India
posted in March of 2018
Sandeep Sinha is a journalist who has written a variety of articles on different types of machinery, including travelling atop a combine harvester, a road-roller and inside a train engine. In this case, he thought he'd give a turn at finding out more about what he called 'a road-cleaning contraption.' Read the story.
---
Sunil Yadav: Getting an Education in Order to Make a Difference
posted in October of 2016
Beating all odds, 36-year-old Sunil Yadav, a street sweeper employed with the Brihanmumbai Municipal Corporation (BMC) has swept his way to success by securing an MPhil degree from Tata Institute of Social Sciences (TISS) in Mumbai, India.

Yadav, who is deployed at Nana Chowk in Central Mumbai for the cleaning job, now aims to pursue a PhD degree to understand the problems plaguing the sweeper class and wants to find solutions to it. Note: This article is posted in our "Noteworthy in Power Sweeping" section. Read the story.
---
The Maharaja's Rolls Royce Sweeper Fleet
posted in September of 2016
The world's most famous car brand, Rolls Royce, is also associated with Rajasthan. That's because a famous buyer of this car was the Maharaja of Alwar, who always bought three automobiles at a time. One day during his visit to London, Maharaja Jai Singh was walking in casual dress on Bond Street. He saw a Rolls Royce showroom and went inside to inquire about the price and features of their cars. The showroom salesmen thought he was a poor Indian. They insulted him and showed him the way out.

After this insult, Maharaja Jai Singh came back to his hotel room and asked his servants to call the showroom because the Maharaja of Alwar was interested in purchasing a few cars. What he did with his resulting fleet of six Rolls Royce cars shows what can happen when people are judged by their appearance. It also illustrates that no matter how 'high flying' your company's brand might be, it can be taken down a notch with a single mistake in judgment by your employees! Read the story.
---
An Overview of Sweeping in India
posted in January 2010
This article is an interview with Manish Chandra, who is Business Development Manager, Infrastructure, for Eureka Forbes Limited. Eureka Forbes represents Bucher Schoerling road sweeping machines through its more than 180 offices located throughout India.

In the following interview, Mr. Chandra provides an overview of how sweeping is done in India, both currently and historically. He also provided the photos that accompany the article. Read the story.