An Overview of Sweeping in India
by Manish Chandra and Ranger Kidwell-Ross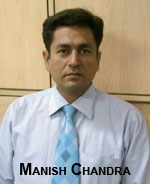 Manish Chandra is the Business Development Manager, Infrastructure, for Eureka Forbes Limited. Eureka Forbes represents Bucher Schoerling road sweeping machines through its more than 180 offices located throughout India.
In the following interview, Mr. Chandra provides an overview of how sweeping is done in India, both currently and historically. He also provided the photos that accompany the article.
WORLDSWEEPER: Would you start by providing readers with an overview of the Indian sweeping marketplace at the start of 2010?
Manish Chandra: You will find a lot of fine dust on Indian roads. There are a few indigenous manufacturers who have developed road sweeping machines, and they are supplying the machines at very low cost to municipal bodies. These indigenous machines are fitted with cartridge filters.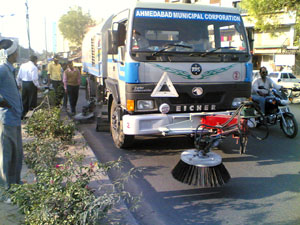 Whenever a vacuum road sweeping machine operates on the road dust clouds are formed. If water is sprayed on the side brushes to tame the dust cloud, these filters get clogged up frequently. Then, suction drops.
It has been seen recently that the end-users are slowly shifting toward imported and good quality road sweeping machines without any bag/cartridge filters. However, these machines use a lot of good quality water for taming the dust cloud and availability of drinking water is always a problem in Indian cities.
Surprisingly, neighbouring countries of India have realized the reason behind the under-performance of poorly designed sweeping machines and they have large numbers of good quality and imported, properly-designed, sweeping machines on their roads.
Indian road sweeping industry is still in early stage as the performance of the indigenous road sweeping machines have created an impression that road sweeping machines are not suitable for the somewhat unique challenges of Indian roads.
WORLDSWEEPER: Are there sweeping contractors in India or is sweeping all done by governments?
Manish Chandra: The trend in India is mixed. Few municipal authorities choose to sweep the roads by themselves. The municipal authorities prefer to award the entire sweeping contract to private sweeping contractors. But, as of now, there are not clearly defined guidelines.
Presently road sweeping is done by contractors in major metro cities (Mumbai, Delhi, and Kolkata) except Chennai where the municipal corporation has procured the sweeping machines and they themselves sweep the roads.
WORLDSWEEPER: What government agencies do sweeping?
Manish Chandra: Government has designated the municipal corporations to take care of essential services. These include solid waste management, sewer line management and road sweeping. Hence in all the cities of India only municipal corporations are responsible for road sweeping (either they do it themselves by procuring the machines or they give the sweeping contract to a contractor).
WORLDSWEEPER: Can you speak more about lack of water for using in sweepers?
Manish Chandra: Drinking water is always a scarcity in India, especially in metro cities. The vacuum road sweeping machines use clean water for dust suppression and municipal authorities find that water is an expensive consumable and it should not be wasted by sprinkling on roads. But they waste a lot of water in cleaning of sewer lines.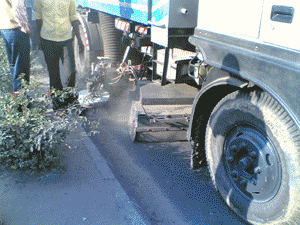 WORLDSWEEPER: What was done before the machine sweepers started operating?
Manish Chandra: Before the machine sweepers started operating the sweeping was done by humans. Presently most of the cities' roads are swept by humans as they are yet to start mechanized sweeping.
WORLDSWEEPER: Are there any kinds of mandates re: clean air or clean water in India's cities, states or federal government?
Manish Chandra: There are no clear mandates for this. However, the Supreme Court of India has issued the guidelines for Solid Waste Management (MSW-2000). This includes road sweeping guidelines, too. These guidelines were prepared in consultation with CPCB (Central Pollution Control Board).
The government works through the 'Ministry of Urban Development,' 'urban local bodies,' and 'municipal authorities' for implementing the guidelines of MSW-2000. In India you will find all the guidelines for clean water, clean roads, etc., but these guidelines are never implemented fully.
WORLDSWEEPER: Are sweepers seen as a way to attain positive water quality results?
Manish Chandra: Road sweeping machines are becoming an essential commodity now-a-days. We can very clearly see now that small cities are inviting tenders to purchase road sweeping machines.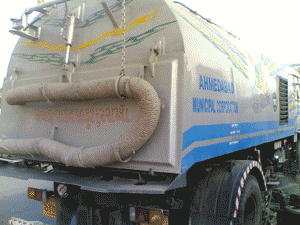 WORLDSWEEPER: Are there now manufacturers who are bringing in supposedly dust-catching but not water or filter-using sweepers, either from other countries or built in India?
Manish Chandra: Bucher Shoerling and Johnston sweepers are operating in India at many places but they use water. Only two Schwarze sweepers are operating in India. These use negligible water as they are a regenerative type sweeping machine. All imported machines in India are filterless machines but the machines built in India have cartridge filters fitted inside.
WORLDSWEEPER: What countries in that sector of the world seem ahead in terms of keeping their streets cleaned environmentally, thoroughly, etc.?
Manish Chandra: Singapore is the cleanest and a lot of road sweepers are in operation in Srilanka, Korea, Pakistan and China.
WORLDSWEEPER: Is there anything that might be unusual or different during sweeping in India?
Manish Chandra: You would find too much of fine dust on Indian Roads which is unlikely to be so thick and ever-present in European / American countries. That's why a water spray is needed while sweeping.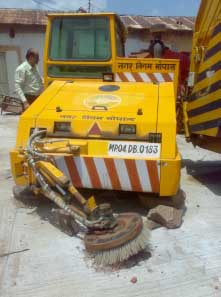 WORLDSWEEPER: Are just streets swept? How about parking lots at stores, etc.?
Manish Chandra: Street sweeping has been started in India now. Generally parking lots, etc., are not being swept mechanically; humans sweep the parking lots as of now. But parking lot sweeping has also been started at few places recently using mechanical, integrated, ride-on sweepers.
WORLDSWEEPER: Is there still an active 'humans sweeping with brooms' industry?
Manish Chandra: Oh yes! Sweeping is done mostly by humans only.
WORLDSWEEPER: What percentage of total pavement, or pavement in the average city of 100,000 or more, would you estimate gets swept once a month? More/less?
Manish Chandra: As far as sweeping is concerned, and this includes human sweeping, I'd estimate that 50% of pavements are swept once a month.
I hope this information gives those in the sweeping industry in other countries around the world a better idea of the sweeping industry in India.
You can contact Manish Chandra, Business Development Manager, Infrastructure, for Eureka Forbes Limited via email sent to: manish.chandra@eurekaforbes.com. The Eureka Forbes website is www.eurekaforbes.com.