APWA Congress 2007
World Sweeper Speaker Seminars

Welcome to our APWA 2007 Speaker Interviews!
You'll find a host of great ideas in our APWA 2007 coverage. If you have questions or comments, please feel free to let us know.
Note that each interview will become linked on the day shown.


Table of Contents for APWA 2007 Speaker Interviews
Biodiesel has many advantages and will soon be available nationwide. Make sure you make the right decisions about implementing biodiesel as a fleet fuel. Interview with Dr. Richard G. Nelson, Member of National Biodiesel Board and Department Head, Kansas State University College of Engineering.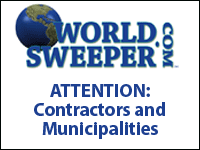 Selling Used Fleet Assets For Top Dollar
Get the lowdown on how to increase your revenue stream by understanding the ins and outs of disposing of fleet assets via pre-purchase arrangements, as well as through conventional and online auctions. Interview with John McCorkhill, Jr., CFM, CAFM, CEM, Director of Fleet Services, City of Lynchburg, VA.




In today's environmental climate, washing your sweepers and other vehicles without the proper procedures can result in more than just a large fine. Interview with one of the wastewater disposal industry's leaders, Jeff Taylor, National Sales Manager, ESD Waste2Water, Inc.

Modernizing Fleet Operations
Learn how to create a state-of-the art public fleet operation and establish a business enterprise that uses best management practices to compete successfully with private sector entities. Interview with 25+ year fleet manager, Prab R. Rao, Director of Fleet Services, City of Minneapolis, MN.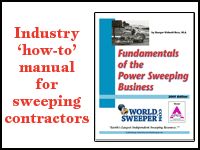 Considering a switch to biodiesel? Hear about the experience of two Pacific NW agencies when they implemented biodiesel as a fleet fuel. Interview with Don Holmes, Sustainability Coordinator for Portland Water Bureau, Portland, OR.


If you want better performance and empowerment in your public works department, take steps to get buy-in from your employees through developing meaningful and accountable performance measures. Interview with Daryl Grigsby, Public Works Director, City of Kirkland, WA.


John J. Meola, Safety Manager for VMS, Inc., is an expert at helping customers improve their overall safety record -- including motor vehicle safety and hazardous exposures -- through techniques designed to better protect employees in the work zone.


The City of Toronto is successfully implementing a street sweeping program that significantly contributes to meeting clean air and stormwater standards. Discover what this Canadian city has done to better evaluate sweeper efficiency and operational best practices.