Need something done? Just ask... If we can't do it, we probably know someone who can. After all, we specialize in problem-solving!
Parking Lot Sweeping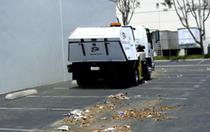 We have the latest technology in regenerative sweepers to provide our customers with the cleanest lot possible. When you choose Ladybugs Parking Lot Sweeping to keep your property swept, you can forget about any problems with cleanliness on your site.
In addition to occasional and regularly-scheduled pavement sweeping, we also offer trash bag change-out and large trash removal, when needed. We offer services throughout Louisiana, SW Mississippi and SE Texas including Austin.
Want to make sure your location stays debris free during the day? If so, we suggest you utilize Ladybugs' porter service.  We will have an employee on your property as agreed to make sure your property is kept continuously clean. Our porter employees are trained to spot and remove any litter and other debris that ends up on your exterior spaces.
Other Services
In addition to parking area sweeping and porter services, Ladybugs Parking Lot Sweeping also offers a wide variety of additional services. When you partner with our Ladybugs Team for your exterior maintenance, you'll be able to make just one call to get most everything on the exterior of your property handled. In the rare instance we can't handle your exterior maintenance needs, chances are high we know someone who can! Take a look at all the additional services offered by the Ladybugs Team:
New and re-striping
Shopping cart repair
Construction site cleaning
Asphalt repair
Pressure washing
Lawn care
Window cleaning
Sign placement
And more!
What makes Ladybugs different from other companies?
We have been been a family owned and operated business since 2005. We always meet our customers face-to-face and create a personal relationship with them. We personalize ourselves with our customers and treat them as we want to be treated. Some of our customers have become great friends.
For more information and to receive a no-charge assessment of your needs and how we can best address them for you, call 337-269-9755 today. You can also send us an email using the contact link shown to the right.
We look forward to making the exterior of your property look the best it possibly can!
– Darren and Shelly Harris