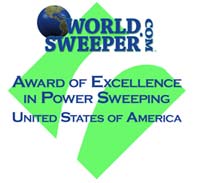 Dale McCaskill and Southco Sweeping and Maintenance Receive Award of Excellence in Power Sweeping for 2009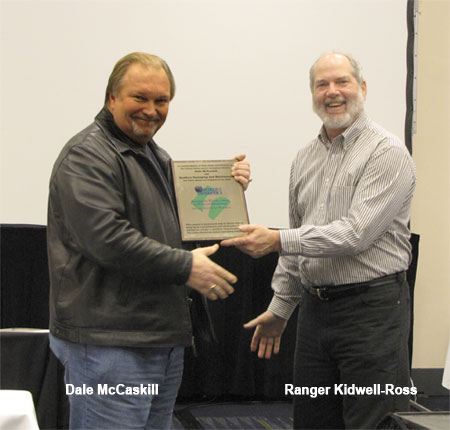 In recognition of his many contributions to the power sweeping industry, Dale McCaskill and his company, Southco Sweeping and Maintenance, is recipient of WorldSweeper.com's Award of Excellence in Power Sweeping for 2009.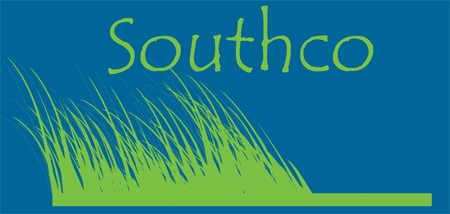 Note: In conjunction with winning WorldSweeper.com's Award of Excellence in Power Sweeping for 2009, in March of 2009 Dale McCaskill's company, Southco Sweeping and Maintenance, was also featured as WorldSweeper.com's Contractor of the Month. To see the Award of Excellence presentation, held February 20, 2009, click here.
Dale McCaskill started his company in 1989 as a part-time venture to supplement his job in the advertising industry. Then, not long after, he was given his usual paycheck from the ad agency with a rather unusual caveat: "Here's your check, which we don't have enough money to cover. Plus, the company is closing down so you no longer have a job."
"It couldn't have been more clear that my new full-time direction would have to be my sweeping company," reminisces McCaskill. "In retrospect, it's one of the best things that could have ever happened." With the capable in-office assistance of his wife, Debbie, Dale threw himself into building what has become one of the major sweeping powers in the Carolinas.
Southco now has five offices located strategically throughout North and South Carolina. "I think our tremendous growth has been primarily due to two factors," says McCaskill. "We are very responsible to our customers' needs, and have been a full service company since before that was fashionable like it is today. People ask me what portion of my business is sweeping, and the answer is 100%. That's because, without sweeping, we would not be doing the full slate of landscaping and maintenance services we perform for our customer base.
"Our customers know that, with Southco, one call is all it takes to get their needs met. With just a phone call or email, our service team can now handle most any type of project, from graffiti removal to complete pavement repair and everything in between. We know our customers appreciate that kind of service provision."
In late 2008 the company updated its sweeper fleet, adding an additional nine units. "Our growth remains steady, in spite of the economy," McCaskill says. "In tough times, it's more important than ever to present an inviting exterior to customers and clients. Plus, we think our credentials position us to benefit in a down economy. In these trying economic times, property managers want to go with a tried and proven commodity, rather than leaving things to chance. That's the kind of service excellence we provide."
One of the central reasons McCaskill and his company were chosen for this year's award is because of his tireless dedication to improving the power sweeping industry. This took the form of involvement with the North American Power Sweeping Association (NAPSA) prior to his recently completed tenure as president of the association. And, during his stint as president, Dale's input was clear and measurable in terms of improving NAPSA's scope within the industry.
"Because of all the help I've received through the years," opines McCaskill, "I felt it was important to do the same for others trying to better themselves in the world of power sweeping. I've been willing to talk to anybody; to help them find ways to better the way their company operates. I even call competitors and invite them to be a NAPSA member, which I believe is a critical piece of becoming a professional in our industry. Our industry is still relatively new, and is still fluctuating in terms of how those in it operate. The more they know about running a sweeping business, the better the entire industry will be.
"Becoming a NAPSA-Certified sweeping company has also been extremely helpful to us. It let's prospects and customers know we have gone through the litmus test; we know how to run a professional company. As we start to advertise NAPSA Certification throughout the universe of sweeping service purchasers, it will become more clear to property managers, and others, of the tremendous value that NAPSA Certification offers.
"I want to also make it clear that it's not just me that won this award. Rather, it's because of my staff that we won the award. True, I've been the one that was NAPSA president, but without my management and line workers doing a great job that simply would not have been possible. The Southco Team is a great unit, and their tremendous professional work ethic is what allows it all to happen. And, I'd like to underscore that even more when it comes to my wife and partner, Debbie. Without her, we would not be where we are today, no way, period."


Congratulations to Dale and Debbie McCaskill, as well as to all of the managers and employees of Southco Sweeping and Maintenance. Their WorldSweeper.com Award of Excellence in Power Sweeping for 2009 is well deserved.



We also offer an approximately 11-minute video interview with Dale and Debbie McCaskill, filmed on February 20, 2009, at the National Pavement Exposition in Charlotte, North Carolina. You will see that link shown below this paragraph. This was filmed prior to the couple learning they would be our Award of Excellence winner for 2009; however, they did know they would be Worldsweeper.com's Contractor of the Month for March, 2009.


In addition, if you would like to learn more about how Southco operates, as well as some of the tips of the trade McCaskill has picked up through the years, we invite you to listen to an approximately 35-minute interview with Dale McCaskill. You will find it well worth listening to. Note: the audio will play without downloading any files onto your computer. If you hear the interview at 'chipmunk speed,' you will need to download the latest version of Adobe's free Flash player.

Our editor, Ranger Kidwell-Ross, presented the award to Dale McCaskill at the National Pavement Exposition in Charlotte, North Carolina, on February 20, 2009.

Dale McCaskill may be reached via email, or by calling him at (803) 432-4030. The company's website is www.southcosweeping.com.

If you have questions or comments about this interview, please, let us know and we can add it in as an addendum to this article.