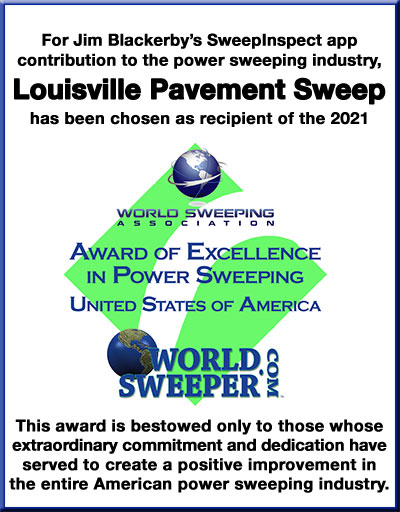 Normally, the WorldSweeper.com/World Sweeping Association's Award of Excellence in Power Sweeping is awarded at the National Pavement Exposition, typically held in late January or early February. However, this year the NPE was only a virtual event.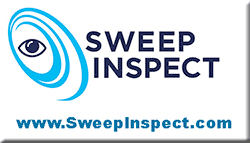 As a result, our 2021 Award was presented via a Zoomcast with our chosen recipient, Jim Blackerby, owner of Kentucky-based Louisville Pavement Sweep. Blackerby is a second-generation contractor who has built a fast-growing, very professional operation, serving the Greater Louisville area. However, the primary driver for his being chosen for the Award is his development of the Sweep Inspect app, which is a very full-featured – and getting more so all the time – app designed to handle all sorts of tasks for sweeping contractors.
Although initially designed primarily as a quality control management tool, over time Blackerby has added a number of features to Sweep Inspect that include customer support, routing and much more. We invite you to check out the Sweep Inspect website for more current information on the app. WorldSweeper also did a story on Sweep Inspect in November of 2019.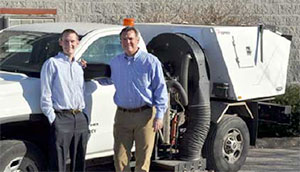 In addition, WorldSweeper also made Louisville Pavement Sweep, along with his father's (who is also named Jim) company, Lexington Pavement Sweep, its first ever 'co-Featured Contractors' as a father-and-son team. We also credit the younger Blackerby with providing an early warning about the health and safety issues surrounding the many masks and gloves being left on the ground in the early days of the pandemic. In addition, Louisville Pavement Sweep was the 2021 Runner-Up for PAVEMENT magazine's "Cutting-Edge Sweeper" Award.
As of March 2021, the Sweep Inspect app was $200/month, an amount that covers all trucks in a contractor's operation. For World Sweeping Association members, the app is not only discounted to $150/month, but Blackerby is donating $25/month to the World Sweeping Association's Memorial Scholarship fund. (For info about WSA, including a link to join, check out this link.)
Since we couldn't present the Award in person, WorldSweeper.com's Editor (who is also Director of the World Sweeping Association) called Jim about doing another feature story on his company. The @15-minute Zoomcast interview, which ended in the Award presentation, is a thoroughly enjoyable and informative video and is linked below. Click on the image and the video will open into a new browser window.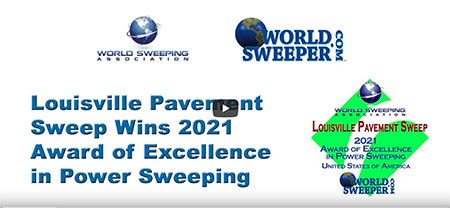 For more information about Louisville Pavement Sweep's Sweep Inspect program, we invite you to visit the company's website, which is located at www.Sweep Inspect.com. Jim Blackerby's phone number is 859-533-1415 and you may contact him via email sent to support@Sweep Inspect.com.
If you have questions or comments about this article, please, let us know and, if appropriate, we will add it in as an addendum to this article.