Improving Sweeper Safety to Bystanders
by Ranger Kidwell-Ross
In February of 2018, a pedestrian in Bellevue, WA, was struck and killed by a street sweeper. Police reported that the man was kneeling down, perhaps tying his shoe, when he was struck. The sweeper was reportedly equipped with a rear-facing camera but at this point it is unknown whether it was in use or being watched by the driver.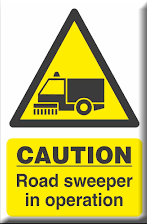 Bellevue police say traffic-camera footage shows a pedestrian was kneeling down, possibly to tie his shoe, when a street sweeper backed up over him Monday morning, fatally crushing him. "It appears the sweeper was backing up, and the pedestrian was kneeling down, possibly tying his shoe or something like that," he said of Culai, a Bellevue resident.
The street sweeper was equipped with a backup camera, but a spokesman for the police department, Seth Tyler, said he didn't know if it was working or if the 67-year-old driver was using it as he reversed. Tyler also didn't know whether the street sweeper had an audible backup alarm. Because of the area was a construction site where a new apartment building was under construction, there was no sidewalk available for pedestrians.
This fatality showcases how important safety and operational training are when it comes to operating sweepers, whether on the street or on parking lots or elsewhere. The ForConstructionPros website reports that, on average, one in 10 workers on construction sites is injured. With an industry workforce estimated at about 9.6 million workers, that means almost a million workers in the United States receive some type of injury each year. Because sweepers are a type of machine not universally found on construction sites, they pose a larger danger than other, more familiar, types of machinery such as dump trucks, loaders, backhoes, etc.
Outward-facing cameras are one way to increase safety for those surrounding the sweeper during operation. Backup cameras used to be seen as a way to eliminate the need for the more costly option of right-side steering on sweepers. However, in recent years there's been a significant drop in the cost of these types of cameras and monitoring screens. For a couple hundred dollars an entry-level system can be installed on your sweeper, as well as on other vehicles in your fleet.
However, given the important nature of the information that is gained through these types of cameras, a further investment can bring much more than just a view of the area behind the sweeper. The latest generation of onboard cameras also may be outfitted so as to offer views around the entire area surrounding the sweeper or other vehicle. Although monitoring by the operator becomes a bit more complex, these types of systems completely eliminate any blind spots.
In recent times there have also been some updates to reverse alarms. Although many construction and commercial vehicles are equipped with "beep-beep" alarms, ForConstructionPros has written about the problems with these alarms on large construction sites. Apparently, when several such alarms are sounding at once on a construction site or elsewhere, it is difficult to find where the sound is actually emanating from. That has spawned a new generation in reversing alarms, ones with a different type of sound.

A company called Brigade Electronics has introduced backup alarms that utilize a variety of white noise frequencies. According to the company's website, "The broadband sound also gives workers wearing hearing protection devices (HPDs) and people with hearing difficulties a better chance of hearing the alarm." Called 'bbs-tek®' alarms, the company's White Sound® reverse alarms create a "ssh-ssh" sound which is gentle on the ear and dissipates quickly, meaning the alarm can only be heard in the danger zone.
In addition to being more directional and able to be heard only in the danger zone, other cited advantages of the white noise alarms, as compared to traditional "beep-beep" alarms also include better audibility by those wearing ear protection or with hearing impairment. Another cited advantage is that the sound, because it is not as annoying as a beep-beep and dissipates more quickly, is that this type of system reportedly eliminates noise complaints. In addition, this type of alarm is effective at 5dB lower than a traditional beeping alarm because the sound is generated on several frequencies.
While on construction sites some operators hesitate to use their light bars and other lights designed to increase visibility of the sweeper. However, your safety lighting is just another way to be more visible while on the site. Our recommendation is to instruct your operators to use your safety lighting on construction sites and elsewhere while sweeping even during daytime hours.
Our opening example shows how tragic sweeper-related injuries can be. In addition to the human toll, the loss of time, money and morale in most any accident situation are also negative factors that will have significant impact on your organization, whether public or private. We suggest you use this article as a 'teaching moment' as part of your future safety meetings. And, if you have ideas about other actions or equipment you suggest to enhance the safety of sweepers during operation, please href="../../contactform.html" target="_blank">let us know so we can add your info as an addendum to this article.