---
Remembering the Past as We Embrace the Future
by Ranger Kidwell-Ross, editor
WorldSweeper.com
When the 9/11 tragedy took place 22 years ago, I was at a Philadelphia airport restaurant waiting for my flight home from the Public Works Expo, now PWX. My waitress came over and told me a small plane had run into one of the World Trade Center buildings. Did I want her to turn on the television in the corner so I could see what was happening?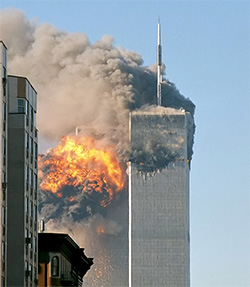 Less than a minute from when she turned the tv on for me, the second – obviously not a 'small' plane – hit. I paid for my largely unfinished breakfast and headed to my flight gate. As I moved through the terminal, the scene became increasingly chaotic. One factor that I found astonishing was how many people were on their cell phones speaking a foreign language to whoever was on the other end.
Although we boarded the plane, before takeoff all flights were grounded. Fortunately for us, our luggage was taken off and so I at least had extra clothes for what became several days of watching and waiting through one of America's worst ever tragedies. I was lucky enough to get the last available room in a hotel, which happened to overlook the location of the Liberty Bell. As a result, out my window I viewed a strong protective presence for the several days I was there. For those of us alive during the 9/11 attack, those times remain unforgettable – as they should.
This month, 22 years later, we have many changes to catalog within the sweeping industry. Another loss comes first to mind: Mark Boyer, long-time editor of SweeperMarket & PaverMarket magazines, succumbed to his 14-year bout with Parkinson's. Mark was one of my best industry friends and I know he was very helpful to many of you reading this. When it came to used sweeper info and pricing, there was no better source to speak to than Mark.
Also in the 'not so good' category is the story of an altercation between parking lot sweeper operators and what deserves to be called a 'gang' of street racers. If you run parking area sweepers be sure to read about that incident, along with the ideas we kicked around for mitigating incidents like that.
Fortunately, some of our latest news is great to read: We provide you with an opportunity to learn about the tremendously cost-effective value street sweeping has when it comes to pollutant removal. Anyone wanting to know the latest on that topic will definitely benefit from the free webinar Roger Sutherland and I will present on September 26th as part of 'Storm water Awareness Week.'
The two of us offer over 75 years of combined experience. We couple that experience with a thorough literature and studies' review on the topic. The free webinar will be an opportunity for you to learn about why and how street sweeping has been shown to be a way to remove the most serious pavement pollutants – before they can run off into waterways and with a cost that's up to 5-times less than the next best methods.
You can also learn about Elgin's all-electric Broom Bear model that is now available, often with partial financing from state and local sources. You'll also hear how the RAVO line of sweepers is being accepted in the US marketplace.
Finally, as we do in many of our newsletter issues, we offer an entry in the 'Not Exactly Sweeping' category. A mysterious yellow roadway line was discovered on over 20 miles of Florida highway. The problem was not just perplexing: it was also affecting smart cars using the road. Interestingly, FDOT decided this particular project could be solved via use of a sweeper's curb brooms. That's first time I'd heard of a sweeper being used in such a manner in my over three decades of covering the industry.
As always, if you have any news of potential interest to the power sweeping community, please let us know. Between this publication, the WorldSweeper.com website, and the World Sweeping Association, we'll be sure to get the information passed along to interested readers.
Good Sweeping,



Editor, WorldSweeper.com
Executive Director, World Sweeping Association
Member, PAVEMENT Hall of Fame
PS If you're a contractor I urge you to check out the many benefits of membership in the World Sweeping Association. Also, if you haven't 'liked' our WorldSweeper Facebook page, what are you waiting for? That's where we offer a variety of industry previews and updates on an ongoing basis.

---
September Newsletter Contents
(Scroll down to read stories or click on links below.)
---
Remembering Mark Boyer: A True Contributor to the U.S. Power Sweeping Industry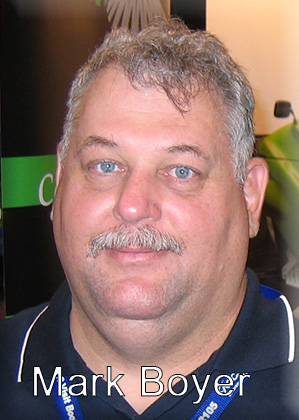 Mark Boyer, who for over 20 years was the Editor of the leading sweeping and paving industry buy/sell publications, lost his 14-year battle with Parkinson's on August 28th. Mark was someone who could be counted on to help anyone who had sweeping questions – especially when it came to application/usage and pricing for most any make/model/years of sweepers

When it came to knowledge about buying and selling sweepers and other pavement-oriented rolling stock, for two decades Mark Boyer was perhaps the top expert in America. The longtime editor of both SweeperMarket and PaverMarket magazines, Boyer was the conduit for many tens of millions of dollars in equipment sales.

We have written an article chronicling his many contributions to the industry in our Noteworthy in Power Sweeping section of the website.
---

Free Seminar: America's Proven First Line of Defense for Stormwater Runoff Pollution Abatement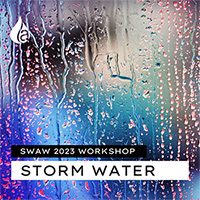 On September 26th at 2PM Pacific Time WorldSweeper's Editor, along with noted sweeper researcher, Roger Sutherland, will co-present this FREE online seminar as a part of Storm Water Awareness Week. Learn firsthand how an enhanced street sweeping program, leveraging today's technology, has been proven with a high statistical confidence level to be "the most economical and dominant practice that MS4s can implement and optimize, maximizing nutrient and particulate matter (PM) recovery benefits for urban drainage systems and the environment."
With a combined experience of over 75 years, the two expert presenters will delve into cutting-edge studies that reveal how street sweeping can remove nitrogen, phosphorus, and other pollutants like particulate matter, metals and toxics from the runoff stream before they even reach catch basins. What's even more impressive is that this process can be achieved at a remarkably reduced cost per pound, up to a minimum of 5 times lower than any other BMP! This seminar is particularly beneficial if your jurisdiction faces TDML waste load allocations, as it will equip you with demonstrated strategies to meet and quantify your progress.
This webinar is your opportunity to transform your pavement sweeping program into a leading stormwater pollutant removal program, resulting in a highly cost-effective process for eliminating the most critical pollutants. Additionally, gain insights into the upcoming focus on removing tire-based particulates, microplastics and more.
Check out the info and sign up for the FREE online seminar.
---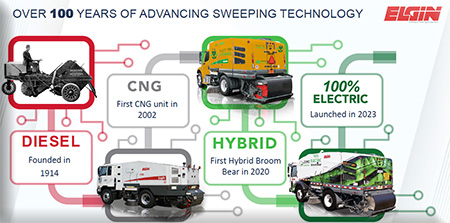 Elgin Now Offers All-Electric Broom Bear
Elgin Sweeper debuted a new, all-electric, Broom Bear model at the 2023 PWX Show in San Diego. To get all of the information about Elgin's journey to a 100% electric sweeper, WorldSweeper's Editor, Ranger Kidwell-Ross, hosted a Zoom webinar with Tim Letts, Elgin's Product Manager.
The Zoomcast also discusses some aspects of the journey Elgin engineers and others had in transitioning to all-electric, as well as provides some interesting background on the company since its start in 1914.
Read about the new all-electric Broom Bear.
---

NE Sweepers & Rentals is Exclusive Ravo Dealership in the US
Fayat Group's RAVO sweeper line is a relatively new addition to the US marketplace. NE Sweepers & Rentals took on both the RAVO and Mathieu sweeper product lines when they came into the US.
To find out how the integration of the RAVO line is progressing, we asked NE Sweepers' management that very question. Use the link below to see how they responded to US acceptance of RAVO sweepers.
Read about the RAVO line's progress in the US.
---
'Street Racers' on Parking Lot Injure Sweeper Operator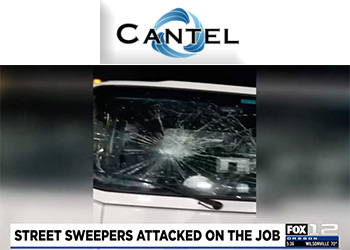 On Friday, August 25th, the two-person team operating a parking lot sweeper owned by Oregon-based WSA member, Cantel Sweeping, encountered much more than an overly dirty lot. When they entered the area on that Friday night for a twice-monthly sweep, the lot was packed with perhaps as many as 200 'street racers.'
Seeing the sweeper, several individuals immediately confronted the two people in the vehicle – one of whom was undergoing job training – quite aggressively. Although an attempt was made to withdraw gracefully, that proved to be very difficult if not impossible. What did the operators do in this situation; could they have done more?
In the interest of assisting contractors to deal with this type of serious safety situation, for a limited time the World Sweeping Association is making the story, including an interview with the owner of the company and other follow-up information, available to the entire industry.
---


Mysterious Florida Yellow Line Stripe Removal Via Sweeper?
What's a DOT to do when a yellow line stripe appears on a major highway, isn't defining any roadway area and stretches for over 20 miles? That's the dilemma the Florida DOT faced when confronted with an errant bright yellow 22-mile line that was applied to the roadway last week on southbound I-95 from Downtown Jacksonville to County Road 210 in St. Johns County.
"Crews will perform an aggressive wire brush treatment to the I-95 corridor between the Acosta Bridge and County Road 210... to dislodge and remove yellow paint along the corridor," says FDOT spokesperson Hampton Ray, adding that "the brush will be spinning on a street sweeper, followed by a construction truck for safety."
The line has had a definite impact on self-driving cars and lane departure assist features on newer models. First Coast News reported they had tested it in a 2024 Subaru Crosstrek and had the lane departure beep seven times, with it taking the wheel to self-correct once. It will be interesting to see how well the sweeper's metal curb broom brushes will work in removing the yellow paint...
Check out the information.
---
---