---
Industry Needs to Enhance Sweeping's Value Through Education
by Ranger Kidwell-Ross, editor
WorldSweeper.com
The data all point in the same direction: Street sweeping is conclusively the first – and most cost-effective – removal process for pavement-based pollutants.
Since that fact has now been proven in multiple studies, what's the holdup with transmitting the information throughout the public works and stormwater communities?
A central issue is the lack of an industry "Sweeper Manufacturers/Major Suppliers Association." To expand understanding of the incredible environmental value pavement sweeping offers, a unified campaign financed by such an association – with a goal of educating the public works community with emphasis on reaching stormwater professionals – would create a significant expansion of street sweeping frequency. The resulting 'tide' would raise all sweeping industry 'boats.'
In this issue you have an opportunity to learn the latest in the 'State of the Current Street Sweeping Industry' webinar Roger Sutherland and I created. Then, to better understand the fast-increasing emphasis on pavement-based runoff you'll want to read/listen to the discussion I held with Sutherland and Dr. Jill Murray on the emphasis now being given to keeping microplastic out of the runoff stream. Murray is the PhD from the City of Santa Barbara who is in charge of coming up with the best mitigations for microplastic runoff via an upcoming $1.3 million study.
Portland, Oregon, apparently hasn't gotten the message: an environmentally-oriented city in a leading environmental state, Portland suspended all residential street sweeping at the end of June this year. Then, At the other end of the spectrum, there's the San Francisco neighborhood that got together to ban sweeping on its streets some years ago and now can't get the service back no matter how hard they've tried.
In this issue we also explore the troubling news that Isuzu is predicted not to continue importing sweeper-class diesel chassis into California in 2024 due to C.A.R.B. requirements. "No problem," say you non-Californians? Well, how about if you do business in one of the 14 other states that have adopted C.A.R.B. emission standards?
If any of that occurs there's bound to be an industry impact. Probably not as much as from the estimated $2.9 billion worth of autonomous 'sweeper robots' predicted to be in service ten years from now, though.
As always, if you have any news of potential interest to the power sweeping community, please let us know. Between this publication, the WorldSweeper.com website, and the World Sweeping Association, we'll be sure to get the information passed along to interested readers.
Good Sweeping,



Editor, WorldSweeper.com
Executive Director, World Sweeping Association
Member, PAVEMENT Hall of Fame
PS If you're a contractor I urge you to check out the many benefits of membership in the World Sweeping Association. Also, if you haven't 'liked' our WorldSweeper Facebook page, what are you waiting for? That's where we offer a variety of industry previews and updates on an ongoing basis.

---
October Newsletter Contents
(Scroll down to read stories or click on links below.)
---
Street Sweeping: Now Proven to be America's First Line of Defense for Stormwater Runoff Pollution Abatement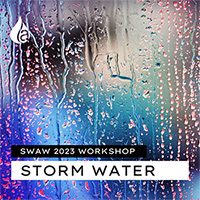 If you run a street sweeping program or have street sweeping clients you will definitely want to view the webinar Roger Sutherland and WorldSweeper's Editor, Ranger Kidwell-Ross, conducted during the recent Storm Water Awareness Week (SWAW).

They covered the latest studies, which show street sweeping to be up to a nearly seven times more cost-effective in removing nitrogen and phosphorus from the runoff stream. They also introduced some new ways to minimize the amount of time vehicles must be removed for street sweeping. An enhanced street sweeping program, leveraging today's technology, has been proven with a high statistical confidence level to be "the most economical and dominant practice that MS4s can implement and optimize.
This webinar is your opportunity to transform your pavement sweeping program into a leading stormwater pollutant removal program, resulting in a highly cost-effective process for eliminating the most critical pollutants. The information will include insights about the upcoming focus on removing, on the large side, overall trash, as well as small tire-based particulates, microplastics and more.
Watch the one-hour Zoom-based presentation. At the link you may also download the presentation's Powerpoint slides as a pdf.
---
S.F. Neighborhood Banned Street Sweeping Decades Ago; Now Can't Get it Back

Nearly four decades ago, residents in San Francisco's Russian Hill – fed up with "nightmarish" parking in their neighborhood – took a bold step: They successfully lobbied the city to keep out its street cleaning trucks. The move made the neighborhood one of the few large swaths of the city without the service. Now, residents are saying that trade-off – easier parking over cleaner streets – is no longer worth it. But their efforts to bring back the trucks have gone nowhere, thwarted by cumbersome rules.
The city says it doesn't have the resources to clean the entire neighborhood with street sweepers. "We're just not able to do everything with the resources we have," said Rachel Gordon, a spokesperson for the Department of Public Works.
Left with limited services – an occasional small truck and city workers making the rounds with brooms – residents continue their decades-long routine: cleaning the streets themselves. Note that the link shown below is behind a paywall. To allow access to our readers we arranged a temporary online subscription that will be good until at least December 1, 2023. To log in, use these credentials:
Username: editor@worldsweeper.com
Password: SFSweeping234
---
A Discussion of Street Sweeping and California's Increasing Requirements for Large and Small Micron Removal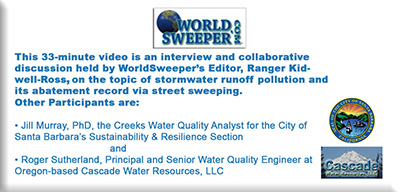 This conversation includes the latest information about the increasing emphasis on removal of small micron (under 5mm) microplastics, as well as on the complete removal of large material known as 'trash.'
Each of the participants has significant experience in the topic areas; Roger Sutherland and Ranger Kidwell-Ross in the street sweeping arena and Dr. Jill Murray with info on current California mandates and efforts to remove both smaller debris particles and larger trash components from the pavement's runoff stream. Includes a 33-minute Zoomcast between participants.
---
Isuzu Diesels Out of California and C.A.R.B. States in 2024?
We have received information from several sources that Isuzu will not be selling sweeper-class diesel vehicles into California starting in January of 2024 due to California Air Resources Board (C.A.R.B.) strict emissions' standards. Although you may not care if you're not in California... 14 other states have adopted the C.A.R.B. emission standards. We are trying to get more information but Isuzu contacts have not returned calls on the topic to date.
The C.A.R.B. states include California, Connecticut, Colorado, Delaware, the District of Columbia, Maine, Maryland, Massachusetts, New Jersey, New York, Oregon, Pennsylvania, Rhode Island, Vermont and Washington. It will be interesting to see which states might decide to not follow C.A.R.B. guidelines in this case.

Our sources have indicated Isuzu management has decided meeting C.A.R.B.'s new and emerging diesel requirements is not a cost-effective move, especially given the transition toward electric vehicles. For example, according to the article linked below by Fleet Equipment magazine: "In May of this year C.A.R.B. released a rule that will ban the sale of combustion trucks in the state of California by 2036. It's part of a goal to transition the state to zero-emissions trucks by 2045, and they're issuing plans for fleets to begin transitions to this goal starting as early as next year, with different timelines for different types of fleet."
Read about C.A.R.B.'s emerging requirements by Fleet Equipment.
---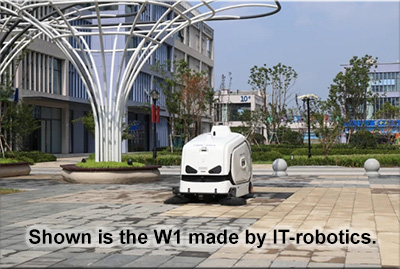 Autonomous 'Sweeper Robots' Marketplace Predicted to Have US $2.9 Billion Value in Ten Years
Do you think autonomous sweeping is a far-fetched idea that won't be along any time soon? If so, think again. Fact.MR, a supplier of market research and competitive intelligence, projects the global sweeper robots market will reach US$ 1.3 billion this year; will grow at an amazing CAGR of 8.2% during the following five years; and, in just 10 years a US market of $2.9 billion is predicted.
The robot sweeping segment predicted to expand the fastest is that in the "1000-3000 m2/h" range, i.e., a rate of coverage between 1000 square meters per hour and 3000 square meters per hour. This smaller segment is predicted to dominate the market and is estimated to have a value of US$439.5 million by the end of 2023.
WorldSweeper covered the launch of the world's first fully electric robotic street sweeper, by Trombia Technologies, in May of 2021. Trombia sweepers allegedly consume 15% less energy compared to conventional brush and vacuum cleaning machines. In addition, Trombia's machine consumes only a fraction of water in comparison to other street sweepers. In June of this year, Trombia's machine was evaluated by the Ports of NY and New Jersey.
WeRide of China has launched its Robo Street Sweeper, designed to produce autonomous city level environmental services. These two are just tips of the emerging driverless revolution. If you want to know more about current status and future predictions, use the link below.
---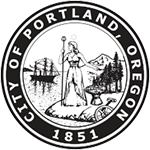 Portland, Oregon, Ends Residential Sweeping Services
"The Portland Bureau of Transportation (PBOT) Maintenance Operations group sweeps and cleans city roads to protect water quality and minimize the burden on the sewer system from surface debris. Process removes dirt and debris from Portland streets to provide a healthy, safe, and attractive environment for residents and visitors." So states the official government website of Portland, Oregon.
However... Further down the PBOT page are found these words: "Due to ongoing budget cuts, PBOT suspended all residential street sweeping June 30, 2023." This seems like a very good example of not being able to 'have it both ways.' Hard to believe such a major near-coastal city would decide to quit sweeping. Just this last April, the City touted the beginning of a new sweeping pilot project.
Check out the information.
---
---