---
Street Sweeping: What's Your 'Excellence Quotient?'
by Ranger Kidwell-Ross, editor
WorldSweeper.com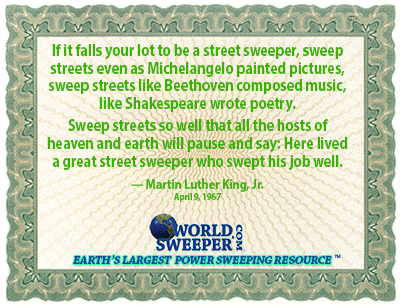 The legacy of Dr. Martin Luther King Jr. was celebrated on January 16th, the day after what would have been the late Dr. King's 94th birthday. During King's illustrious lifetime he was the chief spokesperson for nonviolent activism in the Civil Rights Movement. However, one of his most remembered and repeated statements is the one shown above. You are invited to click on the image to download a high-resolution image suitable for framing.
At the time he made the statement, Dr. King no doubt cited street sweeping since it was long held to be one of the lowliest occupations one could have. However, perhaps in part due to the excellence in services offered by those reading these words – along with an increasing recognition of the enormous capability and cost-effectiveness of street sweeping when it comes to removal of stormwater runoff pollution – any remnants of that image are being dispelled at a rapid rate.

As just one current example of the quality of those who operate street sweepers today, we invite you to read this issue's article about sweeper operator, John Leal, Employee of the Year in El Campo, Texas, and recipient of our 'Noteworthy in Power Sweeping' designation.
A 33-year veteran of the City, Leal was cited as "...the guy we go to when we need somebody willing to work... John is a one man crew, [keeping] the streets spiffy, part of our stormwater management."
Wherever you sweep pavement in the U.S. or around the world, understand that the job you have is unquestionably the first line of defense against stormwater runoff pollution entering your area's waterways. Removal of small-micron pavement debris also helps to reduce the fatalities due to air pollution that is documented as killing 100,000 people each year in America and seven million yearly around the world.
Be proud of your job as a street sweeping professional and understand the contribution you are making toward making our world a better place to live.
As usual, we have a wide variety of information in our articles this month so you are bound to find interest in some. And, as always, if you have any news of potential interest to the power sweeping community, please let us know. Between this publication, the WorldSweeper.com website, and the World Sweeping Association, we'll be sure to get the information passed along to interested readers.
Good Sweeping,



Editor, WorldSweeper.com
Executive Director, World Sweeping Association
Member, PAVEMENT Hall of Fame
PS If you're a contractor I urge you to check out the many benefits of membership in the World Sweeping Association. Also, if you haven't 'liked' our WorldSweeper Facebook page, what are you waiting for? That's where we offer a variety of industry previews and updates on an ongoing basis.

---
January Newsletter Contents
(Scroll down to read stories or click on links below.)
---
WorldSweeper Set to Provide Daily NPE Updates

For 27 years Michael Nawa was on the Advisory Board for both PAVEMENT Magazine and the National Pavement Exposition. Nawa is currently on the Advisory Board of the WorldSweeper-affiliated World Sweeping Association.
At the upcoming National Pavement Expo this week in Charlotte, NC, Nawa will be on the NPE show floor bringing news and information about the interesting sweeping-related products and services he encounters. Each day the info he will be providing will be linked and/or posted to WorldSweeper's Facebook account. In order to get updates as close as possible to when they occur, we suggest you join the site's many other followers now so you can learn about the NPE updates when they occur.
Link to WorldSweeper's Facebook page.
---
N.E.L.T.S.: A WSA/WorldSweeper Investigative Report

Since March of 2021 the World Sweeping Association has received reports from its members alleging nonpayment and other negatives about North East Landscaping and Tree Service (N.E.L.T.S.), a third party vendor company located in Franklin, CT. After collecting information from sweeping contractors and others, WorldSweeper's Editor (who is also Director of WSA), Ranger Kidwell-Ross, conducted an interview with the company's CEO, Antonio Portunato.
During the interview, Kidwell-Ross asked Portunato some details about his operation of the company as well as about some of the negatives that had been raised by contractors. Portunato's replies in some instances were in direct contradiction to the documentation WSA/WorldSweeper had been provided. In the interest of the entire industry, WSA is providing the information to more than just its members.
In the transcription of the interview, some of the information that had been previously submitted to WSA/WorldSweeper are linked to allow the reader to decide for themselves what the truth is about the ethics of N.E.L.T.S., as well as the advisability of contracting with this particular third party vendor.
Check out the article.
---
ZNS Platinum Sweeper Sales and Service is Newest Sweeprite Dealer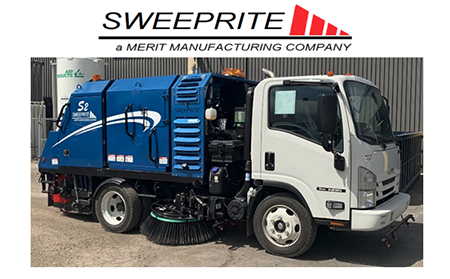 Sweeprite, a Merit Manufacturing Company, has announced a formal marketing, sales and service agreement with ZNS Platinum Sweeper Sales and Service of Rockville, Maryland. The company is owned by 20-year sweeping industry veteran, Steve Dekelbaum, long the owner of QuietSweep, LTD. Steve will be joined in the venture by his son, Zachary, who will be head of sweeper sales.
The dealership will represent Sweeprite in Southern New York State, New Jersey, Southern Pennsylvania, Delaware, Maryland, Washington DC, West Virginia, Kentucky, Tennessee and North Carolina. ZNS Platinum Sweeper Sales and Service will also provide parts, general maintenance and warranty services to Sweeprite's growing legacy fleet of Python and SuperiorRoads sweeping machines operating along the East Coast of the USA.
Check out info on the new Sweeprite dealer for the east coast of the U.S.
---
Choosing the Right Sweeper for Your Needs

Elgin Sweeper introduced the world's first motorized street sweeper in 1914. Today, with a wide range of street sweepers for various applications and a suite of technology options, it can be overwhelming deciding which street sweeper will be the all-star for the job you're managing. That's why the company has provided some key considerations when making that choice.
The brief article outlines the types of sweepers currently in the U.S. marketplace as well as what Elgin believes are the top five considerations that a user should have when choosing their next sweeper.
---
John Leal: Sweeper Operator, Employee of the Year, City of El Campo, Texas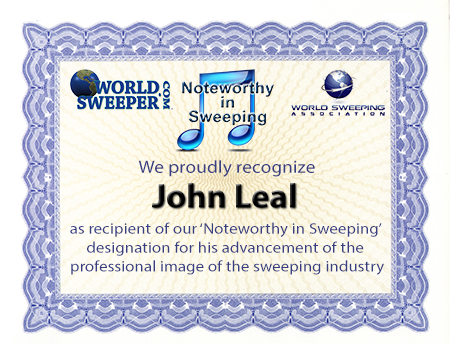 John Leal, a 33-year veteran at the City of El Campo, was designated as the City's Employee of the Year for his diligence and commitment to the public.
"John is a one man crew," Public Works Director Kevin Thompson told council. Sweeping not only keeps the streets spiffy, it is "part of our stormwater management, keeping debris from our roads from clogging drainage conduits and eventually into our streams," he added.
---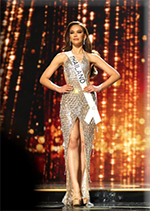 Miss Thailand Honors Street Sweeping Mother Via Pageant Dress
A Miss Universe contestant chose to honor her upbringing in a unique way. For the evening-gown round of the pageant, Anna Sueangam-iam, Miss Thailand, wore a dress made out of soda tabs as a nod to her parents – her mother works as a street sweeper in Bangkok and her father is a garbage collector.
The upcycled dress, aptly named Hidden Precious Diamond Dress, was designed by the Thailand-based fashion brand Manirat and brings together the aluminium pull-tabs of soda cans with Swarovski crystals. The powerful message of her dress made waves even before the pageant, and so far, the picture of her dress has earned over 230,000 likes on Instagram.
Although it doesn't have a lot to do with actual sweeping, we felt our readers would enjoy knowing that someone had esteemed their mother's activity as a street sweeper so highly.
Check out the article with a larger photo that explains all.
---