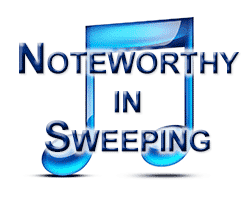 John Leal, Employee of the Year, City of El Campo, Texas
by Shannon Crabtree, Editor, El Campo Leader-News

John Leal, a 33-year veteran at the City of El Campo, receives his Employee of the Year award from the city for his diligence and commitment to the public.
"He's the guy we go to when we need somebody willing to work," was how John Leal was described to the El Campo City Council last week, honored as the 2022 Employee of the Year. His main job is to clean up El Campo streets, but Leal's not a police officer. He's the operator of the city's street sweeper.
Hired in July 1990, Leal started as a boom mower operator tasked with cleaning ditches. Now his title is 'CDL licensed equipment operator 1.' "John is a one man crew," Public Works Director Kevin Thompson told council. Sweeping not only keeps the streets spiffy, it is "part of our stormwater management, keeping debris from our roads from clogging drainage conduits and eventually into our streams," he added.
Leal works after hours, especially when crews are short-staffed. "He is literally the go-to guy when we need someone to attend to a task – sewer issues... water issues... hauling equipment... extra labor to help with leaks, ... lots out of compliance, brush un-attended to. Literally the go-to guy," Thompson said.
When El Campo and the rest of Texas froze over during 2021's February Winter Storm Uri, Leal worked with other public works crew members to help ensure city water flowed and streets were passable. Recently, "he stepped in to assist utility crews on 24-hour water breaks when some of the guys were running on empty and needed rest, John was there." Thompson said. "He has never turned down a request to work and never complains. He is the embodiment of what we stand for. Always ready, always there and always doing the best."
Leal helps teach newer employees in public works as well.
"I'd like to thank the city for the opportunity to come work for them. I've enjoyed the last 32 years of service and hope it continues," Leal said standing in front of council members.
To commemorate being chosen as part of our 'Noteworthy in Power Sweeping' section, we sent John this certificate via the author of this original article: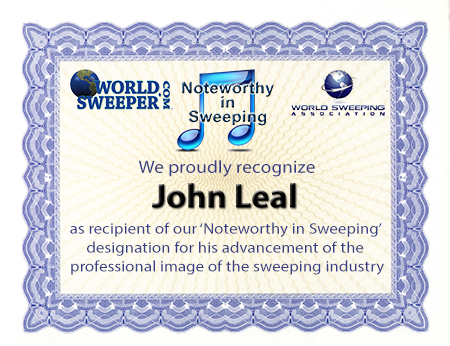 This article was provided by the author, Shannon Crabtree, Editor of the El Campo Leader-News. Thanks to Ms. Crabtree for permission to reprint.
If you would like to contact Shannon Crabtree, you may do so by sending an email to: news@leader-news.com.