Helsinki, Finland; June 2022
Trombia Announces Its Autonomous Sweeper Ready for Closed Industrial Environments

Finnish Trombia Technologies unveils at IFAT 2022 what it calls "the world's first full power, electric and autonomous sweeping system ready for industrial sweeping."

In a previous article, we wrote that Trombia Technologies, together with facility services company ISS, tested its Trombia Free sweeper in an effort to see how autonomous sweeping technology suits the needs of busy and high maintenance aviation premises. The results of the Trombia Free autonomous sweeper pilot at Helsinki Airport was that it proved to operate efficiently in semi-closed areas such as parking lots where both narrow indoor spaces and busy outdoor areas need continuous maintenance.
Now, as promised at that time, at the recent IFAT in Munich, Germany, Trombia announced its autonomous sweeper's suitability for industrial sites and semi-closed environments such as industrial areas, airports and seaports. Note for those not familiar with IFAT: The biennial IFAT 2022 environmental technology expo, which started on May 30th, highlights the development of mass-electrification of heavy duty maintenance vehicles and slow-moving autonomous vehicles, both of which have become the key focus of vehicle technology developers. The next IFAT will be held May 13-17, 2024.
Said Antti Nikkanen, CEO of Trombia Technologies: "In these 18 months since the original launch of the Trombia Free sweepers we completed a global pilot program in the USA and Europe, at several challenging locations requiring precise, heavy-duty cleaning, autonomously and emission-free. We greet with excitement that legislation and standardization procedures – especially for autonomy in closed industrial areas – also moved forward rapidly. We are thrilled to be at the IFAT 2022 presenting the full system offering for automating sweeping in the ports, waste plants and industrial districts today and tomorrow."
"We are working to deliver the easy-all-included service and products that advanced household vacuum cleaner robots have already proven that the everyone wants to have," said Jaakko Happonen, Founder of Trombia Technologies. "We just have taken that into much larger spaces to large seaports, industrial hubs and logistics terminals where cleaning is continuous and requires power and efficiency.
"Full-power electrification of street sweepers has not taken off, as the traditional cleaning technologies consume excessive amount of energy. Trombia sweeping technology unlocks mass-electrification by using only 15% of the energy required by traditional methods."
Click on the photo to view the IFAT introductory video by Antti Nikkanen.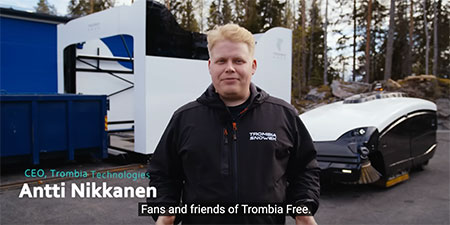 Trombia Technologies developed the globally patented Trombia® sweeping technology in 2013 and entered the market with front-loader sweeper attachments in 2017. Trombia sweeper attachments are currently being sold in nine countries including North America, Australia and Northern and Central Europe. The carbon free and autonomous sweeper, Trombia Free, was announced in late 2020 and is now moving to series production stage coupled with a full offering package.
For more information:
Antti Nikkanen, CEO and Managing Director
Trombia Sweepers
+1 718 690 9287
antti.nikkanen@trombia.com
www.trombia.com
---
About Trombia Technologies
Trombia Technologies is a Finnish road maintenance equipment manufacturer known for its innovation for dust and snow clearing technologies. The parent company Snowek Oy was founded in Kuopio, Finland in 2011 the company and has since grown into a global player in high end wheel loader and tractor snow plow and sweeper attachments.
The company's flagship innovation, global-wide patented, Trombia sweeping technology, is designed to offer sweeping operators global-wide a more sustainable, cost-efficient, easier-to maintain and faster alternative for combating both mechanical debris and fine dust challenges in paved areas. Trombia Free autonomous sweepers, launched on the September 29th, 2020, outline the company's vision to grow from a fast-growing SME and innovator, into the world's leading city sweeping technology provider in the modern greener and more sustainable city cleaning era.
---