Sweeper Technology Analysis at IFAT Tradeshow 2018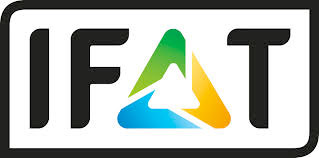 A report on the 2018 International Trade Fair for Sewage Technology (IFAT), the 'world's leading trade fair.' What began in 1966 as the International Trade Fair for Sewage Technology is now a platform for innovation that promotes the sustainable use of resources.
This year the event was held in Munich between May 14 and 18, 2018. We also offer an overview on the show itself at this link.
Munich, Germany – June 2018
What began in 1966 as the International Trade Fair for Sewage Technology (IFAT) is now a platform for innovation that promotes the sustainable use of resources. Essential and effective for exhibitors, the event is also spectacular and inspirational for visitors. When we learned that long-time Australian-based sweeper pro, Malcolm Cameron, was planning to attend this year's IFAT tradeshow, we asked him to share with our readers what he learned about the new crop of sweepers that would be there.
By Malcolm Cameron, WJ Cameron and Associates
IFAT 2018 Sweeper Design Changes
One factor standing out at IFAT 2018 in Munich was that, with all of the dozens sweepers on display, none had any fundamental design change. In fact, quite a few had complicated their sweepers to such a level that I am sure they would be a maintenance nightmare.
It seemed like change for change's sake without an outcome that provided any real gain in productivity or efficiency; it was change, not innovation. Sweepers are fairly simple things really: side brooms deliver material to either suction boxes (in vacuum sweepers) or a sweeping head (in regenerative air units). Air pulls all the miscellaneous debris into the hopper and away you go.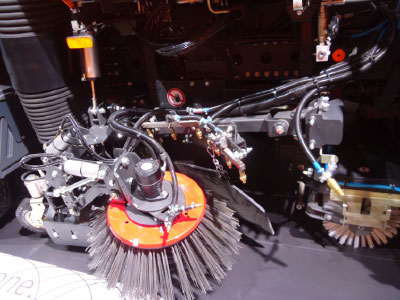 The complicated side broom arrangement you see above is on a Brock sweeper. Take a serious look at what's shown and I am quite sure you can see why a hard working, dollar-conscious, contractor in U.S. would hesitate in putting this sweeper out on difficult jobs.
There were quite a few sweepers that had a trailing, full-width vacuum nozzle at the rear of the vehicle to be used for road construction or milling work. Seems to me that is an admission your sweeper is missing material in normal operation, what might be termed "a belt-and-braces approach." Nothing really new about that configuration, though, since I recall Mobil runway sweepers had that attachment many years ago.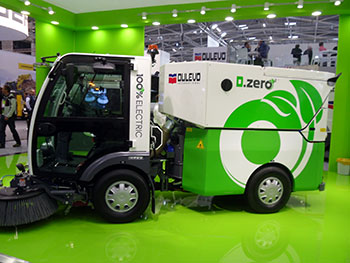 There were not any regenerative air sweepers at the IFAT Show and the only acknowledgement of American style sweepers was an interesting copy of an Elgin Air Cub made by Ceksan in Turkey. Sorry my photo of that machine didn't turn out. The Ceksan copy was of particular interest to Brian Giles who, although he now works for Schwarze Industries, Inc., spent many years at Elgin and knows the Air Cub model very well.
Dulevo has made self-propelled mechanical sweepers for years although they are a step up from the typical mechanical broom seen across USA with, their main broom ahead of the rear axle and use of a vertical conveyor. Dulevo also has an excellent dust filter process that works equally well in wet or dry conditions.
Comac, from Italy, had what they describe as a "twin action" sweeper. Material lifted by the main broom passes through a rotating shaft with flailing hammers to pound the material into fine pieces, bottles, cans, stones, wood, everything. This is then vacuumed into the hopper with exhaust air passing through fine filters. Comac claims the sweeper does not require water and can save 150,000 litres of water per year.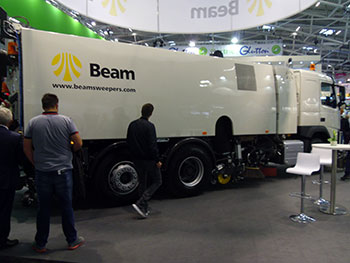 Collected material would certainly pack into the hopper and final dumping at landfill quite efficiently. There has always been a marked difference between sweepers in Europe and those in USA with European brands generally better finished and more technically advanced.
Do they sweep any better than US brands? Well that is hard to tell unless you run them side-by-side. Certainly a basic parking lot sweeper without an engine shroud and only one side broom would not make a sale in Europe and equally slick European models with full CANbus control, small turbocharged diesel engines, or electric-powered, have not made for great sales in the US.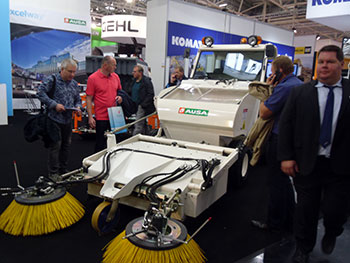 Europeans do not recognize that regenerative air sweepers have a place in their fleets and it is only in recent years that the full vacuum sweepers that are in such widespread usage in Europe have made any real headway in the USA market. This seems strange to me: I have seen and operated all types of sweepers in over 15 countries and in essence all sweeping is the same with the extreme conditions found everywhere, massive sand problems in all the Middle East countries, awful road conditions in many parts of Asia and old narrow roads in UK and Europe.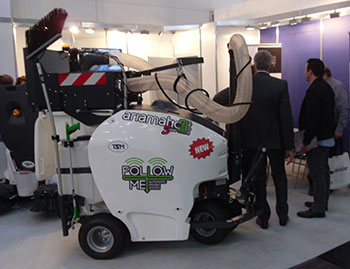 There was an interesting 'litter picker' sweeper at the show. The machine, called 'Follow Me,' has been designed such that when an operator is off the machine and using the remote hand hose the sweeper automatically follows along behind like a faithful canine. This would seem to be a great addition to a footpath-type sweeper where the handhose is widely utilized.
Perhaps the only sweeper manufacturer that has radically changed its sweeper design is a company that wasn't exhibiting at IFAT, Schwarze Industries. Their new Hyper Vac, which was on display at NPE this year, wasn't in Europe as the company could not find a suitable chassis in time.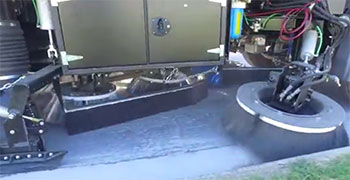 Schwarze's Hyper Vac is quite radical for a vacuum sweeper in that it doesn't have a wide sweep broom but instead, as may be seen in the photo to the right, has three circular brooms fitted under the chassis. The only sweeper there that was in any way similar to the new Schwarze is the Disa-Clean sweeper from Disab in Sweden, a large dustless and water-free machine that uses two vacuum-sealed roller brushes under the chassis, as well as two vacuum-sealed side brooms. This system seems to work remarkably well.
Schwarze had a good showing of staff at IFAT, including Howard May, David Heigl, Jim Adair, Dale Glubrecht and Brian Giles, all there checking out their company's worldwide opposition. Pity the Hyper Vac wasn't there since I am sure it would have attracted great amount of interest. In my opinion the Schwarze team from Huntsville may well shake up the world sweeper industry with the Hyper Vac. Certainly the next couple of years will be interesting.

Malcolm Cameron, principal of WJ Cameron and Associates, is a consultant for sales, marketing and training of international equipment. You may reach him via email sent to this link.
---