Overview of IFAT Tradeshow 2018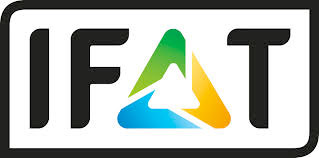 A report on the 2018 International Trade Fair for Sewage Technology (IFAT), the 'world's leading trade fair.' What began in 1966 as the International Trade Fair for Sewage Technology is now a platform for innovation that promotes the sustainable use of resources.
This year the event was held in Munich between May 14 and 18, 2018. We also offer more of an indepth analysis of the sweeper technology shown at the show at this link.
Munich, Germany – June 2018
What began in 1966 as the International Trade Fair for Sewage Technology (IFAT) is now a platform for innovation that promotes the sustainable use of resources. Essential and effective for exhibitors, the event is also spectacular and inspirational for visitors When we learned that long-time Australian-based sweeper pro, Malcolm Cameron, was planning to attend this year's IFAT tradeshow, we asked him to report on what the show was like from a sweeping industry perspective.
By Malcolm Cameron, WJ Cameron and Associates
The IFAT show, held in Munich every second year, bills itself as "the world's leading trade fair for water, sewage, waste and raw materials management. This year's event, held May 14th to 18th, offered a total of 3,305 exhibitors from 58 countries and 142,472 visitors from 160 countries, there was something for everyone to see. Waste management, recycling, sewerage treatment and street sweeping equipment were spread over 18 interlinked exhibition halls. In order to provide the best information for WorldSweeper's audience, I concentrated on street sweepers, of which there were 26 different brands with most showing a number of individual models.
The most common theme was the wholesale move to electric vehicles. All the manufacturers of small compact sweepers had a fully electric sweeper. These purpose-built machine makers included Hako, Karcher, Bucher, Johnston, Green Machine, Comac, Schmidt, Nilfisk, Ceksan, Ravo, Glutton, Tisan and Tenax. The truck-mounted manufacturers, which included Scarab, Ceksan, Kademe, Erdemli, Brock, Bucher, Faun, Schmidt and Johnston, all had truck-mounted sweepers with an electric sweeper module. Johnston was the lone sweeper manufacturer sporting an electric, 6 cubic metre sweeper on an electric chassis.
Why this move to electric power? I spoke to a representative of all about why they felt the move to electric propulsion was necessary and it all came back to the environmental changes pushed by major European Union countries. Germany, France, the UK and some other European countries are banning the use of diesel fuel by 2020 and most, if not all, of those countries are offering incentives for users to turn to alternative power sources.
Smaller, compact sweepers that are mainly used in city centers and do not travel long distances will represent the easiest equipment to change over to electric since they tend to work close to their depot, are easy to recharge while off shift and are quite silent at night when residents are quick to complain about noisy equipment. However, the larger, truck-mounted sweepers are another matter: They usually work for longer shifts and typically travel further from their depot.
In addition it takes a considerable amount of extra power to run the much larger fan and hydraulic systems on these sweepers. Although the big manufacturers had electric sweepers on display, I think it was mainly to show customers they could supply them. No one I spoke to enthused about the numbers sold so far. I questioned whether there was any loss of payload since the required battery packs are quite heavy. The consensus seemed to be that, since an auxiliary engine and fuel tank were removed, the result made it about even with no payload loss.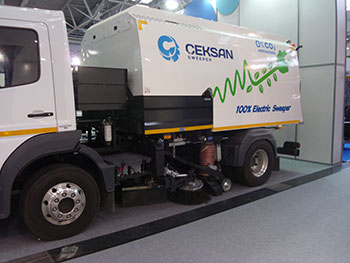 However, there are other side issues with electric power. These are primarily the additional cost, battery life and the overall environmental impact. My investigation showed that these questions are far from resolved. Johnston's 100% electric sweeper, which has no hydraulics, is priced at over 400,000 pounds (approximately $540,000 US). No one is yet forking out that much for a sweeper whatever green credentials the municipality would like to tout although in some instances there are hefty government subsidies for customers taking the plunge.
This high initial price tag underscores the argument that renewable energy could not survive without government subsidies, although this is not necessarily going to remain the case as the propulsion landscape is changing so quickly. Johnston's engineers also provided persuasive arguments about the long-run cost-effectiveness of machine operation that will offset some of the initial purchase pricing. The battery life is at least 10-12 years, they told me, and when the additional savings in fuel, engine oil, filters and engine maintenance over that period are deducted it serves to make the long-run cost be more competitive with current diesel-based equipment.
I found this to be an interesting opinion though I suspect it doesn't take into account any rise in electricity costs. Sure, a municipality can cover all their roof space with solar panels, have storage batteries and even produce power from methane gas at landfill, but all those still have capital expenditure and operating costs.
Some manufacturers openly admitted they only had electric sweepers on their stand as a show and did not really expect to be making many immediately. They tended to voice concerns about current expected battery life and reminded that the open question about the environmental difficulties around battery disposal has not been answered. With such momentum, combined with legislation designed to take diesel machinery off the roads, the move to electric sweepers appears to be inevitable. However, overall it was clear that a lot more work is needed in the area of battery development.
Some manufacturers who ran single-engine machines were now powering the chassis with CNG or HVO (hydro-treated vegetable oil), which is still considered clean. The companies doing this included Johnston, Scarab and Dulevo.
Are manufacturers in the USA likely to follow this relatively rapid move to electric power? Probably not, at least in the short term, since change is always driven by regulatory or market pressure and neither of these factors appear to have much, if any, current momentum in the USA.
In another interesting nod to environmental concerns, every sweeper proudly displayed a sign claiming to conform in some way to stringent PM levels during operation, 2.5 and 10 microns. These were a bit like the AQMD 1186 certification out of California where every sweeper qualified and apparently no manufacturer failed. Although a measure of the cleanliness of exhausted air during operation, it is by no means an accurate measurement of PM levels of fugitive dust actually created during sweeper operations. Like with the AQMD stickers in the US, it just makes everyone feel good.
"IFAT presents the technologies of the future for clean environment; hence, it is driving the public discourse more actively than ever before. This was reflected in the visits of international politicians, the numerous delegations from all over the world and technology experts who came to share ideas, experiences and knowhow", says Stefan Rummel, Managing Director of Messe Mčnchen.
It was also interesting to note where the largest rise in visitors to IFAT originated this year. The highest growth came from (in this order): Japan, Russia, Australia, China and Slovenia. In total, 3,305 exhibitors from 58 countries presented their products and innovations for the booming environmental industry. The next IFAT will be held in Munich, Germany, from May 4th through the 8th of 2020.

Malcolm Cameron, principal of WJ Cameron and Associates, is a consultant for sales, marketing and training of international equipment. You may reach him via email sent to this link.
---