Broom Badger Customers to Receive Continued Parts, Service and Warranty Support from Elgin Sweeper
Elgin, IL – October 2020
Elgin Sweeper has announced it will continue to provide parts, service, and warranty support to current Broom Badger customers and those looking to purchase a Broom Badger through its extensive dealer network.

This announcement follows the recent expiration of an eight-year strategic alliance with Challenger Manufacturing Ltd., to distribute the Broom Badger mechanical street sweeper in North America.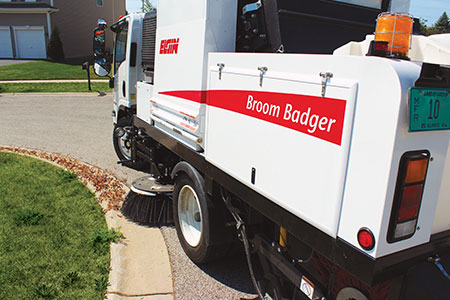 "Elgin Sweeper and Challenger have chosen not to renew a distribution agreement that began in 2012," said Mike Higgins, vice president and general manager, Elgin Sweeper. "Our companies have agreed to a transition period and, in mid-2022, the Broom Badger production will move to Elgin Sweeper's world-class manufacturing plant in Elgin, Illinois. During this transition period, pricing for Broom Badger service parts will not be adversely affected and customers will continue to experience the same parts support and distribution they've come to expect from their Elgin dealer."
Broom Badger success attributed to dealer support
The Broom Badger has earned a successful reputation with municipal and contractor customers as an economical, compact, and easy-to-operate sweeper. Higgins acknowledged that Challenger was responsive to suggestions throughout the agreement and added that the sustained success of the Broom Badger was due in large part to the excellent service and support of Elgin Sweeper's dealers. "When a customer buys a Broom Badger, they are getting everything that stands behind the Elgin brand, including the people who sold and supported it via responsive parts availability, expert training, and timely servicing & and that includes our dealers," Higgins said.
Continued warranty support
"To ensure that the Broom Badger provides the best return on investment for contractor and municipal customers, Elgin will continue to offer and support our industry-leading standard warranty for this model," Higgins said. "Our Broom Badger customers can rest assured knowing that Elgin and their dealer are with them for the life of their sweeper."
Enhanced Broom Badger with exclusive features to be produced and distributed in 2022
Elgin plans to begin manufacturing, marketing, and distributing an enhanced Broom Badger sweeper at its 200,000-square-foot facility in June of 2022.
"In addition to the features our customers expect from the Broom Badger & low-profile design, short wheelbase, unmatched operator visibility, control and comfort, side-dump hopper, and efficient sweeping system & the enhanced Broom Badger will also include Elgin-exclusive features, upgrades, quality enhancements, and customized options to meet the specific needs of our customers," Higgins said.
For additional information on Elgin's full line of street sweepers for residential, airport, racetrack, port, municipal, construction, and industrial applications, please visit www.elginsweeper.com.
---
About Elgin Sweeper Company
Sold and serviced through a network of more than 100 dealer locations worldwide, Elgin Sweeper products are the sweepers of choice for a variety of general street maintenance, special industrial and airport applications. With more than 100 years of experience, Elgin Sweeper offers municipalities, contractors and industries the most sweeper options in the country, using the latest sweeping technologies – mechanical, pure vacuum, regenerative air, alternative fuel and waterless dust control. Elgin Sweeper is a subsidiary of Federal Signal Corporation's Environmental Solutions Group. For more information, visit www.elginsweeper.com.
About Parent Company Federal Signal
Elgin Sweeper is a subsidiary of Federal Signal Corporation's Environmental Solutions Group. Headquartered in Oak Brook, Illinois, with manufacturing facilities worldwide, the Company operates two groups: Environmental Solutions and Safety and Security Systems. For more information on Federal Signal, visit www.federalsignal.com.
Federal Signal builds and delivers quality equipment that moves material, cleans infrastructure and protects the communities where we work and live. Founded in 1901, Federal Signal is a leading global designer, manufacturer and supplier of products and total solutions that serve municipal, governmental, industrial and commercial customers.