Elgin and Odra Modify Broom Badger Agreement
by Ranger Kidwell-Ross
August 2020

ODRA is the American arm of Challenger Manufacturing group, originally established in Alberta, Canada in 2006. Since 2012 the company's Broom Badger sweeper has been exclusively available through Elgin Sweepers. In August of 2020 that relationship was modified such that the sweepers, as well as parts and service, may be sold by Elgin or on a direct basis from ODRA.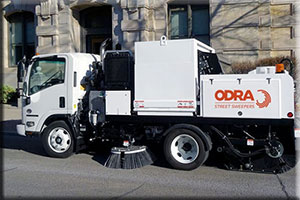 This year marks the eighth season in which the Broom Badger mechanical broom sweeper has been sold exclusively through the Elgin dealer network. The relationship between the two companies, which was established in the spring of 2012, ended in June of 2020.
The Broom Badger, which does not require a CDL to operate, has long received positive reviews from users. Once the relationship was established, the Elgin dealer network – which received an exclusive on selling the sweeper in both the U.S. and Canada – embraced the platform and made it a success. Odra, the U.S. arm of Challenger Manufacturing, assembles the sweepers in Grand Forks, North Dakota. Going forward, the sweepers will still be called the Broom Badger when sold by Elgin. When the identical machine is purchased directly from Odra or its dealership network, the sweepers will be called the 'Odra MT4H.'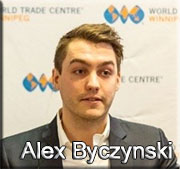 "Our agreement with Elgin was working for the most part," said Alex Byczynski, VP of Odra. "However, over the years circumstances and situations changed. Now Odra has the opportunity to sell the sweepers we make as an independent manufacturer. We're looking forward to what's ahead. We are actively rebuilding our dealer network and also focusing on the parts business. We know we have a good product and we have a good team that can get it out there.
"At the end of the day, the more people you have involved in the chain the customer ends up paying a bit more. Our main focus going ahead is really providing value to the end-user. We are coming out strong and we want to offer the best value product we can and that means the same high quality but at a lower price."
---
---
Mirek Byczynski is the founder of Odra and Challenger. He wanted to add a personal message about his company and how it operates. See what he says on that topic, below.
"First off, I want everyone in the industry to understand about the extraordinary quality of our sweeper, Elgin's Broom Badger and now also the Odra MT4H: We have worked hard for the last dozen years to maximize the quality for the machines we make. We are always looking for new technology and are proud of the specifications we have on all of our parts.
"We use a 3-D laser for cutting our tubing. Most all of the parts on the sweeper are made with what we call a 'slot and tab' fabrication. The slot is put onto one part and a tab onto what it fits against. The result is the two parts fit perfectly before welding. That makes the weld stronger and we also don't have to use an expensive jig for welding.
"All of our pivot points are built with a chrome shaft and matching bushing. You must grease brass bushings and that attracts dust, which makes the components wear out much faster than needed. When we started we had trouble with our hydraulic oil tank. We found a company in Chicago that does nothing but make this type of tank. We haven't had a single issue since then.
"A new technology for painting is called 'A-coating.' Critical parts are sent over 1,000 miles to get this technology where every part is submerged in a special paint to prevent corrosion and rusting, followed by powder coating. We've learned that the very best harnesses are made by a company in California and that's who we use. If we have a vendor that doesn't go with the newest technology then we change vendors. These are big reasons why our sweepers stay in production.
"We've sold nearly 900 units and almost none are found in the used marketplace because they're all still being kept in use by the original owners. Many have also been purchased for rental fleets. That's because, even after several years of full-time operation, our sweepers look the same as they did when new.
"Secondly, I want to speak to the smaller contractors caught up in today's difficult business situation. The Elgin Broom Badger / Odra MT4H is a non-CDL sweeper than can be used in the whole spectrum of sweeping. Contractors are using them in parking lot sweeping but also on construction sites. That said, the sweepers are also are heavy duty enough to be used for asphalt milling. We believe a thorough investigation will show the MT4H is the most versatile sweeper on the market.
"The good news for contractors during these trying times is that they can buy directly from Odra without any involvement by a middleman, let alone by two of them. Our intent is to pass a significant price savings on to our customers. Even with the current coronavirus situation, street sweeping and asphalt repair are still going great. It's the perfect time for contractors to get into a higher league than before since our machine is now able to be purchased on a direct basis right from Odra."
---
---
In the short term, when it comes to the parts side of things, Odra will be focusing on parts solely for its own sweeper. However, company management says they see a huge opportunity in the parts business for other manufacturers' sweepers, as well. Byczynski says he sees several advantages their organization has when it comes to manufacturing parts: for one, that they have been very active in research and development, focusing constantly on how they can lower their costs.
For example, in 2016 Odra incorporated a subsidiary company in India. Although the main idea was to enter the advancing Indian market for sweepers, Odra's management team has discovered there are many parts they can source in India that provide the high quality needed. Byczynski said they've discovered they can get the same quality parts with, for example, Hardox steel from Sweden coupled with fabrication in India. The result, he says, is they've ended up with high quality parts at a lower price than can be obtained in the U.S. However, the company also fabricates many parts at their North Dakota location.
Another advantage cited is that Odra is a family-owned company, so there are no shareholders that have to be answered to on a quarterly basis. "When a market is not expanding as rapidly as would be liked with a public company," said Byczynski, "what those companies often see as a short-term solution to raise profit is to increase the price."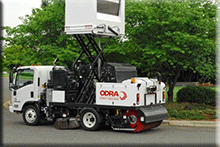 Going forward, Odra parts will be available directly from the company as well as through the company's dealer network. The plan is to provide the customer with options as to where they can buy parts. Company management believes that will create a system where, since there is an option to buy direct, dealers will have an incentive to keep their pricing down as well as stock enough parts so as to offer good delivery services to the customer.
"We understand that we have many units out there with Elgin's branding on them," said Byczynski. "Those customers will likely continue to go to the Elgin dealer network. One thing that we and Elgin management agree on completely is that we need to continue to support the units in the field. Our number one priority is looking out for the customers and we will continue to work with Elgin on warranty service, parts and whatever else our customers need to ensure they remain satisfied."
Charles Hunt, as the company's Western Regional Sales Manager, says he and his Eastern Regional Manager counterpart, Peter Federico, invite any interested parties to consider purchasing the Odra MT4H machine directly from Odra. "We can get a machine into their hands at a lower capitalized cost than they could previously," said Hunt, "and perhaps at a lower price than it will be down the road. Right now we are focusing on private contractors and we will be reaching out to them in various forms to let them know of the change and what we can offer them."
Odra currently has an inventory of its Odra MT4H sweepers readily available for purchase. For more information on Odra / Challenger, please visit www.odrasweeper.com or call 866-766-0325. To see a current specifications' sheet on the sweeper, click here.
---