SDT Waste and Debris Services Takes Bull by the Horns in New Orleans
by Ranger Kidwell-Ross
The many problems associated with hurricane Katrina have been well documented. As one might suspect, cleanup of the French Quarter and other tourist-related areas were key to getting the city back on its feet once again. One of the somewhat hidden success stories in that regard has its seed in the beginning of SDT Waste and Debris Services, LLC.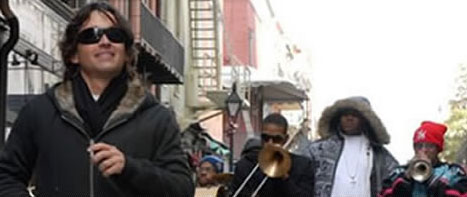 SDT's founder, Sidney Torres IV, is a well-known real estate developer and Louisiana native who also saw self-described time as musician "Lenny Kravitz's gopher." Torres said that, after Katrina, he could see that the job of waste pickup and sweeping in New Orleans simply wasn't being done well by Waste Management. Then, in the wake of new, post-Katrina contracts in New Orleans, Waste Management declined to bid, citing that they would be unable to meet the required specifications.
In the true spirit of American entrepreneurship, Torres then set out to change how debris pickup and sweeping was done in New Orleans and the surrounding area by founding SDT Waste and Debris Services in 2005. Since then, his company has received accolades from a broad spectrum of agencies, news media and celebrities alike.
Today, SDT has a broad spectrum of garbage pickup and street sweeping contracts. In 2007 SDT had an estimated gross revenue of between $25 and $30 million, over 100 employees, and had contracted for servicing 4,000 commercial accounts in the New Orleans area.
The company's unique business methods are widely reported. On a video interview with The Wall Street Journal's Wendy Pounds, done by CNBC, Pounds called Torres a "guy who knows how to market and get the job done," among a host of other glowing accolades.
SDT's unique business methods have included spraying eucalyptus and lemon-infused water onto the pavement during Mardi Gras, initiating 'Disneyland-type porter services' throughout the French Quarter, and spending over $60,000 on television ads. The widespread coverage of SDT's success story has resulted in a powerhouse sweeping and debris-removal company that has positive PR coverage other industry companies only dream about. Recently this included an endorsement from well-known singer/celebrity, Kid Rock.
I first learned about SDT while in New Orleans for the 2008 American Public Works Association Congress and Exposition. This came in an unlikely manner. Since I have played drums and percussion for over 40 years, including the zydeco/cajun rubboard that has its roots in New Orleans music scene, I went to New Orleans on the Friday preceding APWA's Saturday opening in order to see some of the musicians currently in town.
While in the legendary 'R Bar,' I struck up a conversation with a gentleman who asked me what brought me to town. When I told him I was editor of WorldSweeper.com, he excitedly started telling me about Sidney Torres, "the Bull", who he described as "the star of New Orleans street sweeping." You can see his somewhat bawdy explanation in the YouTube video shown to the right.
Understandably intrigued, later that night I did some Internet investigation and, next day, contacted the company to set up a personal interview with Torres. Because of the weekend and scheduling conflicts on both sides, we were unable to get together in person while I was in town. However, with the intent of making SDT our September, 2008, Contractor of the Month, I interviewed one of SDT's night porter employees on the job. That YouTube video is seen to the right of this paragraph.
Although the plan was to interview Torres once I got back to my office in late August, by then he and the senior managers in SDT were busy bracing for the imminent arrival of Hurricane Gustav. So, we hope to have an audio interview with Torres himself at some point in the future. However, in lieu of that you can see Torres in a number of personal commercials he has made for the company. The company-produced videos, as well as a variety of video and other coverage by CNBC, The Wall Street Journal, and many local television affiliates are a part of SDT's very complete and very professional website.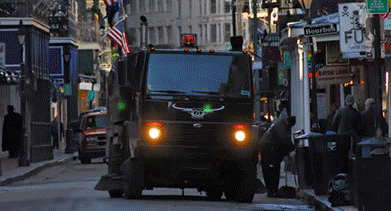 Not surprisingly, the sweeper fleet SDT operates is relatively new. More importantly, the company clearly sees the need for a diverse sweeper line, one that includes a variety of sweeper types/makes/models.
SDT currently serves the Southeast Louisiana communities of New Orleans, St. Bernard, Jefferson, St. John and St. Tammany and the entire Gulf Coast region. For an inspirational look at what the leadership of one man can accomplish in even the most difficult circumstances, I invite you to take a thorough look at the SDT website.
Now, in addition to its many other honors, SDT can add being featured as WorldSweeper.com's Contractor of the Month for September, 2008.
More information about Sidney Torres, IV, and his company, SDT Waste and Debris Services, LLC, may be found at the SDT website.
If you have questions or comments about this interview, please, let us know and we can add it in as an addendum to this article.