Progressive Sweeping's Success Credited to Customer Response Times and Accurate Expense Tracking
by Ranger Kidwell-Ross
Back in 1978, Mike Lucht was using his management degree to sell life insurance. After four or five years of that, Lucht says, "my entrepreneurial spirit kicked in and I looked around for something else. Tom Maish (longtime head of Ohio-based Contract Sweepers and Equipment) talked to me about sweeping parking lots. He was a TYMCO dealer and so knew about the concept. I ended up buying a TYMCO 210 from him -- back then they didn't even have dual tires on the back -- and I was in business for myself.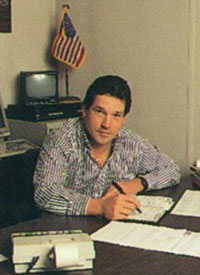 "Those might be called the 'glory days' of parking lot sweeping. I had great sales skills I had learned to sell insurance, where I was used to making 100 cold phone calls to get 10 appointments to sell one policy. With sweeping I could make 10 calls, get five appointments and sell three jobs. What a difference!"
Lucht has long been involved with trying to build the credibility and professionalism of the sweeping industry, as well. He is a past president of Contract Sweepers Institute, which was a pre-cursor organization of North American Power Sweeping Association (NAPSA). Today, Progressive Sweeping is one of the few NAPSA-Certified sweeping contractors in America.
Today, Progressive has about 45 employees and specializes in doing all types of sweeping and oing it well. In part because Lucht has developed his own GPS software, the company is also ahead of the curve in tracking expenses throughout the company. Next is to pay employees directly from GPS readouts, something Mike says he has worked toward for years. Because Progressive's GPS system tracks a 'ping' every three minutes, it's accurate enough to tell exactly what employees are doing.
"I even went so far as to call the traffic director here in Toledo where we're based, and asked what the longest time was that someone might have to wait at a stoplight. The answer was 'two minutes.' That's the baseline we use for non-movement of the sweeper. If someone stops at a fast food place to pick something up, the first two minutes are on us. After that, each minute the truck isn't moving is deducted from the operator's pay."
The same type of tracking is done for potential 'lollygagging' around the shop, Lucht says. "We have a system in place that everyone is aware of when they start here. It's designed to keep unwarranted overtime from occurring, yet we have a process that's flexible enough to allow everyone to do what truly needs to be done. If someone has a special need to fix something on their sweeper that will take extra time, as an example, that's no problem as long as they get an okay from a supervisor."
Progressive's sweeping mix is just under 20% roadway work, about 30% parking lot sweeping and 45% construction cleanup. The rest is comprised of indoor sweeping, call-in casual sweeping and emergency situations.
The audio interview with Mike Lucht, accessed via the controls shown below, highlights how the sweeping industry has changed through the years. His interview emphasizes what he and Progressive's management have done to remain at the forefront enough to remain players for 30 years.
---
Note: To play the interview, click this link or on the small triangle inside the circle you see to the left. If you have any trouble accessing this audio, please let us know.
---

Note: The interview will play without downloading any files onto your computer. If you hear the interview at 'chipmunk speed,' you will need to download the latest version of Adobe's free Flash player.

More information about Mike Lucht and Progressive Sweeping may be found at: www.prosweep.com. Lucht may be reached via email sent to mlucht@prosweep.com.

If you have questions or comments about this interview, please, let us know and we can add it in as an addendum to this article.