Commercial Power Sweeping and Services:
Virginia Contractor Aptly Has
'Power' as its Middle Name.
by Ranger Kidwell-Ross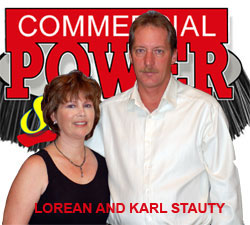 Karl Stauty started Commercial Power Sweeping and Services in 1986 with a single sweeper from the now defunct Hako Sweeper Company. Since then, he and his wife of many years, Lorean, have built their Virginia-based company into one of the most professional sweeping firms in America.
At the time of this interview, the company boasted a total of 18 sweepers. Even more important is the way the Stauty's have grown their company. For one, they are regular attendees at the national pavement shows, and keep up with the latest techniques and equipment by doing so.
Commercial Power Sweeping was also the second company in the United States to win the coveted 'Certified Sweeping Company' designation through the North American Power Sweeping Association. They are also a founding member of WorldSweeper.com's 'Ethics in Power Sweeping' program.
In the approximately 7-minute audio interview with Karl Stauty, he talks about the growth of their company, and how they use their considerable storehouse of environmental information to stay on top of issues in their marketplace. He also discusses their employee training and other aspects of the company.
Note: The audio interview will play without putting any files onto your computer.
Note: To play the interview, click this link or on the small triangle inside the circle you see to the left. If you have any trouble accessing this audio, please let us know.
More information about Karl and Lori Stauty and their company, Commercial Power Sweeping and Services, may be found on the company's website CommercialPowerSweeping.com. Karl may be reached via email sent to kstauty@CommercialPowerSweeping.com.
If you have questions or comments about this interview, please, let us know and we can add it in as an addendum to this article.