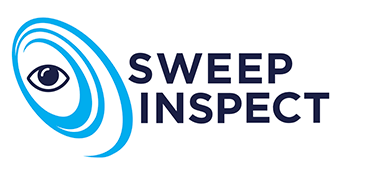 Louisville Pavement Updates Its 'Sweep Inspect' Management Inspection Portal
by Ranger Kidwell-Ross
posted November 2021
In November of 2019 we first introduced Sweep Inspect, an inspection app Jim Blackerby, owner of Kentucky-based Louisville Pavement Sweep, has developed as a better way for sweeping company managers to rate the job done by their sweeper operators.

For his development of Sweep Inspect, Blackerby and his company received the 2021 Excellence in Power Sweeping Award from WorldSweeper, which is the most-longstanding professional award in the industry.

This article provides an overview of why the app was developed, as well as discusses the exciting updates the Sweep Inspect app has undergone since that time.
---
Editor's Note: Most of the graphics are linked to larger versions to allow you to inspect them more closely.
---
One of the biggest problems for companies that sweep parking lots face is oversight of the jobs done by their employees. Since much of the work is done at night, with workers who typically have a low level of education, oftentimes management sees the need to check to see how good a job has been done.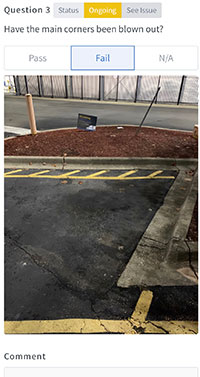 Another issue is that inspectors need to provide objective assessments, ones that are consistent across properties, operators and sweeping routes. After that, there's the matter of how to address the scoring system with the operators, following up with them, rating how they respond to the input and more.
Also a difficulty is the ability to keep clients apprised about the condition of their properties, not only in terms of the sweeping being done but more especially when more work is found to be needed, such as graffiti, large item dropoffs, etc. The Sweep Inspect app handles all of the above and, now, much more. Sweep Inspect has added a number of additional features designed to make the life of sweeping company owners a lot easier. For one, the app now integrates directly with Service Channel.
If a company is using Sweep Inspect, they will no longer need to use the Service Channel app to report services, while at the same time being able to check in and out of all their other properties with Sweep Inspect. Additionally, owners/managers will no longer need to manually write out the work order numbers for their drivers to enter once on site of a property that requires the use of Service Channel verification.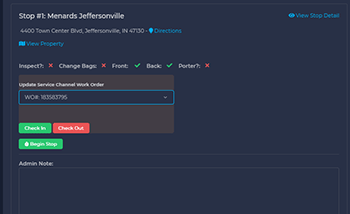 Sweep Inspect has made their integration with Service Channel entirely location based. This means that once an owner/manager ties a property to Service Channel the correct work order will generate automatically when a driver arrives on site. This will hopefully cut down on confusion among drivers on what work order to enter, while also saving time for the owner/manager.
Sweep Inspect is also working to add integrations for FM Pilot and Field Tech Connect, with the ultimate goal of allowing owners/managers to only use one app for all of their work verification requirements.
Sweep Inspect has also added a new pricing and service request feature. Gone are the days of sending several emails to a property manager and waiting to hear a response. With Sweep Inspect any member of a sweeping company can take pictures of issues that are outside the scope of the sweeping contract and post them in the system along with a description of the issue.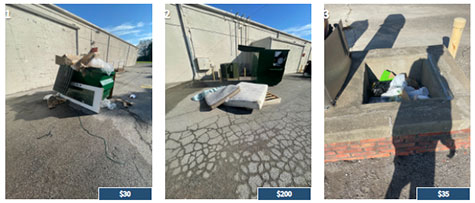 After review of the employee's info, owners/managers can include the price to fix these issues directly on the custom-branded weblink that may be then sent to property managers. This drastically cuts down on the time it takes from when an issue is discovered to when it is fixed. With the Service Request feature, any extra work that a property manager approves will be logged/stored and will show if the service request has been completed or is still pending – all on one page. The client can okay the work on its portal and, once the service is provided, billing can be relatively automatic.
Sweep Inspect has also added a timeclock feature that makes it easy for employees to begin and end a shift as well as to view their hours worked over any timeframe.
Click on the image to see an expanded view; will open into a new browser window.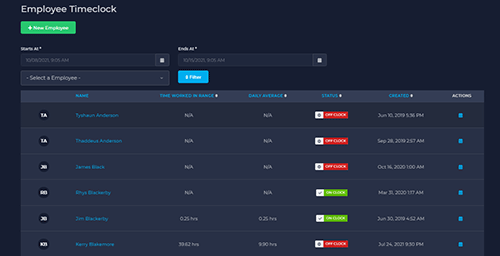 The software uses multiple authentications to prevent time clock fraud. One of these is using a unique, one-time code sent to the employees' phone that they must enter before each shift. An employee must also be within one mile of the designated company headquarters. An employee is also able to view the hours they have worked for a week, pay period, or month as well as the hours worked on an individual shift.
Sweep Inspect has also added a "site inspection" feature which allows an owner/manager to take pictures of any issues they find at a specific property such as illegally dumped items, lights out, etc. and send these directly to a property manager on a customizable form complete with logo, company colors, additional services provided, etc.
All these features were added based off of the suggestions/requests of other sweeping companies that are using Sweep Inspect. This is a sweeping company's opportunity to have a custom-made software without paying a custom price.
This software is only $150/month with $25/month going to the WSA Scholarship Fund. This is a flat price no matter how many sweepers and/or employees a company has and includes everything. With Sweep Inspect there are no confusing pricing structures.
You can contact Jim Blackerby via email sent to support@ sweepinspect.com. You may also reach him by calling 859-533-1415.
For a detailed explanation of how the program works, including visuals of the various modules provided and how easy they are to use, here is the link to view a Zoomcast WorldSweeper's Editor, Ranger Kidwell-Ross, conducted with Blackerby in October of 2021. You may also click on the image below; note, the video is hosted on YouTube.