Keeping Up:
No Simple Task in Today's World
Sheer breadth of information available for our industry is amazing.
by Ranger Kidwell-Ross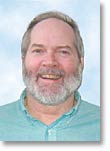 I'm constantly amazed at the news in our industry, and at the professionalism, scope of knowledge and capability of those involved with power sweeping in one way or another. This month's stories are excellent examples of all of the above.
As you might imagine, there were enormous challenges to keeping the pavement sparkling during the recent 2010 Winter Olympics. The Sweeping Team from the City of Vancouver had to do so while being deluged with an estimated 2.3 million visitors, 5,000 athletes and officials, and 10,000 media representatives. Yet, due to the organization's excellent pre-planning and willingness to 'flex' with the inevitable unforeseen things that occurred, it all went off with nary a hitch.
As it was for those incredible athletes who competed, my hat is off to Jim Heeps, Dennis Cole and their entire Team for doing such a great job. You know their effort must have been conducted under the closest of magnifying glasses, to say nothing of within view of hundreds of thousands of visitors, yet they handled it all with a professional "aw shucks, it was nothing" capability. You're bound to enjoy the interview I held with the two gentlemen as they explained how they got the job done.
In this issue of our monthly newsletter we're asking for your help. One of the trends of the last few years is a move to 'maintenance service consolidators' by retail chain stores. Some large and sprawling mall management companies are now doing the same. This has had an enormous impact on power sweeping contractors, who are torn between the typical low margin, high paperwork requirements and, often, slow payment that exemplifies consolidator contracts.
The fact is, for all the seeming problems in this business model, it doesn't seem to be going away. So, in the recognition that "knowledge is power," I want to include at WorldSweeper.com an exhaustive list of who the consolidators are, where they are currently doing business and, ultimately, some way to provide contractor reviews about working with each. Although we're aware of eight, we know there are more out there. Please take the time to let us know of any we don't now have on the list.
Most everyone reading this is aware of the impact sweeping can have on the environment. For over 20 years I have been one of the industry's leaders fighting to bring power sweeping the recognition it deserves as being a key to removal of storm water-based pollution from our waterways. The authors of the article on 'street dirt,' Gary Minton and Roger Sutherland, predate me in this regard. You will want to read what they have to say about how sweeping is coming to the fore in terms of being recognized as an environmental BMP.
It discusses the emerging argument that the composition of street dirt is perhaps the best available indicator of what will ultimately be entering our waterways via storm water runoff. Although significant resources have long been spent in sampling pollution at the 'end of the pipe,' the idea of sampling street dirt is relatively an emerging one. If you want to be seen as the bright person in the room full of people trying to address storm water runoff pollution, be sure to check out their article, which was published in Stormwater magazine.
Our other articles in this issue range from informative to inventive. For example, the interview about Sharpco Sweeper Shoes is an in-depth conversation with the head of the company that supplies drag shoes for most OEM sweepers in America. And, if you are a sweeping contractor looking for a way to get closer to your customers, you'll appreciate the idea of Dale McCaskill, president of SouthCo Sweeping and Maintenance, who involves his customers in the NCAA Tournament. You'll gain something new from each; I guarantee it. As you will from listening to Kevin Kroeger talk about how he and his wife, Viki, have grown their company, DSS Sweeping Service.
We even offer a somewhat whimsical look at sweeping in the '60s, with Dan Ruge's vintage Pelican sweeper diorama article. So, the fact is there's something for everyone in this issue of the WorldSweeper.com newsletter. News to enjoy; news to astound; news to provoke thought; and, sprinkled throughout quite liberally, news you can use!
WorldSweeper.com has long been the leader in providing information about the U.S. power sweeping industry. Soon we will be announcing some exciting changes in the site, ones that will be designed to take the information we can provide you to yet another level of professionalism and value.
As always, if there's something you'd like us to report about, please let us know that, as well. Our goal is to write about what you want to read. And, if you have a sweeping-related need please contact us about it. We'll try to assist in any way we can.
I routinely reference WorldSweeper.com articles and studies, provide information from my "Fundamentals of the Power Sweeping Business" manual and put contractors and city officials in touch with others who may have answers to their informational needs. By the same token, if you have a story you can provide, additional information on any of the topics we've covered – or need more details – please let me know. I'll be glad to help if at all possible.
By the way, if you don't have a listing yet in our Contractor Locator section, you are missing out on what is arguably the best advertising value in sweeping. At the same time, you'll be helping to keep WorldSweeper.com online and active.
If you like what you read in this newsletter or on the website, be sure to thank the advertisers who sponsored it. The only way for them to know you appreciate their support of WorldSweeper.com is to tell them!
Good Sweeping!



Ranger Kidwell-Ross, editor
WorldSweeper.com
PS Many thanks to our first-time newsletter advertisers, SweeperPartsOfAmerica.com, Sharpco Sweeper Shoes, MASCO Sweepers, Keystone Sweeper Brushes and SweeperWebNames.com!