DSS Sweeper Service Uses Continuing Education and Looking Out for Customers' Best Interests As Road to Success
Viki and Kevin Kroeger are in their 11th year of ownership of DSS Sweeping Service. As you will learn in the audio interview with Kevin, they looked for an extended period of time before they found a business to buy that fit their exact requirements.
From that point on, DSS Sweeping Service has seen significant growth due to the couple's educated, involved and savvy operating techniques.
by Ranger Kidwell-Ross

Viki is the company's CEO, which provides them with 'woman owned business' status. She brings a strong background in finance and economics, which provides an element of leadership that few sweeping companies can match. Prior to taking the helm at DSS, Viki worked for over 10 years in business finance, specializing in health care finance.
Her goal is to develop the vision and strategic planning necessary to maintain consistent, sustainable growth. She oversees all financial aspects of the business including daily operations, reporting and budgeting. She currently serves on the board of EO, Entrepreneurs Organizing, as the Finance Chair, and was also selected by the Ohio Department of Transportation a participant in its business mentoring program.
Kevin's expertise in asset management and personnel development has also been a catalyst fueling the growth of DSS Sweeping Service. He provides technical leadership in managing the equipment fleet and capital acquisitions. An engineer by education, prior to puchasing DSS Kevin had worked as a sales engineer for several large electrical manufacturers.
Operations manager, Steve Small, who has over a decade of sales, quality assurance and operations management experience, is another important part of the DSS management team. Chuck Hiatt, sales and marketing manager, rounds out the team. Chuck joined the company in September of 2009, after 11 years of managing his own business. His focus is on new business development and marketing initiatives, with a dedication to expanding the regional brand awareness of DSS Sweeping.
You will find a significant amount of our audio interview with Kevin Kroeger is devoted to two areas of his business, employee hiring/management and how to best treat and gain the trust of customers. If your own company might benefit from either of those two areas, you will definitely want to listen to the half-hour interview.
It is clear from talking to Kevin that the Kroegers well understand the concept of positive business ethics, and employ them in their daily operations. For example, at DSS they have 'teams,' not 'divisions.' Much emphasis is placed upon having a top quality workforce, whether in management or as rank-and-file employees. They do their best to provide a working environment that is conducive to attracting and keeping good people in all positions.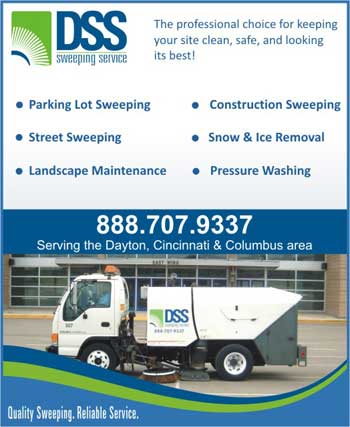 That is one of the strategies the couple employs to keep its customers satisfied. Like so many successful 21st century sweeping contractors, the Kroegers do their best to make theirs the only phone number a property manager needs to call. DSS provides an extensive range of services, in addition to parking area, construction and street sweeping, so they can offer total outside maintenance services.
"Today, most property managers are having to take care of more properties than ever before, and do so from further distances away. One of our jobs is to provide a complete comfort level for a property manager, no matter their distance from the properties we handle for them. If they need something done on the property, we'll either do it or arrange to have it done. We do our best to help out in every situation."
To show the extent the DSS staff is willing to go to in that regard, how's this for an example: Kevin says they get calls from people thinking DSS is a vacuum cleaner repair service. Instead of just sending them away, they offer the number of the local company that does perform vacuum cleaner repair. "You never know," said Kevin, "they might need sweeping later and recall that we are a helpful type of company."
In the audio interview, Kevin talks about their company's involvement with BOMA, and how that changes the company's information flow and dynamics. "It's important to meet with potential clients away from the client/provider relationship," says Kroeger. "At BOMA meetings oorr events, for example, we all relate to people in a different way, as individuals, and in the long run that makes a difference. People want to work with those they know and have learned to trust."
Kevin is also currently the vice-president of the North American Power Sweepers Association (NAPSA), and was a facilitator at the most recent National Pavement Expo (NPE) seminar entitled "Best Practices for Contract Sweepers." Because the portion he chaired focused in on employee hiring and management, the information he offers on that topic also has the benefit of what he learned during that process.
"I encourage all pavement contractors to attend NPE," says Kroeger. "We always take away much more value than the trip costs us. You learn from every part of it, from the seminars to the show floor to the other sweeping contractors who are there. It's amazing how much you can learn even from people starting out. It makes you recall what the important things were back then, and helps you re-evaluate your own current operations. Sometimes it's important to have a catalyst that gets you back to the basics.
It's clear the Kroegers offer a first-class operation, one that has a foundation built on trust, capability and forward-thinking. This includes their first-class website and brochure, association involvement, connections via Facebook and Linked-in, and giving back to the industry that provides them their living. They are even a NAPSA Certified Contractor and a member of WorldSweeper.com's Ethics Program. All-in-all, they are a fitting member of the elite group of contractors that make up WorldSweeper.com's Featured Contractors.
---
Note: The following audio interview with Kevin Kroeger, which is approximately 30 minutes in length, will play without downloading any files onto your computer. If you hear the interview at 'chipmunk speed,' you will need to download the latest version of Adobe's free Flash player.
Note: To play the interview, click on the small triangle inside the circle you see to the left. If you have any trouble accessing this audio, please let us know.
---
Kevin Kroeger may be reached via email sent to kevin@dss-sweeping.com. The company's website is www.dss-sweeping.com.
If you have questions or comments about this interview, please, let us know and we can add it in as an addendum to this article.