About

John Dubbioso founded THREE D Industrial Maintenance in 1975. Beginning in a single garage in Elmsford NY. John's principles, focus and dedication to meeting the customers needs allowed him to grow the company to the size and stability it enjoys today. From humble beginnings, the organization has grown to six offices and maintenance facilities, with two affiliated companies having combined revenues in excess of $10,000,000.
Four Offices to Serve You
Our home office is in Oxford, Connecticut. In addition, we have offices in Dutchess County, Orange/Rockland County and Westchester County. This helps us keep our services priced very competitively.
We Offer More Than 40 Sweepers, Loaders & Related Equipment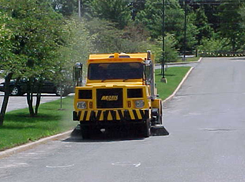 Tri State Industrial Maintenance's large fleet of sweepers and construction equipment guarantees a timely response to your needs. All operators have direct communications with our dispatch center, ensuring any issues that might arise are quickly resolved. Schedules are maintained while providing the high quality we are known for.
Street and Parking Lot, Municipal; and Construction Sweeping
We currently provide sweeping services throughout the state of Connecticut. Our flexibility allows us to provide various pricing models - hourly, daily, flat rate, weekly, monthly, or yearly pricing – depending on your needs.
In addition, we offer a wide range of pavement maintenance services, including:
• Sidewalk installation, repair and maintenance (we emphasize inspection, safety and reporting to customers).
• Pothole patching; damage restoration, resurfacing, graffiti removal and much more.
Our goal is to complete every job in a timely manner. Tri State's 100%-on-time record is unmatched.
Tri State Industrial Maintenance will do a GREAT job for you!
You can count on our professional sweeping and maintenance teams to do every job right, the first time and every time. Use the links shown to the side to contact us or review our website. You'll be glad you did.