Summit Sweeping is your FULL SERVICE power sweeping company.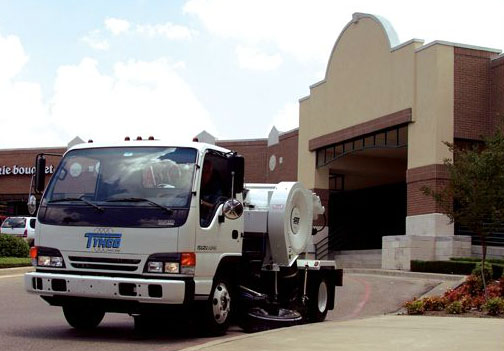 We do it all...large and small. Our owner and general manager, Mike Oetting, has more than 35 years of experience in the service industry, starting with landscaping and snow removal.
In the past ten years, Summit Sweeping has grown from three employees to 12, with seasonal help reaching 15. The business has grown from a pole barn behind Mike's home to a 15,000 square foot facility and a fleet of trucks and equipment. Summit Sweeping operates seven days a week, with Christmas Day the only closed day of the year.
Please take time to look over our information here, as well as at our website. We are the professionals in our business, covering Northern Indiana, Southern Michigan, and Western Ohio. Call today with any power sweeping need you may have.
Parking Area Sweeping
Parking lots, shopping malls, special events, emergency cleanups: Summit Sweeping can handle any level of parking area sweeping thoroughly and professionally. Our fleet of late model equipment is operated by trained professionals.
All parking lot sweepers are equipped with low noise packages and the latest in options, offering superior cleaning, the least amount of noise, and operator comfort. Summit Sweeping maintains back-up equipment in case of a mechanical malfunction, allowing us to offer superior customer service. We'll be there when we say we will and do a great job every time.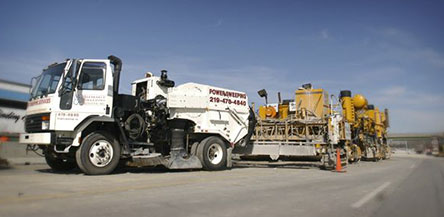 Summit Sweeping offers the cleaning of streets, highways, construction sites, and shopping malls. Additonally, we offer inside warehouse and production facility cleaning. The latter services include a dry sweep and wet scrub combination, all completed in one pass. Summit Sweeping has the ability to remove rubber tire marks on concrete surfaces and remove grease and oil build-up. All cleaning is done by using bio-degradeable solutions.
Since 2007 we have operated a second location in Northern Indiana. This second facility allows us to provide improved service to new and existing customers in Indiana and Southern Michigan.
In addition, Summit Sweeping offers:
• Parking Lot Striping
• Catchbasin Cleaning
• Sweeping Behind Milling Machines
• Mobile Hot Water Power Washing With Soda Injection

When you want the best, choose Summit Sweeping
I'm Mike Oetting, president and general manager of Summit Sweeping.
I direct our crew as we work around-the-clock in order to meet our customers' needs. Our projects range from daily services to one-time emergency situations that call for a responsive, dependable and creative approach — the kind that Summit Sweeping regularly delivers. If you need sweeping services, from a one-time indoor cleaning of your warehouse or church parking lot, to the largest of street or construction site sweeping project, I assure you we can handle it for you.
Use the contact information shown to the right to contact us for a free professional assessment. I am confident you will see for yourself why our customer satisfaction rate is top-notch. I look forward to working with you to keep your property, strets or construction site in the best possible condition.
– Mike Oetting