About
Since 1997 we have stressed providing a quality service designed to add value to the exterior of our clients' properties.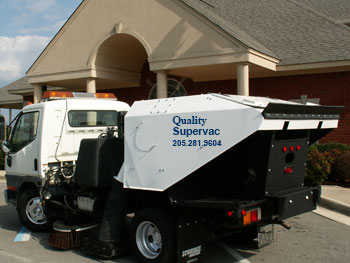 Our service team welcomes the challenge of demanding property managers with tough jobs who are very particular with the results that are achieved. We provide small strip centers with the same quality results that major chain stores receive.
We don't pride ourselves on being the cheapest in our market area. Rather, our emphasis is on providing client properties with results that the owners and their tenants can take pride in. You'll find Quality Supervac to be a very cost-effective solution when you want to know that your property is well-maintained at all times without a high level of involvement or concern required on your part.
Quality Supervac provides sweeping for:
All Types of Parking Areas
Streets, Highways and Arterials
Industrial Complexes
Low Clearance Parking Garages
Virtually Any Other Sweeping Need
We also provide a wide variety of exterior cleaning and property maintenance services, including:
Sign Repair
Pavement Striping
Pothole Patching
Large Item Removal
Graffiti Removal
Tenant Vacancy Cleanouts
Hot and Cold Water Pressure Washing
Your Specified Needs
For more information, give us a call at 205.281.9604, use the messaging link here on the Contractor Locator or visit our website at www.QualitySupervac.com.