Lexington Pavement Sweep is a full service sweeping company that has been servicing the Bluegrass region's most prestigious properties for fifteen plus years.
---
Lexington Pavement Sweep Earns National Honor
We were proud to be chosen, along with Louisville Pavement Sweep, as the WorldSweeper/World Sweeping Association's Featured Contractor for the U.S. in April of 2015. Click here to view that story in PDF format.
---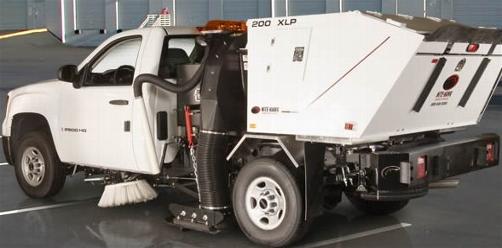 We use state of the art Nite-Hawk Sweeper trucks to vacuum your pavement of all types of litter, trash, rock, glass, leaves and grass or any other items your visitors may leave behind. Each truck is equipped with live and recorded GPS and operated by dependable and consciencious drivers.
  Lexington Pavement Sweep   is a full service sweeping company operating mutiple trucks 7 days each week, 365 days a year. We generally start around 9 p.m. and finish before your customers arrive the next morning. We can design a routine and schedule specifically for your office or retail center.
  Lexington Pavement Sweep   maintains a fleet of the highest quality cleaning equipment and trains our employees on its proper use. Through proper supervision and our regular property inspections, you can feel confident that your properties parking lot and pavement will be exceptionally maintained.
  Lexington Pavement Sweep   also operates mutiple snowplow trucks and salt trucks to remove snow or ice. We have the snowplow equipment to keep your center clear of snow and ice and your customers safe.
  Lexington Pavement Sweep   offers pressure washing for your concrete sidewalks and entrances. We use a high pressure mobile pressure washer that heats water and detergent to high tempratures. The heated water melts away gum, stains, and dirt. We can restore your sidewalks and entrances to like new condition.
---
We know that a clean lot, at a reasonable price, is important to your business and budget. We are always available to discuss the needs of your property.
Discover the difference Lexington Pavement Sweep can make with all your parking lot maintenance needs.
Click the link on the right to visit our website or call 859.533.9065.